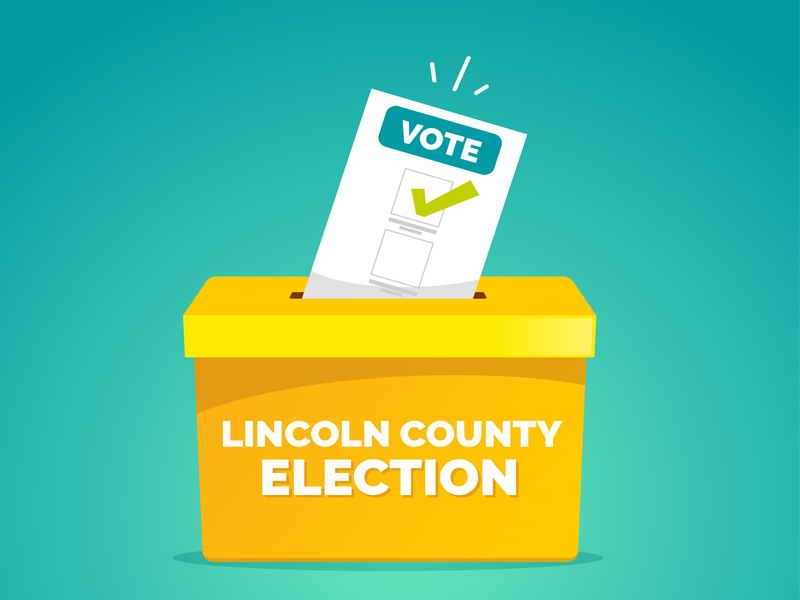 With 90 percent of the votes counted so far, below are the initial Lincoln County election results from County Clerk Dana Jenkins' office as of 8:15 p.m. Jenkins will be updating the totals throughout the evening, and will certify the election in a few weeks.
Claire Hall leads county commissioner race
While County Commissioner Claire Hall leads the race to retain her seat, she has failed to reach the 50 percent threshold, and will likely face off with the second highest vote-getter, Joe Hitselberger, in a runoff election on Tuesday, November 3. Hall was first elected as County Commissioner in 2004, and was re-elected in 2008, 2012 and 2016.
Lanee Danforth leads DA race
Lincoln County Deputy District Attorney Lanee Danforth is leading the DA race against the current District Attorney, Jonathan Cable, 55.8 percent to 36.6 percent. Cable was appointed by Governor Kate Brown in January, 2020, after Michelle Branam left the DA spot to become an Oregon Assistant Attorney General, stationed in Newport.
Sheryl Bachart leads Circuit Court judgeship race
Incumbent Sheryl Bachart is leading the race over local attorney Russell Baldwin 71.6 percent to 28.4 percent. Bachart has been a Circuit Court judge in Lincoln County for over 12 years. This is Baldwin's second attempt at securing a judgeship, having lost in 2018 to Thomas Branford 36 percent to Branford's 64 percent.
Complete election results (updated as of 5/19/20 at 10:50pm)
Total number of ballots (votes) received:
18,816
Approximate % of ballots (votes) counted:
99.00%
Voter turnout (as a percentage of all registered voters):
50.76%
Votes
Lincoln County Commissioner, Position 2
Joe Hitselberger
3,484 (20.9%)
Claire Hall (incumbent)
6,789 (40.8%)
Edward M Johnston
664 (4.0%)
David M Davis
1,631 (9.8%)
Betty Kamikawa
3,008 (18.1%)
Write-Ins (includes Celeste McEntee)
1,081 (6.5%)
District Attorney, Lincoln County
Kenneth R Park (withdrew from race)
1,253 (7.5%)
Lanee Danforth
9,484 (56.5%)
Jonathan H Cable (incumbent)
6,061 (36.1%)
Judge of the Circuit Court, 17th District, Position 1
Russell L Baldwin
4,887 (28.9%)
Sheryl M Bachart (incumbent)
12,008 (71.1%)
Lincoln County Assessor
Joe Davidson (incumbent)
12,530 (100.0%)
State Representative, 10th District – Democrat
David Gomberg (incumbent)
7,015 (100.0%)
State Representative, 10th District – Republican
Max Sherman
3,893 (100.0%)
State Senator, 5th District – Democrat
Melissa T Cribbins
6,984 (100.0%)
State Senator, 5th District – Republican
Dick Anderson
4,127 (100.0%)
State Representative, 9th District – Democrat
Cal Mukumoto
206 (74.9%)
Mark Daily
69 (25.1%)
State Representative, 9th District – Republican
Boomer Wright
56 (100.0%)
United States Representative in Congress, 5th District – Democrat
Blair G Reynolds
661 (7.7%)
Kurt Schrader (incumbent)
5,803 (67.2%)
Mark F Gamba
2,167 (25.1%)
United States Representative in Congress, 5th District – Republican
Angela Roman
404 (9.0%)
Amy Ryan Courser
2,100 (46.9%)
G Shane Dinkel
1,352 (30.2%)
Joey Nations
622 (4.9%)
United States Senator – Democrat
Jeff Merkley (incumbent)
8,273 (100.0%)
United States Senator – Republican
Paul J Romero Jr
1,498 (33.0%)
Robert Schwartz
606 (13.4%)
Jo Rae Perkins
2,086 (46.0%)
John Verbeek
346 (7.6%)
Secretary of State – Democrat
Mark D Hass
3,172 (38.1%)
Jamie McLeod-Skinner
2,188 (26.3%)
Shemia Fagan
2,972 (35.7%)
Secretary of State – Republican
Kim Thatcher
3,842 (84.1%)
Dave W Stauffer
726 (15.9%)
State Treasurer – Democrat
Tobias Read (incumbent)
7,068 (100.0%)
State Treasurer – Republican
Jeff Gudman
4,120 (100.0%)
Attorney General – Democrat
Ellen Rosenblum (incumbent)
7,402 (100.0%)
Attorney General – Republican
Michael Cross
3,822 (100.0%)
United States President – Democrat
Joseph R Biden
6,563 (74.6%)
Bernie Sanders (withdrew from race)
1,453 (16.5%)
Elizabeth Warren (withdrew from race)
595 (6.8%)
Tulsi Gabbard (withdrew from race)
182 (2.1%)
United States President – Republican
Donald J Trump (incumbent)
4,570 (100.0%)
Judge of the Supreme Court, Position 1
Thomas A Balmer (incumbent)
11,142 (71.2%)
Van Pounds
4,516 (28.8%)
Judge of the Supreme Court, Position 7
Martha Walters (incumbent)
13,370 (100.0%)
Judge of the Court of Appeals, Position 11
Joel DeVore
8,553 (56.0%)
Kyle L Krohn (incumbent)
6,730 (44.0%)
Judge of the Court of Appeals, Position 1
Josephine H Mooney (incumbent)
13,051 (100.0%)
Judge of the Court of Appeals, Position 12
Erin C Lagesen (incumbent)
13,001 (100.0%)
Judge of the Court of Appeals, Position 13
Doug Tookey (incumbent)
12,838 (100.0%)