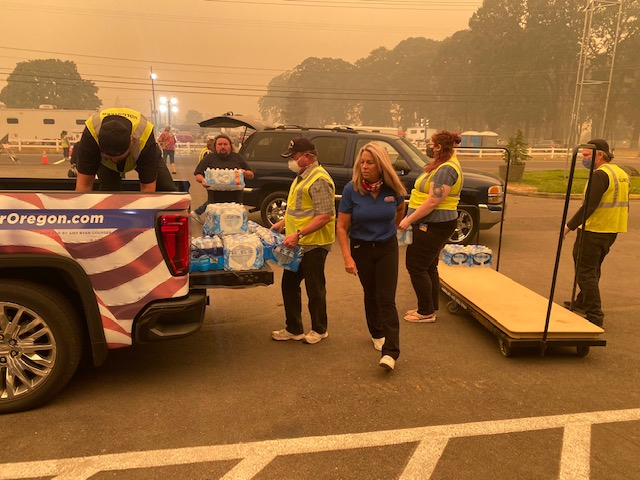 Heads should roll on Nov. 3 for slipshod forest policies that changed Oregon into a tinderbox waiting for a spark, declared a contender for Congress who is turning the U.S. 5th District into a hot seat.
"We've got to fire Congress," asserted Amy Ryan Courser, a former Keizer city councilor who claimed "status-quo" politicians from Salem to Washington D.C. have proved more dangerous than climate change. "All these deaths and losses of homes is their fault. We have to fire them all."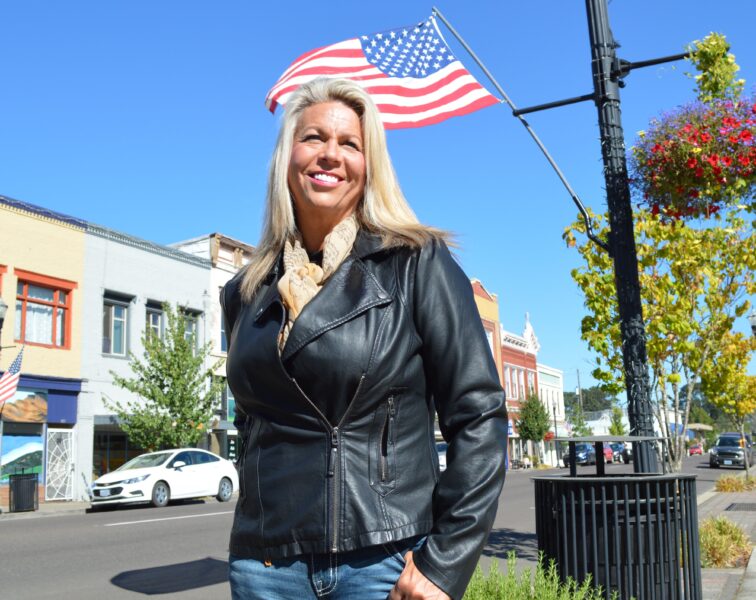 The unforgiving accusation erupted after Courser put her campaign on hold to support firefighters and victims during wildfires that swept the sprawling region from Lincoln City to Detroit beginning Sept. 7. Statewide, more than a half-million people were evacuated, many from communities of the 5th Dist. in Clackamas, Marion and Lincoln counties. Dozens of people were killed across the Western U.S. and thousands left homeless in fires that have yet to be totally contained.
Courser hailed the waves of first responders and homegrown volunteers who poured into the fire lines, including scores of civilians who helped save town of Molalla after firefighters were ordered to stand down when two mega-fires, the 193,000-acre Beachie Creek fire in Marion Co. and 138,000-acre Riverside Fire in Clackamas Co., threatened to merge.
"They put out their own fire after the governor pulled the original firefighters and said 'let it burn,'" alleged Courser, who laid blame for the unprecedented disaster at the feet of "elitist" politicians who ignored the warning signs of impending disaster.
Courser, a Republican, claimed Congress allocated money for forestry management as long ago as 1996 but failed to implement programs that could have prevented the rapid spread of wildfires. In her eyes, Western governors and progressive politicians have neglected the horrifying effects of bankrupt environmental policies they have embraced.
"They want you to believe this is all about climate change to cover-up their guilt," said Courser, citing a dogma of inaction that has allowed massive "understory fuel loads" to accumulate on public lands.
She assailed her opponent in the upcoming election, six-term Democrat incumbent Kurt Schrader, for deserting his role on an influential House agriculture committee where forest policies are shaped. Schrader now sits on a House energy committee whose climate legislation will not affect the existing environment for years to come, if ever, she asserted.
Courser drove to every fire command zone in the district in a pickup truck jammed with new socks, cartons of Chapstick, boxes of protein snacks and flats of bottled water for weary firefighters. Awestruck by the unselfish response of Oregonians, she called for a new program along the lines of the fabled Civilian Conservation Corps to put hard-hit district residents to work restoring fire-ravaged communities, reopening long-blocked roads that hampered firefighters and reducing fuel loads in vulnerable forests before the next fire season.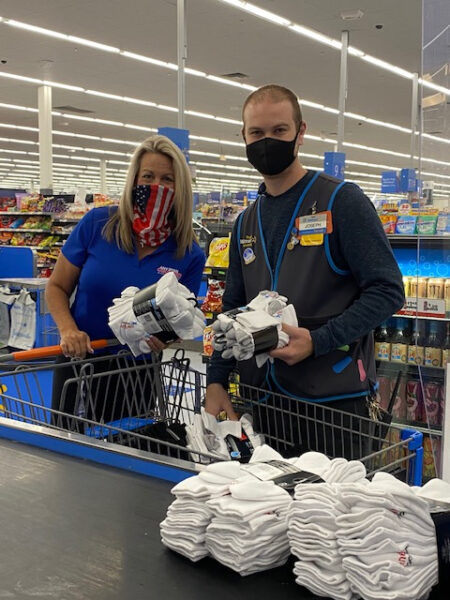 "We need to tap the entrepreneurial spirit of our people and rebuild the homes and businesses that have been lost," Courser concluded. "We have to surmount the illogical regulations and court challenges that have taken precedence over the lives and property of Oregonians."
One of the biggest election stories in Oregon is the race between the embattled Schrader and Courser, a dynamic newcomer on the statewide political scene.
While the seldom-seen Schrader arrived safely in Newport to inspect a command-center bunker 20 miles from the fire lines, Amy Ryan Courser was at the front, distributing crucial supplies to victims and firefighters. Their reactions to Oregon's devastating wildfire disaster underscore crucial differences between two contenders for Congress that are stark as day and night.
A self-made success whose highest office has been city councilor, Courser has electrified the race for Oregon's 5th Congressional District by being everywhere while Schrader burnished his reputation as a recluse. Even as smoke from the Echo Mt. Fire lingered over the horizon, Courser last week launched a 12-city, four-day tour of the Oregon coast, meeting hundreds of enthusiastic voters across party lines from Yachats to Rockaway Beach.
"It's exciting to think that we can do better," reflected Courser, known affectionately as 'ARC' to supporters. "We've lost so many politicians to corruption or indifference that we have to have a Robin Hood attitude. We have to fight for each other."