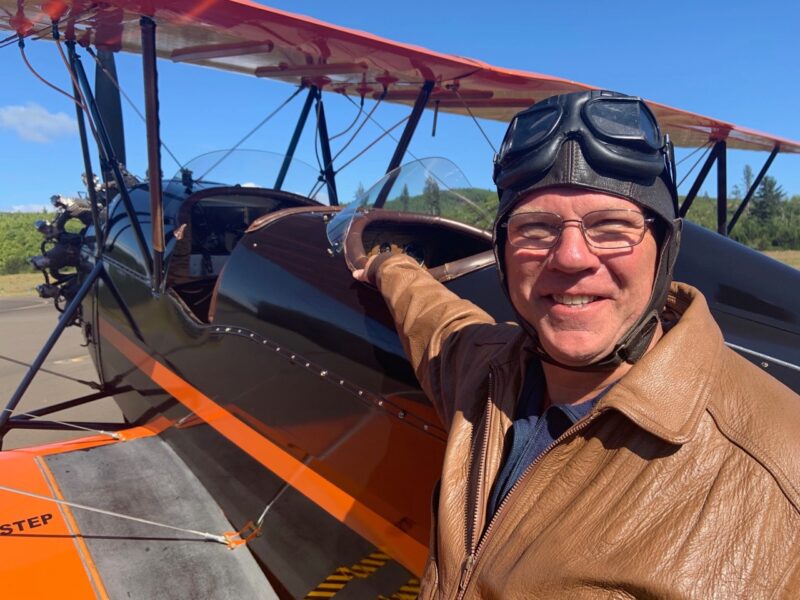 KERNVILLE — In the skies over Depoe Bay and Lincoln City, a modern-day barnstormer in an open-cockpit biplane is giving passengers a journey through space and time seldom found at the soulless tarmacs of modern airports.
On the wings of a 91-year-old aircraft, begoggled sightseers are awed by the secret airborne wonders of the Oregon coast: wave-swept headlands remote as the back side of the moon, seabirds that join in formation and the spectacle of gray whales feeding in a shallow bay.
The real star of the aerial expedition, however, is a 1929 Travel Air B-4000 that once transported G-men at record speeds during the Prohibition era.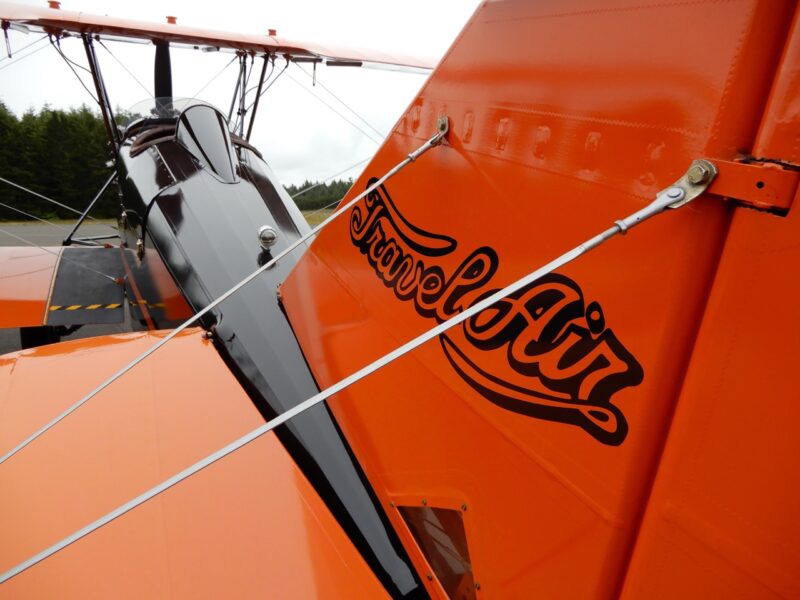 "When they said it was a 1929 airplane, I just about had heart failure — I don't even like old cars," chuckled Christina Grow of Beaverton after an exciting — but hardly blistering — 80-mph flyover of Cascade Head. "It was amazing, with the wind and the sound and smell of the engine. You're really in the moment."
Dana Andersen, a commercial pilot and certified aviation mechanic, discovered the airplane in 1999 in a hangar at Evergreen Airport in Vancouver, Wash.
"It hadn't flown since 1939," recalled Andersen, who began flying airplanes "as a kid" at a beachside airport in his hometown of Pacific City. "Its owner brought it back from the East Coast and had been tinkering with it for 20 years, but never got it flying."
To pilots everywhere, the unmistakable 'throb-and-chop' sound of a radial engine and its six-foot prop reverberates with aviation history. Startled visitors on the boardwalk at Depoe Bay shade their eyes and crane their necks at the unusual racket.
"It cost $10,000 off the factory line at a time when you could buy a new car for $600," Andersen said of the cloth-covered aircraft, whose wire-rigged wings "sing" in flight. "It was the state of the art in its day for luxury airplane travel."
The aircraft bears the stamp of aviation-design legends Lloyd Stearman, Clyde Cessna and Walter Beech, who incorporated ideas from the best military planes of World War I into the Travel Air. It was nicknamed "The Wichita Fokker" for its similarities with a German fighter.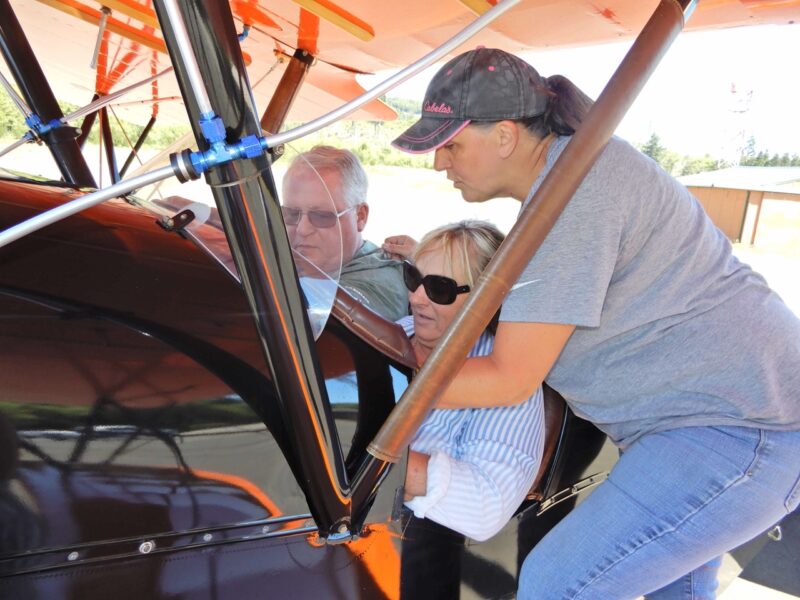 Logbooks revealed the airplane, with room for two passengers in front and a pilot in the rear cockpit, was first owned by the U.S. Commerce Dept. and was used to transport top government officials, including revenuers and F.B.I. agents.
"It even had a siren on it," Andersen marveled. "It's fun to think it was used to chase bootleggers."
Andersen, 56, restored the airplane to like-new condition and has been barnstorming the Oregon coast for the last 13 years at busy tourist destinations such as Tillamook, Newport and Siletz Bay, a bucolic airfield three miles north of Depoe Bay with no tower and a single windsock to guide pilots on landings.
"It's the perfect airport for us," reflected Andersen, who the found runway politics too tumultuous at Tillamook and the flying weather spotty in Newport. "Every day is flyable. At Newport, the fog creeps up from the gullies and the airport shuts down."
Powered by a 225-horsepower Lycoming engine, the Travel Air has a top speed of 130 mph but cruises at a leisurely 80 on trips to Depoe Bay, Seal Rock or Sand Lake. Dropping like an elevator on approach, the airplane lands at a gentle 52 mph.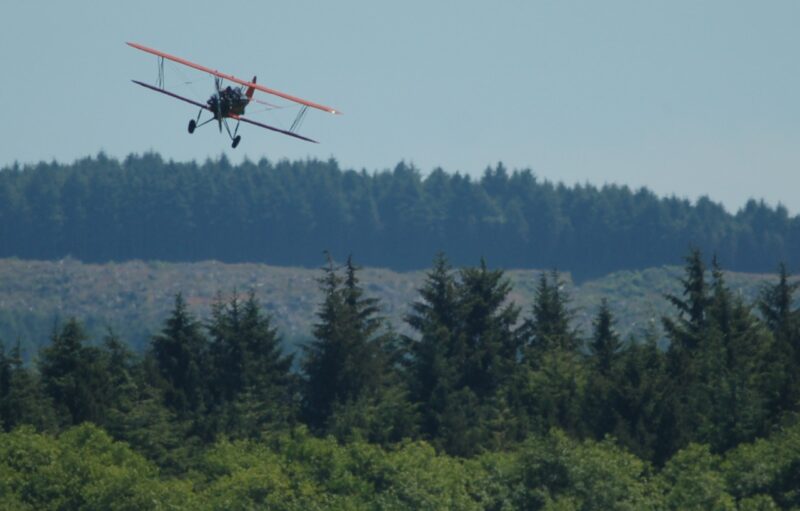 "There's no autopilot or fly-by-wire," Andersen observed. "A plane like this is good exercise for a pilot."
Northwest Plane Rides operates daily now until mid-September from the state airport adjacent to Salishan Golf Course. For information or reservations, call 503-701-7590 or visit the web site, nwplanerides.com.