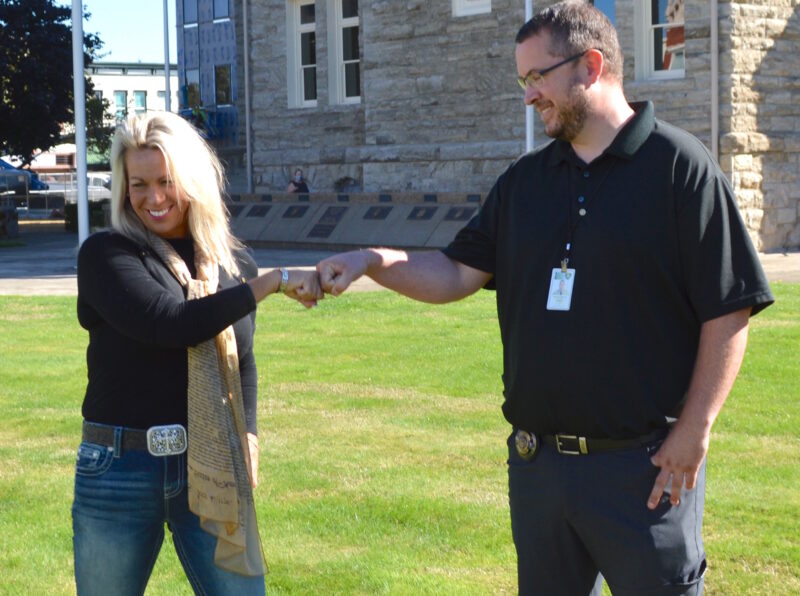 KEIZER, Ore. — Mounting the biggest challenge ever to an entrenched incumbent, Congressional candidate Amy Ryan Courser this week drew a stark battle line between her and six-term representative Kurt Schrader over law enforcement in the U.S. Fifth District.
"Standing strong against lawlessness is my first priority," said Courser, a self-made businesswoman and former Keizer city councilor who has tightened the race by out-campaigning the reclusive Schrader from Lincoln City to Lake Oswego. "We have had complete mayhem for five months in Portland while my opponent continues to remain silent."
Courser, meanwhile, has been talking to front-line cops and sheriffs throughout the farm-heavy Fifth, a 7,000-s.m. region the size of Connecticut. On a recent swing through the heart of the jurisdiction, the energetic contender met with embattled cops and a county sheriff who decried the inattention from elected officials.
"Calls to defund the police show a lack of disrespect for law enforcement that makes our job more difficult and dangerous," said Polk County Sheriff Mark Garton while standing with Courser in front of the small Dallas courthouse that was rocked last June by protests over the death of George Floyd in Minneapolis. "We can't do it alone. We need people in Washington to represent us here. It's about here, and if you lose sight of that things get skewed."
Courser hailed the reaction of Garton and his deputies during the unrest, saying they "embraced" the protestors with respect and professionalism that recognized 1st Amendment rights while drawing a firm line against the kinds of illegal chaos witnessed nightly in nearby Portland.
"Though I am a staunch advocate of our right to peacefully protest, I stand firm against destroying property, assault, rioting and anarchy," added Courser, a critic of Kurt Schrader's infrequent visits to Oregon. "I have a long history of not only defending the police but advocating for their salaries, overtime and making sure they are protected with the resources they need."
While Schrader's silence on the civil unrest sweeping the state and nation has left thousands of riot-weary Oregon constituents wondering where he stands on law enforcement, Courser hears earsplitting indifference from her opponent.
"As calls mount to defund our police departments, Kurt has shown no support for law enforcement," charged Courser, a strong backer of the 2nd Amendment and the military. "The message is clear: he supports defunding police."
To underscore his frame of mind, the ingrained Congressman joined other progressive officials last June who demanded that law enforcement aircraft flying over the nightly Portland protests be grounded.
Courser has introduced herself to embattled beat cops, understaffed county sheriffs and concerned residents throughout the Fifth District in a busy campaign that has included tailgate meetings, rallies and coffees. During the recent wildfires, she broke from the campaign to deliver critical supplies to first responders.
"She's a hometown girl who did good things for her community," attested Lincoln City businesswoman Nancy Moore of the 51-year-old Courser. "I lived inside the Washington beltway for 12 years and knew a lot of politicians. They need to be cleaned up. We need new blood."
For more information about Amy Ryan Courser and future visits to Lincoln County, visit amyfororegon.com, or call 503-343-4740.