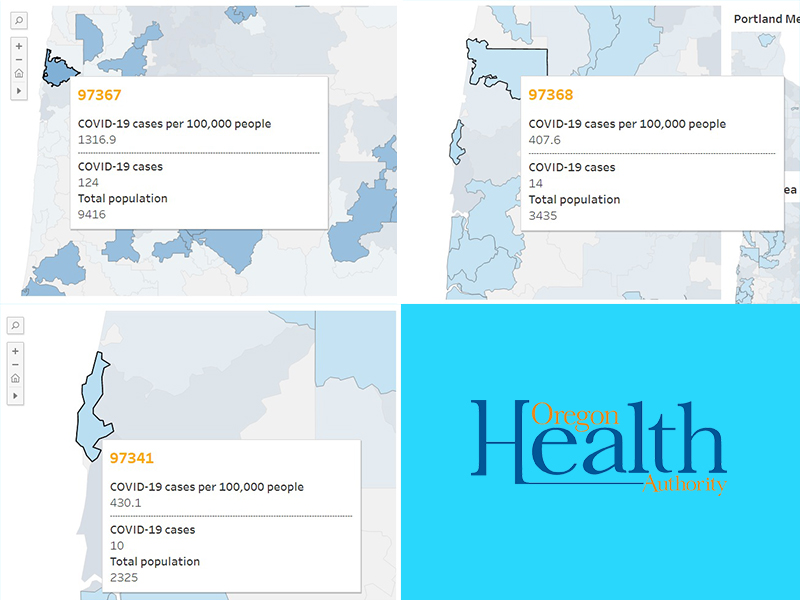 Oregon Health Authority officials will still not provide COVID-19 data by city citing HIPAA concerns, however, a deep dive of the numbers shows a clearer picture by zip code.
Lincoln City, 97367, has had a total of 124 cases of COVID-19 as of data current Dec. 2. A recent outbreak at Chinook Winds Casino has shut down the gaming establishment and the best information we can gather puts their case numbers in single digits. Total population is numbered at 9,416. Samaritan North Lincoln Hospital is not on the list of hospitals reporting 1-9 COVID-19 cases.
Otis, 97368, has 14 total cases. Total population is listed as 3,435.
Depoe Bay and Lincoln Beach, 97341, have 10 cases total out of a total population of 2,325.
Lincoln County has tested 25,657 times for COVID-19. 24,096 tests were negative, leaving 1,561 positive tests or 6.1 percent. All data is provisional and subject to change according to OHA.
Lincoln County has a total of 678 cases and 16 deaths. 118 of those cases were logged Nov. 20 – Dec. 3.
Lincoln County is in the "High Risk" level according to new framework laid out after Governor Kate Brown's two week freeze, limiting businesses and social gatherings.
Oregon, Washington and California have issued travel advisories urging visitors to self quarantine for 14 days and not to travel out-of-state. The travel advisory does not apply to essential travel including, work, study, critical infrastructure support, supply chains, economic services, health, immediate medical care and safety and security.