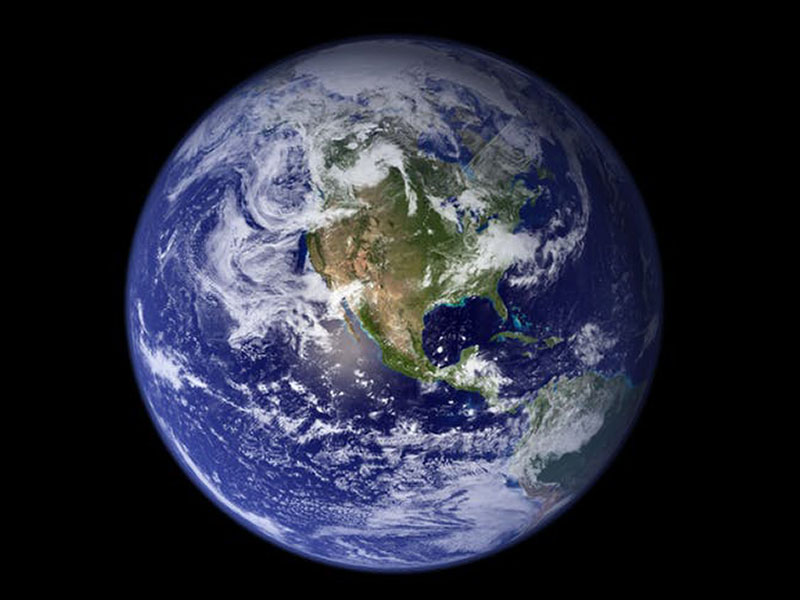 The first Earth Day was 50 years ago and I was a freshman in high school. Earth Day seemed to be a ray of hope on the horizon for saving the planet. It was an idealistic and optimistic time. A feeling that things are going to change and maybe the doomsday predictions of the time could be reversed.
I remember the 70s fondly, going through high school, then college and finally working at Northeastern Illinois University until 1980. It seemed like a decade of hope.
The first Earth Day was held on April 22, 1970, as a way to address the serious issues of toxic drinking water, air pollution and the effects of pesticides. An impressive 20 million Americans—10% of the population—ventured outdoors and protested together. They sang and danced. It was new dawn!
That same year, President Nixon and our government created the national Environmental Protection Agency, which followed with successful laws including the Clean Air Act, the Clean Water Act and the Endangered Species Act.
Change was in the air, and we'd have cleaner air!
Well it didn't really turn out that way. In the last few decades big business chose 'profits over planet.'  Predictions for Earth are not what we had planned in the 70s and if you read the April 2020 issue of National Geographic it looks bleak going forward. The National Geographic issue is two-sided and on one side is How we lost the planet – A Pessimist's Guide to Life on Earth in 2070, and the other, well I'll get to that side in a minute.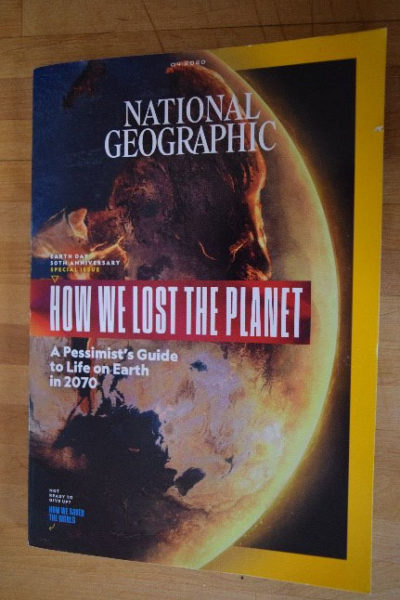 Reading (I get a lot of reading done in self-quarantine) How we lost the planet, the Earth will be a much warmer place in 50 years, with 80,000 acres of tropical rainforest continuing to be destroyed daily, and glaciers melting much faster than original predictions. The landscape of our planet is being altered by climate change, flooding, drought and fires continue to affect millions globally.  Animal and human (an estimated 9.2 billion people by 2070) living conditions may not be very pleasant for both.
Earth Day 2020 will be very strange. Across the nation and the world people will not be gathering today to increase awareness of environmental problems or clean up litter, plant trees or simply reflect on the beauty of nature.  Because millions like myself are staying home in self-quarantine.  Our rainy weather doesn't help for a gathering anyway. Earth Day has become a popular day for many communities to gather together worldwide but COVID-19 put a damper those folks!
Now for the flip side of the National Geographic magazine. This side, entitled: How we saved the world – An Optimist's Guide to Life on Earth in 2070.  Here we see hope again as I read how we can still curb climate change, prevent more animal extinctions and wean ourselves from fossil fuels.  Stories about how some animal species are making a comeback, the global goals to reduce plastics, how to harness wave power and other ways for cleaner power.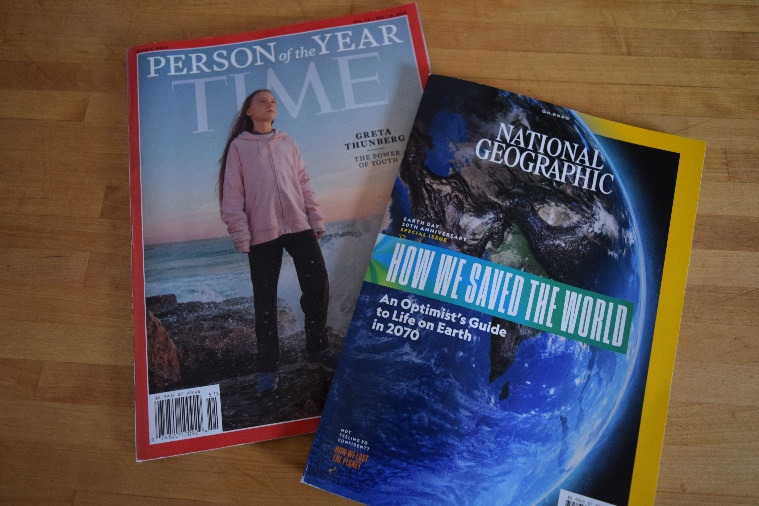 What really, brought a smile to my unshaven face was the article Fighting for their Future, about our youth taking action.  People like Delaney Reynolds, 20, from Florida, making a case for Climate Change. Xiuhtezcatl Martinez, 19, from Colorado, who with 21 other young people is suing the U.S. government to secure their constitutional right to life and liberty by demanding action on climate change and the reduction in fossil fuel use.  There's Rabab Ali, 11, who with her brother, Monis Ali, 7, has sued the Pakistan government, asserting violations of her generation's right to live in a healthy environment. And of course, Greta Thunberg, when in December, at 17, spoke to the United Nations Climate Change Conference in Madrid making international news headlines and the cover of Time Magazine as their "Person of the Year."
There are many other stories in National Geographic of young crusaders from across the globe building alliances, challenging governments and taking on big business for real climate change.  Young entrepreneurs are looking for new clean sources of energy and cleaner air solutions from across the world and improving current ideas for food management, reducing waste and improving our coastal waters. There are high school and college students studying the planet as one living system, connected by a thin atmosphere that circulates around us.
2020 Earth Day will be remembered for COVID-19, and the debate of opening the economy.
Wanted to share this from the New York Post regarding COVID -19 and Earth Day:
A new photo report reveals the visible transformation in the global atmosphere from the time before the era of coronavirus and now.
Satellite images, radar maps and photos from the ground taken prior to mid-March depict international industrial hubs, including New York City and New Delhi, as well as expanses of land in California, Europe and China — regions hit hard by air pollution.
Taken in the days and weeks after an international shutdown to curb the pandemic, the before-and-after images are stark illustrations of how human activity impacts the environment — and the good that comes when we stop.
Maybe in our forced solitude of confinement we can take a moment and begin to think more about the planet and all that inhabit it.  Remember what we did to Mother Earth and maybe how we can take action to heal her, and ourselves in the next fifty years.
It's never too late to be the change and save the planet.
Be safe and stay healthy!