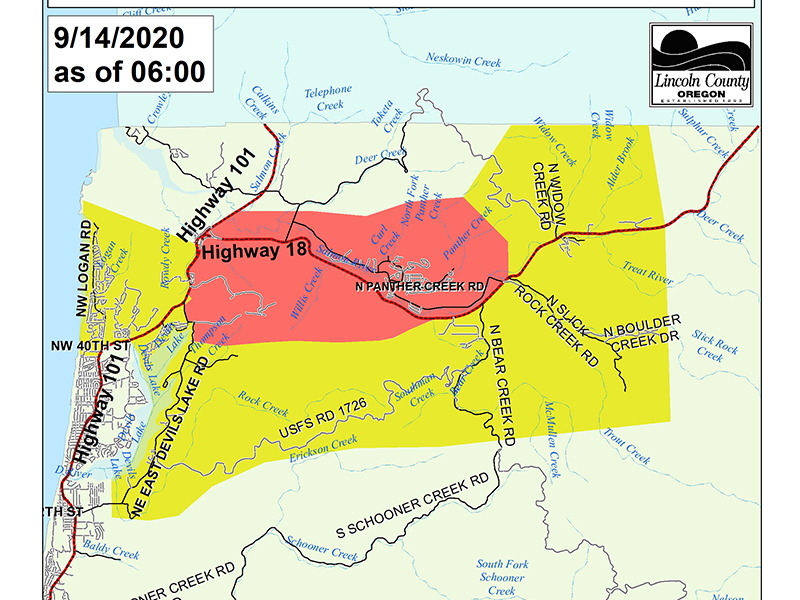 Firefighters are working to finish the last of the fire line on the Echo Mountain Fire and once this last piece of line is completed, both fires will be 100 percent lined. Firefighters have been battling difficult terrain and dense fuels to complete the line. The fire remains at 2,435 acres in size, and is currently 25 percent contained.
The weather forecast for today call for similar conditions to yesterday until this evening, when rain is expected. A chance of precipitation persists in the forecast through the end of the week.
Crews will be looking to take advantage of the incoming precipitation. While the rain is helpful, there is still a lot of work to accomplish. Once the line is completed, firefighters will begin working to open up heavy fuels to expose them to the incoming moisture. It is the hope of fire managers that by utilizing the weather, they will need fewer feet of hose to mop the fire up. Minimizing the amount of hose put out simplifies the pick-up of equipment after the fire, as well as lessening the burden on National Interagency Support Cache system. These caches supply firefighting equipment to incidents across the country.
Access to the fire area is still limited to fire personnel and support crews, such as utility repair personnel. Limiting access allows fire resources a buffer of safety to complete their difficult mission. Firefighters must still be on the lookout for falling trees, rolling debris, and other hazards specifically associated with working around structures.
Lincoln County has reduced the evacuation levels on part of the Echo Mountain Complex. For more information on these changes, please check:
www.co.lincoln.or.us/echomountainfire Residents affected by evacuations can call the county's call center at 541-265-0621, between the hours of 8 a.m. – 8 p.m. seven days a week.
The following area has been reduced from a Level 3 to a Level 2 effective 09/14 at 7:00 am:
Downgrade to a Level 2:
East of Rose Lodge on Hwy 18
South of Hwy 18 from Rose Lodge to East Devils Lake Road
Hwy 18 road closure remains; however, the roadblock will be moved West to Rose Lodge at N. North Bank Road and Hwy 18.
If you live on Bear Creek Road or a road off of Bear Creek Road, you will be let through the ODOT East Highway 18 roadblock to access Bear Creek Road.
Community Members returning to this area may not yet have power restored and/or may need to expect intermittent power outages until fully restored.
The area in and around the fire remains in a Level 3 evacuation area.
Community Members in the newly downgrade level 2 area can return to their homes and business at this time. If you need transportation back to your home you can call the County Call Center at 541-265-0621 (after 8am) for coordination.
Cautionary Re-entry Information:
It is always advisable to do a safety check of your home and property when you return.
Continue to monitor local media sources, county website and your telephone devices to receive further information and updates.
Any additional questions can be forwarded to the Lincoln County Emergency Public Information Call Center at 541-265-0621, www.co.lincoln.or.us/echomountainfire .