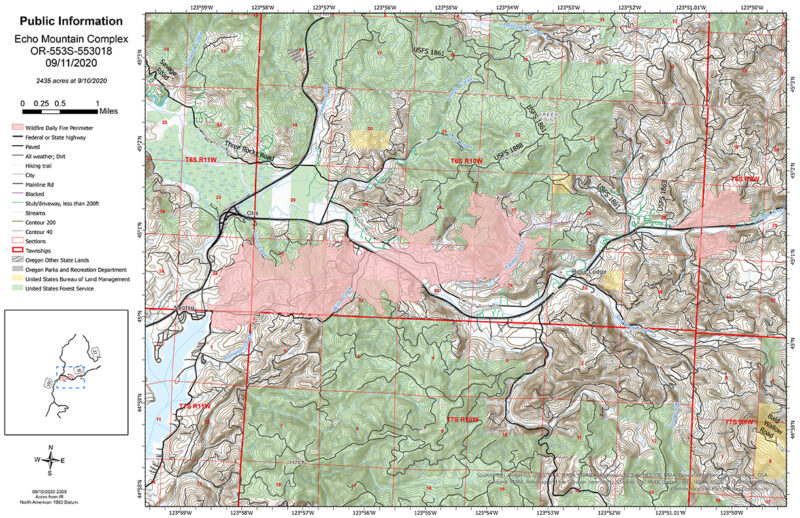 Firefighters continued to battle the Echo Mountain Wildfire Thursday night and were able to keep the fire inside the perimeter.
According to Oregon Department of Forestry officials, the acreage remains the same at 2,435 and additional firefighters and equipment have arrived and are working the fire today with the goal of constructing and holding firelines, using direct attack as safely as possible, locate and mitigate hazardous trees, establish hose lays and support holding and mop-up operations.
The Echo Mountain Complex Fire is four miles east of Lincoln City on Highway 18.
238 fire personnel are deployed to the area utilizing 11 engines, eight water tenders, eight dozers, 10 hand crews and 44 administrative.
Fire officials say the fire is still very active and dynamic and urge the public to respect road closures as they are in place to protect firefighters and the public's safety.
A command post is set up at Elders' Lodge in Grande Ronde.
Fire managers from Florida Fire Service arrived and were assimilated into the current command structure.
Weather conditions are favorable for firefighting efforts with 5 mph westerly winds predicted and a high relative humidity.
UPDATE FROM CITY OF LINCOLN CITY 12:50 p.m.
Emergency Responders continue to focus on containment of the fire. Power is still in the process of being restored throughout the city. Lincoln County will provide evacuation updates as they become available and can be viewed on the County's Evacuation Page. If you would like to donate or volunteer, please contact the Lincoln County Call Center.
Lincoln County Call Center – 541-265-0621
When can you return home?
While Hwy 101 is open – evacuated community members are not officially directed to return to their residences. Power and hospital services must be safely restored first. Notices will be communicated through Lincoln Alerts, the County's website and Facebook pages.
Do we need donations – cash, material, or otherwise?
American Red Cross is a credible source for cash donations. Toledo Police Department has also offered to receive donations. Otherwise, County Emergency Management is waiting for further assessment to determine community need.
Looking for family members? Safe and Well Program – https://safeandwell.communityos.org/cms/
Evacuation Shelters
A primary evacuation point is at Newport Recreation Center in Newport. The OCCC Evacuation point has been moved to the Newport Rec Center. 225 SE Avery St, Newport, OR 97365
Transfer to other evacuation shelters will be managed from this location by the American Red Cross. Contact the Red Cross at 888-680-1455 or website: https://www.redcross.org/get-help.html
Toledo – Evacuation Sites – Information
RVs (trailers and truck campers also) at TJSHS:
Coordinator – Deanne Barnhart (541) 961-0438
Tent and outdoor camping at Memorial Field – Under City Supervision
Indoor Facility Needs – call for details
Church Coordinator: Tom Morris 541-290-9318
City of Siletz and Siletz
Areas available for RVs and tents. Check City Hall for details
Additional unofficial and emerging evacuation sites have been set up by various cities and churches. List will be posted online when updated.
Barnyard Animals – Livestock County Commons – 633 NE 3rd St, Newport, OR 97365. The Lincoln Commons is available 24/hours with pens, buckets, water and hay for livestock. Users of the facility must be prepared to care for their animals. Users must register and check in with a volunteer during the day and during their stay at the Commons.
Companion Animal Supplies – Dogs, Cats and Pets
If you have evacuated with companion pets and need supplies. There are companion animal supplies available at Animal Shelters entrance at 510 NE Harney street.
Lost pets/animals left in the evacuation area, the best thing to do is direct them to our lost/found page:
https://www.co.lincoln.or.us/animalshelter/
Volunteer Inquiries – Under development. Details coming soon. Thank you to those reaching out.
Road Information and Closures
Lincoln County website for fire information and updates
https://www.co.lincoln.or.us/EchoMountainFire
Lincoln Alerts – Sign up to receive alerts
Add your email and cell phone to your profile. If you are checking on family members – create a profile with their address and your contact info – you may also add your email.