Update 10 a.m. Thursday, Sept. 10 –
The City of Lincoln City issued a news release with detailed information on wildfires north of the city.
Updated at 5:45 p.m. –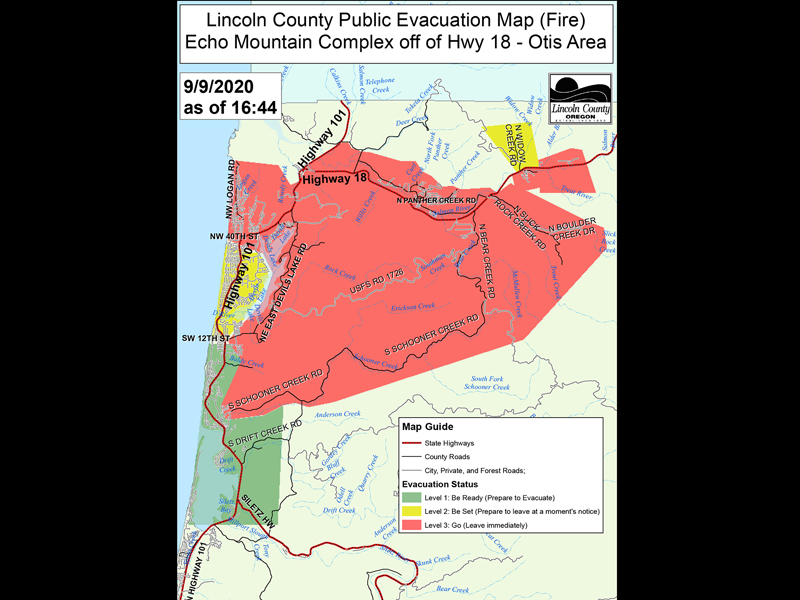 Winds have driven a significant spread of the Echo Mountain Complex fire, which has jumped from a couple of hundred acres to more than 1,000 acres as of the noon hour Wednesday, according to Oregon Department of Forestry officials.
Matt Thomas of ODF said low humidity and strong east winds overnight and into the morning drove the spread of the blaze, which began on the north side of Highway 18 near the 7-8 mile marker and jumped the highway.
The rapid spread of the fires initially forced the evacuation of Otis and surrounding areas and has now extended the evacuation area southward into a significant portion of Lincoln City. "Basically, the fire was burning at will," Thomas said.
ODF said an infra-red (heat seeking) flight has been ordered today to get a map of the current fires and a better size estimate.
Local firefighters and ODF have been out in force around the clock on the fire lines, but outside help is very limited due to the large number of fires across the state. Thomas said there's been no containment of the blaze yet, and that may not happen for an extended period. People who have evacuated or may face evacuation should be prepared to be away from their homes for some time. No assessment of property damage is expected for at least 48 hours.
Most of the Lincoln City north of SW 12th Street is under a Level 3 evacuation order, which is a directive to leave immediately. People living south of that point are currently on a Level 1 alert (be prepared to evacuate). The Lincoln County Sheriff's Office used its two marine patrol boats to evacuate some people living along East Devils Lake Road by water.
Staff with county Emergency Management, the Sheriff's Office, city public safety agencies, the American Red Cross and local non-profits and faith groups are banding together to address immediate needs for shelter and food for evacuees.
The main campus of Oregon Coast Community College is South Beach has been established as a temporary receiving site for evacuees. Additional sites are being set up in Toledo at the high school (for campers and RVs) and Memorial Field (for tent campers). Arrangements are being made for additional sites in other parts of the county.
The Lincoln County Commons is being set up to receive horses and livestock, and 4H youth will assist owners in caring for their animals.
"This community has come together in an amazing way to protect lives and property," said Kaety Jacobsen, chair of the Board of County Commissioners. "This is unprecedented situation, but we will get through this together."
Updated at 1 p.m. –
UPDATE -LEVEL 3 – GO NOW LINCOLN CITY – NW 40TH from the ocean East and all of East Devils Lake Road.
LEVEL 2 – GET SET – NW 40th south to outlet malls and west to ocean.
LEVEL 1 – GET READY – Outlet Malls south to SW 12th
Evacuation point is at Oregon Coast Community College in South Beach.
Lincoln County Fairgrounds will take animals that are not dogs or cats.
Siletz is setting up evacuation resources at the fields with bathrooms at the library and school. It should be ready by 2:30pm
Busses are at Safeway and the Community Center if you cannot drive.
Call 541-265-0621 for more information.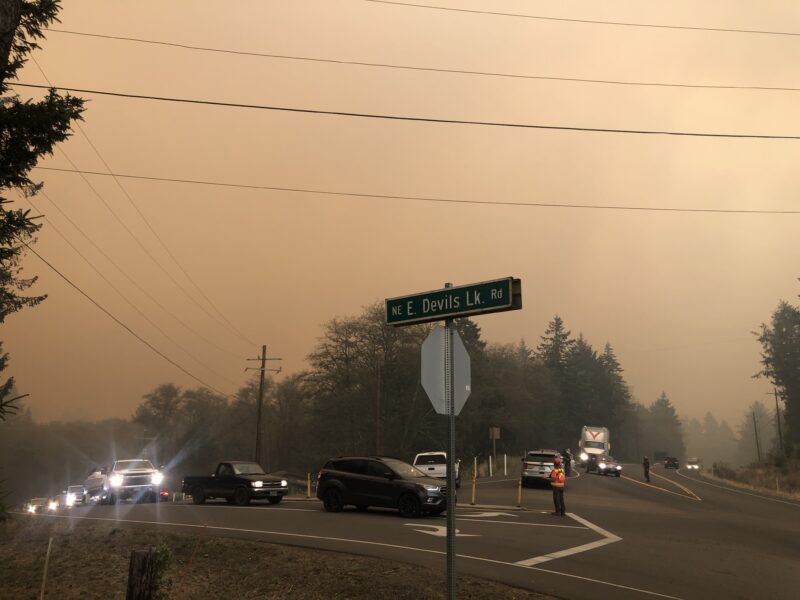 A level 3 evacuation is in effect for all of Lincoln City from 40th street north. Level 3 means go now.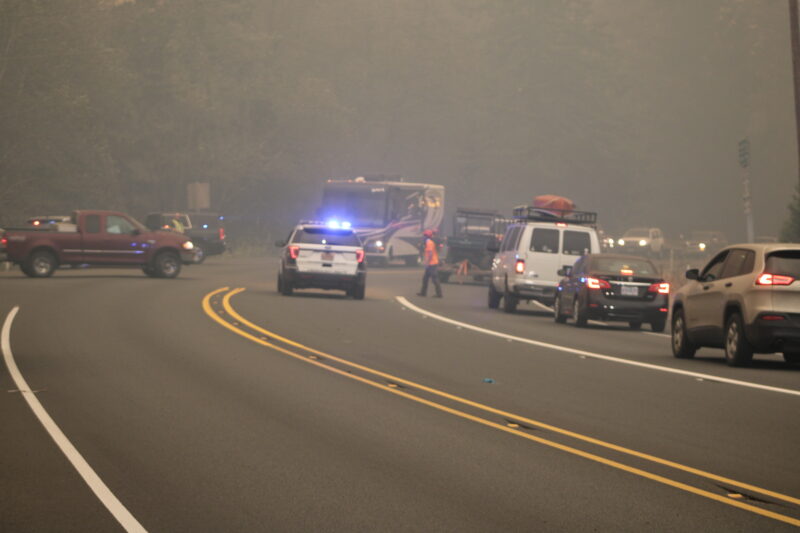 Families are headed south towards Depoe Bay with few precious belongings able to be fit into vehicles.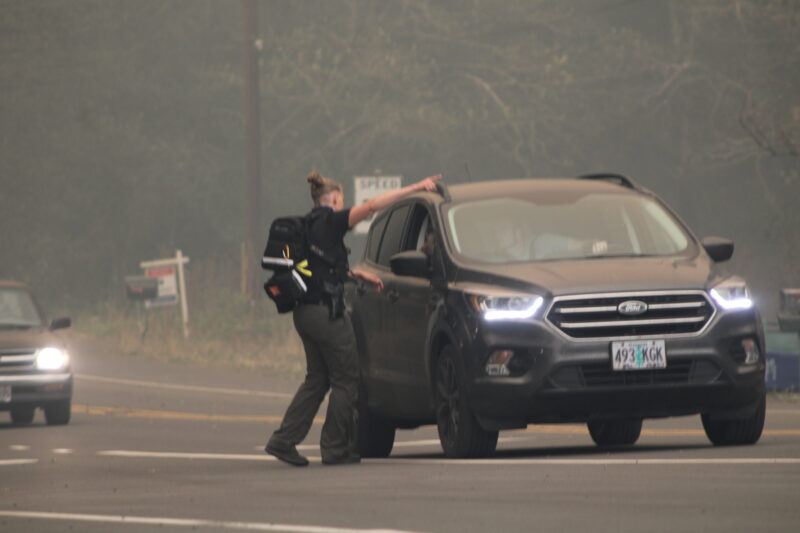 Lincoln City Police said the greatest concern is embers spreading from the fire to surrounding areas and everyone needs to be vigilant and ready to evacuate.
According to Oregon Department of Forestry officials, firefighters can't assess how big the fire is because it's too dangerous. Extremely high winds were observed close to the fire.
Check the map for updates (please be patient as the website is getting bombarded and it may take time to load).
Lincoln City Police are assisting with the evacuation so please listen to their guidance.
People could be seen using hoses, watering local businesses and their homes.