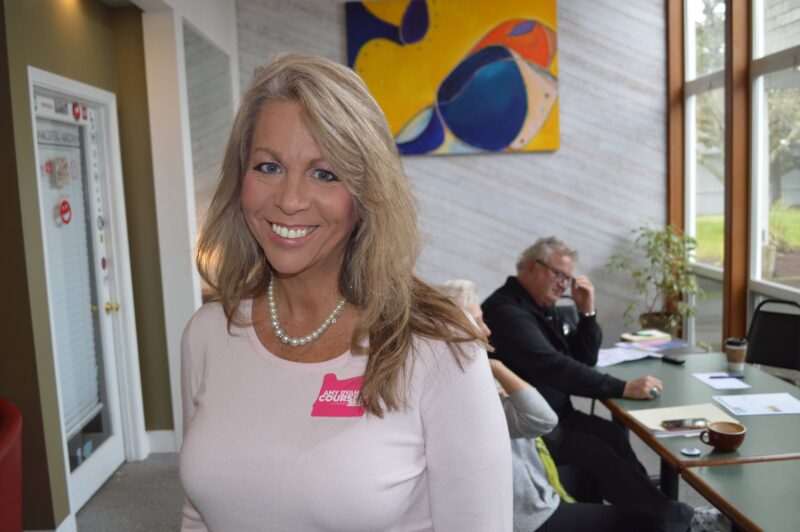 KEIZER — In the last day of what many voters feel is the critical election of their lives, the hotly-contested race in Oregon's U.S. 5th District is poised on the glaring differences between two Congressional candidates — gutsy challenger Amy Ryan Courser and her six-term opponent, Kurt Schrader.
Those distinctions grew sharper as Courser traversed a 7,000-s.m. jurisdiction the size of Connecticut with nearly 700,000 residents in seven counties — Lincoln, Tillamook, Marion, Polk Benton, Clackamas and Multnomah! She learned first-hand the challenges faced by the 700,000 everyday citizens of a district hard-hit by floods, wildfires, pandemic and now civil unrest.
COURSER VOWS TO 'PICK UP THE PHONE'
Courser's grassroots campaign gave the first hint she was completely different from the reclusive Kurt Schrader, a millionaire career politician caught in a web of ethical conflicts who rarely visits Oregon, anymore.
By contrast, Courser met an electorate hungry for effective representation in Congress at scores of coffees, tailgate rallies, small businesses and family farms during her two-year odyssey to reclaim the trust of voters abandoned by her opponent.
"He's unavailable," said Courser, who compares her stint as an unpaid Keizer city councilor to Schrader's notorious isolation, saying she was accessible to all citizens while her opponent holds a few tightly-controlled "town halls" around election time where questions are restricted to a handful of lottery winners. "I will pick up the phone and and engage with constituents."
COURSER UNBOUND BY SPECIAL INTERESTS
A self-made businesswoman and single mom who put two sons through college, Courser electrified the 5th Dist. race from Lincoln City to Lake Oswego by outworking Schrader, who bragged of a campaign chest bulging with $2 million from Big Pharma, Big Energy and other special interests — nearly 500 times the size of Courser's modest budget.
But even as Courser rejected special-interest donations because of their corrupting influence, Schrader brazenly continued to disregard ethical boundaries.
When America was just beginning to hear about Covid-19, Schrader was among 12 U.S. senators and 37 House members who dumped $158 million in stocks most likely to be affected by the virus after being secretly briefed on the real peril. Many of the 1,358 transactions — including Schrader's — were in the energy sector, which has been shaken by the economic turndown. Shortly after Schrader's stock market shenanigans were revealed, outraged colleagues introduced H.R. 6401, known as the "Ban Conflicted Trading Act."
The pandemic profiteering didn't stop there, however. Schrader, an heir to the Pfizer fortune, received more than $1 million in campaign contributions from "Big Pharma" and is now steering Congress to give Pfizer production rights to a Covid-19 vaccine.
Schrader, an unlicensed veterinarian who sometimes wears a stethoscope and dresses like a cowboy for "photo-ops," has also positioned himself to benefit from energy deals. He recently abandoned a seat on the House Agriculture Committee — an assignment vital to the "farm-rich Fifth" — for a lucrative chair on the powerful House Energy Committee, where his energy-lobbyist wife is pushing a $25 billion scheme to benefit utility companies.
COURSER SUPPORTS LAW ENFORCEMENT
"I am a staunch advocate of our right to peacefully protest, but standing strong against lawlessness is my first priority," said Courser, who drew a stark battle line over law and order. "I have a long history of not only defending the police but advocating for their salaries, overtime and making sure they are protected with the resources they need."
During swings through the heart of the jurisdiction, the energetic contender met with embattled cops and county sheriffs who decried the inattention from elected officials, including the distant Schrader who outsourced his vote to an out-of-state Congressman while sitting-out the riots at his home in the fashionable Hamptons.
Schrader has not been entirely silent on the issue of law and order, however. The apparently out-of-touch lawmaker joined other progressive officials last June who demanded that police aircraft flying over the riots in Portland be grounded.
"He supports defunding police," concluded Courser.
COURSER IS…DIFFERENT!
Imagine a Congressman who ventures under highway bridges to learn the reasons for homelessness, tromps through muddy fields to meet with hard-working farmers about fair trade or stops on Main Street to hug a motorcycle cop. Envision a candidate who rushes critical supplies to victims and first responders on the front lines of wildfire while others offer lip service from the safety of a faraway office. s
"I'm not a career politician," reflected Courser, who urged undecided last-minute voters to elect her to Congress where she promised to support the U.S. military and its veterans, the 2nd Amendment, the sanctity of all life and lower taxes — values she asserted her opponent rejects. "We've lost so many politicians to corruption or indifference that we have to have a Robin Hood attitude. We have to fight for each other."
Amy Ryan Courser, a free-thinking conservative whose genuine concern for people has bridged party lines, said her journeys through the sprawling U.S. 5th Congressional District revealed a landscape of residents frustrated with Washington politicians like her opponent, an unabashed profiteer who has raked in millions of dollars from special interests.
"I'm not here to tell you how to save the world," declared Courser during a whistle-stop speech in Lincoln County, another 5th Dist. population buffeted by economic decline, wildfire and a gnawing sense of abandonment. "I'm here to listen and learn about the problems facing our communities, then fight every day in Congress with every ounce of strength I have for the wonderful people of the Oregon Fifth District."