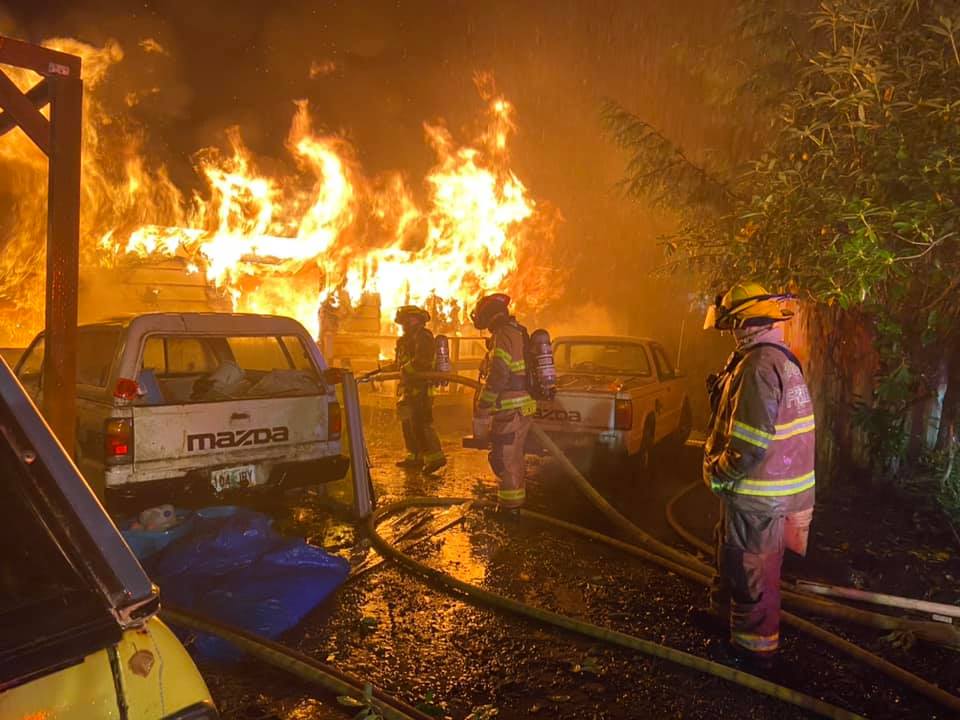 Fire crews from Depoe Bay, Lincoln City and Newport responded to a residential fire in Gleneden Beach Monday night where they rescued a man who may have started the fire.
According to Depoe Bay Fire Chief Bryan Daniels, one man was rescued as firefighters battled a "stubborn firefight" on Carolyn Avenue, and ultimately made the call to let the home burn in a controlled manner. Fire officials cited the condition of the property and hazardous material surrounding the home as the reason for letting it burn.
A neighbor, Zach Rasmussen, who recorded the incident, recalls the couple who lived in the home, Kevin Dugger and a female roommate, who began arguing early Monday morning around 7 a.m. Rasmussen said verbal arguments were common between the couple and said she had called Dugger "not sane" before.
Later that night as smoke started to billow out of the home shortly before 8 p.m., Rasmussen said the woman came running out of the house screaming "Call 911! He's not sane and is setting the house on fire!"
Rasmussen said Dugger suffers from some form of mental illness and said law enforcement knew this. Rasmussen also said he had been randomly threatened to be shot by Dugger on two separate occasions.
Neighbors said firefighters waited for Lincoln County Sheriff's deputies to arrive as Dugger was known to law enforcement and firefighters needed to make sure they would be safe as they did their job. Nearby residents were also evacuated for their safety.
Several small explosions triggered by the fire forced firefighters to take a defensive stance at a safe distance while they focused on protecting surrounding properties, vehicles and a nearby forest.
Dugger was taken to Samaritan North lincoln Hospital and is listed in fair condition as his vital signs are stable within normal limits and he is conscious.
Lincoln County Sheriff's Office released the details of their investigation Wednesday.
More coverage: