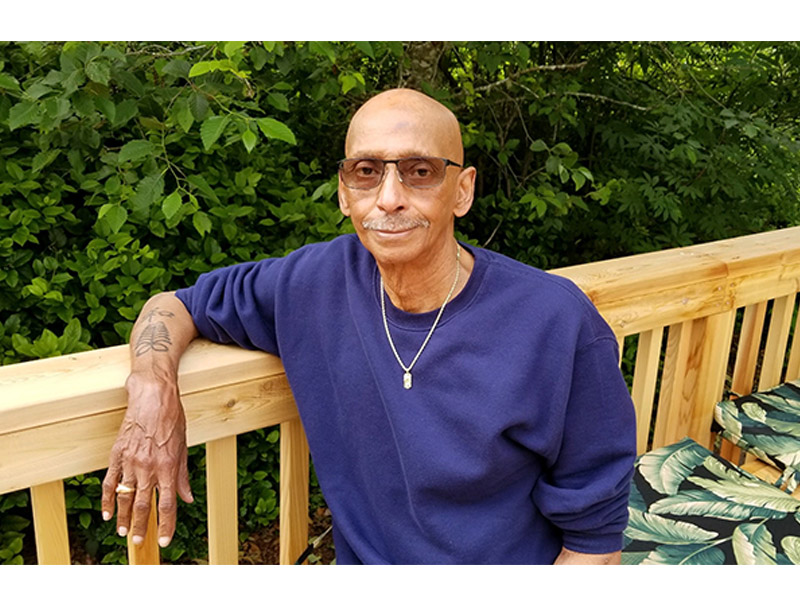 DEPOE BAY — Nobody bothered to call Jim White.
When all Hell broke loose and county commissioners Jacobson, Hunt and Hall needed a leader of color to help navigate volatile racial politics, the phone was silent at the White house in a pleasant Depoe Bay suburb. Outside, Lincoln County was awash in a typhoon of mortifying nationwide publicity over a couple of shocking events involving a self-inflicted face mask fiasco and another showcasing Russian Nazis.
Jim White shook his head as if he'd seen it all before. A retired soldier, policeman and mayor, White has been shattering race barriers for much of his 76 years. In 2004, he was elected as the first black mayor of Depoe Bay — a city that is 94 percent white, according to U.S. Census data. But then, he was often the first black man through the door. Had bigwigs called, here's what they would have discovered:
"I've made a little history in my own way," reflected White, the first black police officer hired by Lincoln City and later the first black president of the Oregon Mayor's Association. "It hasn't been easy. America has always been a racist country. Oregon has a racist past. I'm sorry it took a black man being killed to really bring it to the forefront, but this black movement should have happened many, many years ago. Martin Luther King tried and he brought some things to bear before he lost his life. Someone recently made a comment that 'blacks have always loved America, but America has never loved the blacks.' It's true."
Yet White ascended, anyway, fulfilling two careers of distinguished public service in the military and law enforcement before realizing unmatched political success in his hometown. He is recalled fondly by many longtime residents for reconciling a community that was divided by petty grievances and tyrannical committees.
"He had a trained mind from being in the military and the police," reflected Jerome Grant, a Depoe Bay businessman and city councilor who had an early scrape with Mayor White over a zoning issue but grew to call him a friend as the years passed. "He was disciplined and had the image to go along with it. He ran city hall better than anybody since I came here 30 years ago."
After hearing that a city councilor made some outlandish remarks at a meeting — "All we need is a basketball hoop and a crack dealer," recalled White — he attended the next meeting and scolded the offensive official. When she resigned and left town, he applied for the seat and was appointed, running for mayor at the next election.
His credo then would illuminate today's elected class: "I want to see the citizens respect their government once again," White says in an old news clipping. "We can win that respect by making decisions that are best for the community."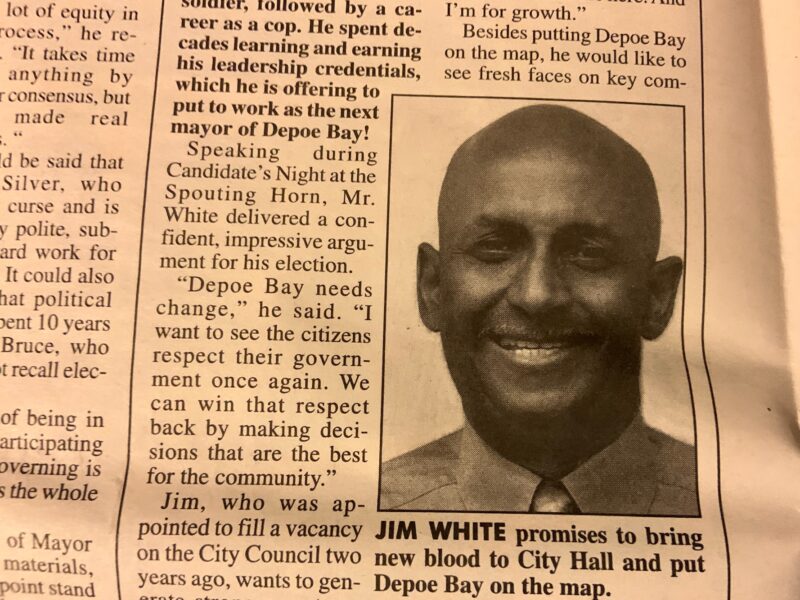 Soon after becoming mayor, a city employee explained to White, "Because this is the way it's always been done." White's famous charm evaporated like a cop at a crime scene as he set the tone for a new administration. "I told her, I don't want those words to ever come out of your mouth again."
What can be learned from a man like this? A native of Brooklyn who journeyed into the Deep South as a boy of six to witness and suffer the indignities of segregation, White endured the barefaced racism of the 1950s and defied the bigotry of a 1960s military.
"When I was young I traveled from New York to North Carolina every year to visit family, changing from the Greyhound to Continental Trailways in Baltimore, where I had to ride in the back of the bus and use separate restrooms," he remembered. "While the other passengers took their dinner in a nice restaurant, I had to order my meal at the counter and take it back to the bus."
It was the time of lynching, Klan rallies and fear for the wide-eyed child.
"I was terrified," he admitted while revealing a defiant humor that has carried him through all the chapters of his life. "The hilarious thing is that when I went to the movies with my cousins, blacks had to sit in the balconies where we had the best view and could drop popcorn on the white kids below."
At 17, he joined the U.S. Marine Corps. In 1960, the senior noncoms and nearly all officers were white, and the arduous boot camp at Parris Island seemed built to keep it that way.
"Our white drill instructor had a nickname for me," recalled White, who would go on to serve with distinction in Vietnam. "He'd say, 'Spook, report to the hatch,' which was his room in the barracks. Every time he'd punch me in the gut as hard as he could. When I graduated he took me aside and said the USMC is the most prejudiced outfit there is, but if I could make it here I could make it anywhere."
The backhanded compliment resounded with White, who went from military policeman to beat cop after his honorable discharge. He became the first black police officer on the Franklin, Virginia, roster, and the first at the Corvallis, Ore., police department. In 1992, Chief Mike Holden lured him to Lincoln City, where White was a respected officer and department spokesman until he retired in 1998.
White's model career in law enforcement could go far to inform hapless lawmakers faced with riots and calls to "reimagine" the police with a budget cleaver, if they'd care to listen. Commissioners, raw from one mistake after another during these tense times, claimed they were getting advice from "the leadership from our communities of color," but declined to reveal who they were while lecturing you for asking.
I say, call Jim White. His story about race is compelling and frank, the lessons practical and his vision uplifting: Stop the rioting and burning, respect your police because 95 percent of them are God-sent, and stand together to end racism. And that face mask thing? "What's good for whites is good for all colors," he said of the county's haywire pandemic policy.
"I think this movement is going to change a lot of things," he figured, predicting a new American understanding when the smoke settles. "In every war, blacks have fought for this country and still came home as second-class citizens. Enough is enough. People are waking up to that. What I love seeing is young blacks and young whites coming together, saying all lives matter."