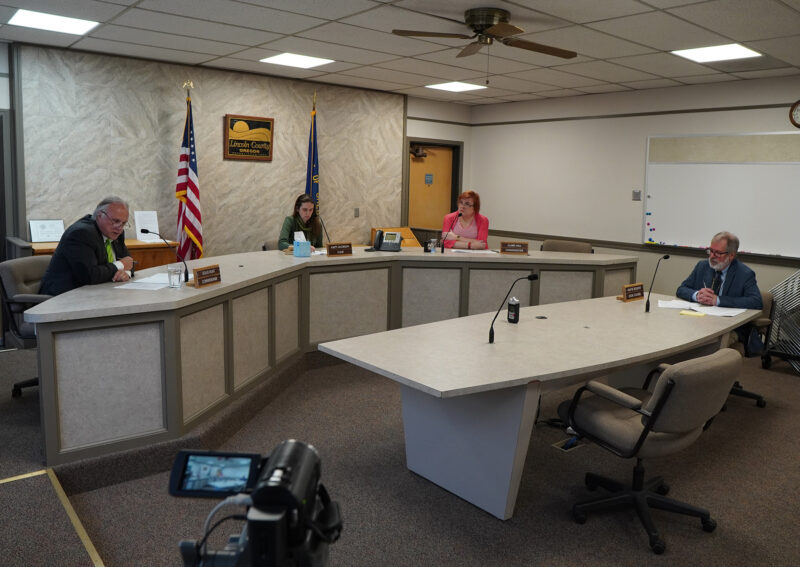 Local media has done a great job of covering COVID-19, so I'm not going to go over things in detail. I thought some people might be interested in hearing about what's life like at the center of the storm.
This has been a pretty challenging time, but don't ever get the idea I am considering running away. President Harry S. Truman once said, "If you can't stand the heat, get out of the kitchen." My kitchen has never been this hot, but I'm not leaving.
Most people had been aware of the growing spread of the virus for weeks, but Friday, March 13th (coincidence?) was the day this thing exploded. This photo was taken the following Wednesday. Chair Kaety Jacobson said it might be our last in-person meeting for some time. Fourteen weeks later, I don't know when the next one might be.
You might wonder why we're not wearing face masks. They were not widely available then. We did socially distance; usually we sit next to each other, and our county attorney, Wayne Belmont, who usually is alongside us, is at the table for public and staff testimony.
The period since then have been the busiest and most challenging weeks of my career in this job. We usually bring things forward to us after several days, sometimes weeks of staff review, but now we're being forced by the flow of events to make a lot of decisions with significant impact very quickly.
Our face covering policy? classic case of good intentions gone bad. We adopted this because our Public Health Director and attorney recommended it, and so did our insurance company.
We consulted people of color in the community. We looked at numerous reports about people of color being harassed, and worse, because of wearing masks. Look up the story of Elijah McCain, who was shot to death last year because he "looked suspicious." He had a compromised immune system and wore a ski mask to walk to the neighborhood store.
When we adopted the order, the backlash began. Not just locally, but nationally and internationally. The story appeared in Russia Today and the NY Post, then it exploded all over. I can handle inflammatory rhetoric, but when the calls to our office and emails are full of profanity and veiled threats…that's a bit much. Not surprisingly more than 90 percent of these messages came from outside the county.
I have become a special target because I am transgender. There are several memes circulating about me now. The language isn't too inflammatory, but the comments…wow…I am seen as a mentally ill pedophile who deserves to be locked up in a mental institution. Then there were things like, "Kill it with fire."
I look at messages like that, think how sad, how sad that they have to waste energy in such a pointless way. Then I remember Harry Truman and say to myself, "The fire is still roaring. This work won't be done until I help put it out."