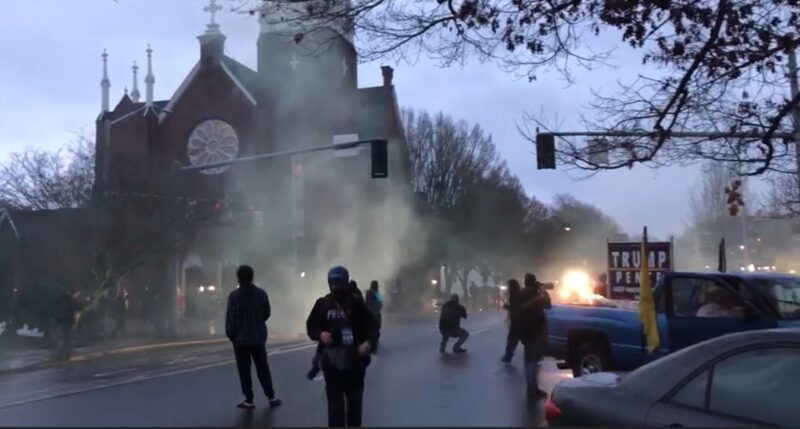 SALEM — A Lincoln City businessman who was returning home Friday from a trip to Bend found himself trapped by tear gas, police and hundreds of protestors.
"I was caught in the eye of the hurricane," recalled Robert Dempewolf as traffic came to a sudden halt next to the State Capitol building. "Protestors were marching and chanting, then running past my truck as the police set off flash bangs and lobbed tear-gas grenades. People were trying to get out of there."
Dempewolf, who owns Taft Athletic Club, decided to jump from his immobilized vehicle and record the tense moments exclusively for Lincoln City Homepage.
"I didn't know what the protest was about, but then I spotted some American flags and pro-Trump signs," he reported. "Somebody said they were trying to exercise their freedom of speech, but it seemed like the police weren't going to give an inch."
Subsequent media reports identified the organizer as Oregon Women for Trump. It was the second raucous rally at the Capitol to flare out of control, coming on the heels of a Dec. 21 protest where demonstrators tried to push their way through the locked doors of a special legislative session.
On New Year's Day, several hundred protestors hiked from the capitol to the residence of Gov. Kate Brown at Mahonia Hall, the gubernatorial mansion, where they were urged by a state lawmaker to take up arms to defend businesses operating in defiance of Covid lockdown orders.
The scene captured by Dempewolf marked the return to the Capitol steps of the crowd. Police unleashed their anti-riot munitions as demonstrators from the anti-Brown camp threatened to clash with counter-protestors.