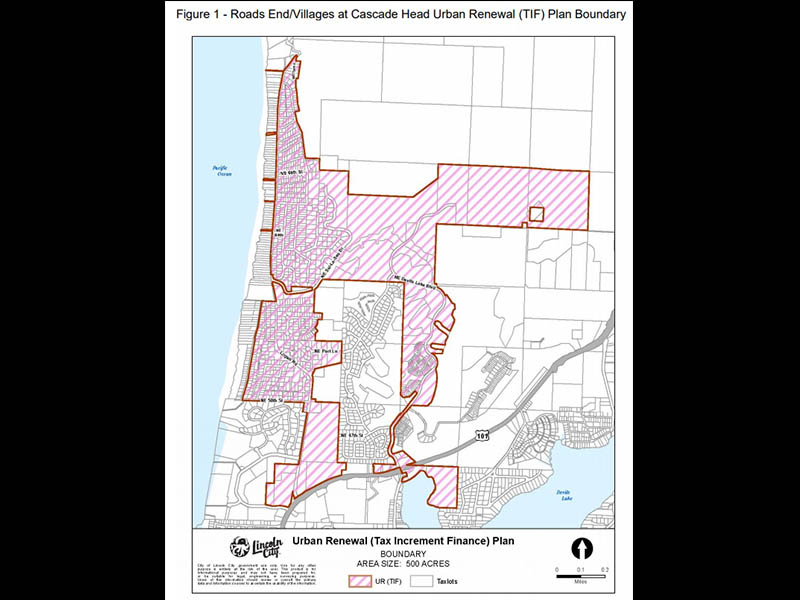 Lincoln City Councilors will hear from the public and consider adoption of an ordinance at 6 p.m. Monday, July 27, for an urban renewal tax increment financing plan aimed to improve Roads End and the Villages at Cascade Head.
The proposed maximum indebtedness for the plan is $87,100,000.
The City Council directed city staff to do tax increment feasibility studies of Nelscott, Roads End and Villages at Cascade Head and after reviewing the completed studies, directed city staff to prepare the current plan.
As funds are accrued in the future, a Community Visioning process will further define and prioritize projects to be completed in the proposed area.
The urban renewal plan has included the public with a series of public forums, radio shows, hearings and press releases.
The goal of the plan is intended to guide investment in the area over the life of the plan and substantial amendments to the plan must be approved by the City Council. Urban renewal's mission is to eliminate blight and depreciating property values in areas and to attract job producing private investments to improve property values.
Plan goals and objectives as defined in the plan documents:
To accomplish its mission the Agency will develop and implement an urban renewal (tax increment finance) program known as the Plan, the goals and objectives of which are:
1. To resolve the problems created by existing blighted conditions so that unused and underused properties can be placed in productive condition and utilized at their highest and best use.
2. To involve community members and stakeholders and increase engagement in planning to support projects in the Area.
3. To establish and improve road connections to increase accessibility within as well as into and out of Area.
4. To improve the City's economic vitality and its ability to provide municipal services.
5. To support City economic development and housing goals.
6. To install and enhance pedestrian pathways in areas of maximum concentration to improve the pedestrian environment.
7. To enhance and increase accessibility of Area parks and open spaces and to increase connectivity to greater trail systems.
8. To establish and improve water, sewer, and utility systems to support existing and future development, and to place underground, existing overhead utility systems in areas that will improve view corridors as well as safety in the event of inclement weather or natural disasters.
9. To be sensitive to, and to minimize to the greatest extent possible, the effects of tax increment financing upon the overlapping taxing districts through revenue sharing.
10. To enhance opportunities for business and tourist-related property to be developed, redeveloped, improved, rehabilitated and conserved in ways which will:
a. Ensure that traffic flow, off-street parking, and other public facilities within the Area are adequate to accommodate current and future development
b. Improve the Area's visual quality consistent with that of the Oregon Coast's natural environment
c. Encourage the expansion and development of businesses that will produce living wage jobs for the people of the City
d. Increase property values so that the Area will contribute its fair share to the costs of providing public services
e. Leverage the Agency's financial resources to maximum extent possible with other public and private investment and other funding sources
Public comments can be emailed to [email protected] and will be read aloud during the public comment section of the meeting. The comments will also be provided to City Recorder Cathy Steere for the official record.
The meeting will be held electronically via Zoom and council chambers will be open to the public for those wanting to comment in person.
A report has been prepared with a comprehensive list of proposed projects and detailed information: