UPDATE: 7 p.m.
All evacuation levels are still in effect for Lincoln City.
Highway 18 remains closed.
Highway 101 North of Lincoln City is closed and Samaritan North Lincoln Hospital is still closed.
An update on evacuations will be available noon Friday, Sept. 11.
SOURCE: City of Lincoln City
UPDATE: 5:20 p.m.
Last night's wind shift changed the winds coming from east to a southwest wind ending the fire making huge runs westward towards Lincoln City. Currently the fire activity is low: creeping and smoldering within the fire perimeter. After being at the fire today, Matt Thomas, ODF Protection Unit Forester, stated "Today's weather is allowing the fire fighters to gain traction and make progress towards extinguishing this fire".
Fire operations are being assisted by local resources including equipment and employees from Hancock Forest Management, Weyerhaeuser Company and Miami Corporation and the Confederate Tribes of Grand Ronde. Oregon Department of Forestry appreciates the partnership with the local fire and rescue squads especially North Lincoln Fire and Rescue, Newport Fire Department, Depoe Bay Fire and Rescue as well as the Lincoln County Sheriff's Office and Oregon Department of Transportation for their assistance since the beginning of this incident.
Tonight's weather forecast is for continued winds from the southwest 3-5 mph with high relative humidity recovery and mild temperatures in the 50's. This will keep the fire low to the ground and fire fighters will continue working through the night.
SOURCE: Oregon Department of Forestry
UPDATE: 1 p.m. from Lincoln County and Oregon Department of Forestry: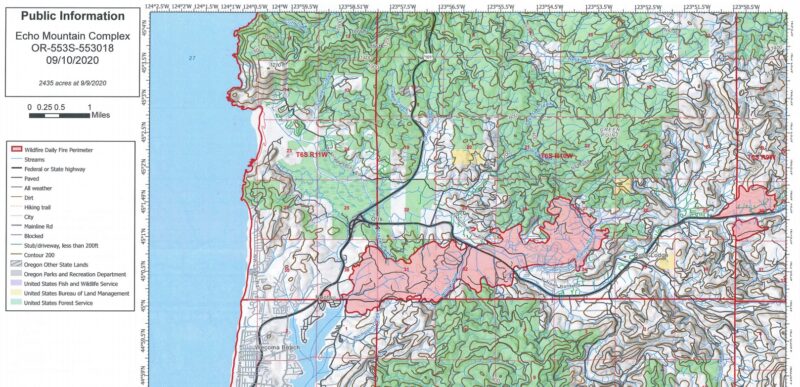 Weather conditions were favorable last night for an Infrared flight to fly over the fires to gather data for accurate fire perimeter mapping and acreage determination. The Echo Mountain Fire and Kimberling Fire are still separate fires, the combined acreage is 2,435 acres and zero percent containment.
Last night the wind shifted from east winds to southwesterly winds and that will help firefighters begin to attack this fire by establishing an anchor point and work on the east side of the fire.
Overhead personnel are flying in today from the Florida Forestry Service to add capacity to the Oregon Department of Forestry staff in managing this fire.
Pacific Power workers along with ODF Fire Officials and ODOT Foresters are walking the affected powerlines in the fire area to assess damages. Repairs have started. Power needs to be restored before people are allowed to return to their homes and road closures lifted. Restoring power to the Lincoln City Hospital is a priority and vital before it can reopen.
It is possible that some evacuated community members may be allowed to return to their residences, later today. Power and hospital services must be safely restored first. Notices will be communicated through Lincoln Alerts, the County's website and Facebook pages.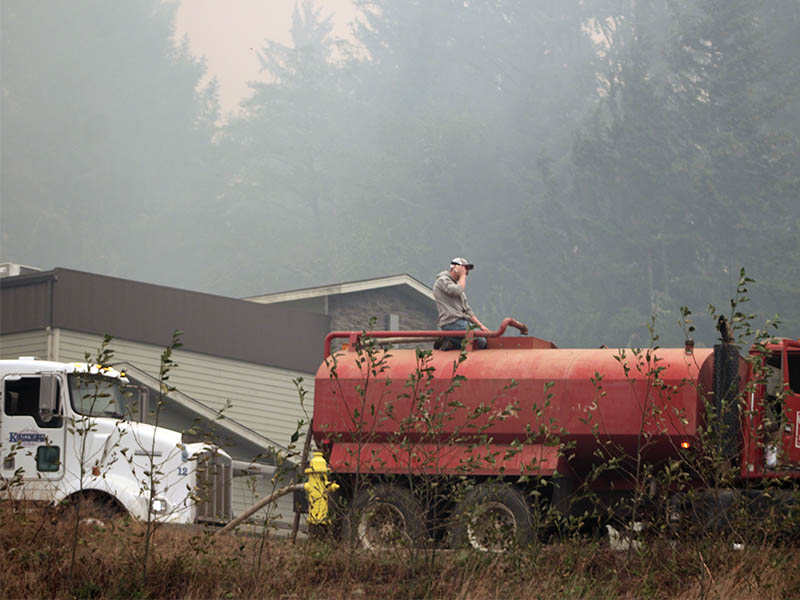 Lincoln City government issued an update Thursday on wildfires north of the city, saying all evacuation orders are still in effect and residents are not allowed in the area.
According to the news release, the fires are still active in the Echo Mountain Complex with new fire growth north of Panther Creek. Fire crews are creating containment lines with a goal to complete them by Friday. Fire crews are also working in the Kimberly Mountain area to protect critical communication towers and equipment.
Lower temperatures and higher humidity, along with lower wind speeds, have been a help to firefighters. Winds are forecast to blow from west to east over the next 24 hours.
Power is still out in Lincoln City and North County and Pacific Power is performing walking inspections of lines and equipment. No word on when power will be restored.
Forest crews are using chainsaws and other equipment to clear areas of timber and debris to make way for the restoration of critical systems. Bulldozers and other heavy equipment have been rushed to the area to assist with creating containment lines.
Emergency responders have been working nonstop to combat the fires, evacuate people to safety, and keep essential services up and running.
The City of Lincoln City wants to remind everyone to avoid spreading rumors as it prevents accurate information from getting to those who need it and to avoid scams in this time of hardship.
If you have experienced loss during this incident, contact FEMA with the below link:
Homepage is seeking additional information and should have access to it shortly.