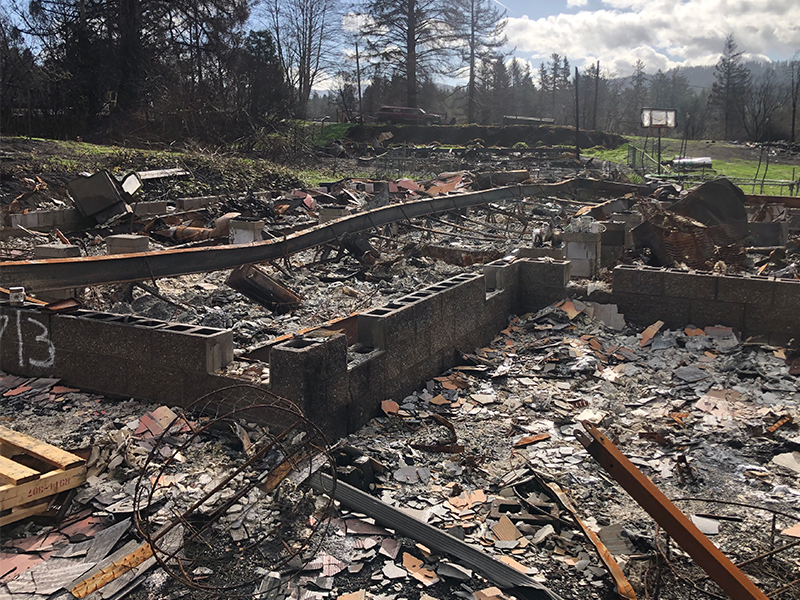 Lincoln County government met Monday to discuss possibly waiving construction fees for victims of the Echo Mountain Complex Wildfire and may do so retroactively to Sept. 8.
Lincoln County Council Wayne Belmont said most of the property owners in Otis had not applied for permits as they were still in the cleanup phase. Belmont said it was within the legal authority for Commissioners to waive or defer fees. Linn and Marion counties have already waived fees for victims of wildfires.
Department of Planning & Development Director Onno Husing said there was a groundswell of citizens contacting Lincoln County looking for help with waiving construction fees. Husing recommended going with a Marion County approach that was approved Oct. 14, that waives building and septic permit fees for primary residences damaged or destroyed by the wildfires.
Husing said because of insurance coverage, some wildfire victims would not be able to afford to rebuild and have sold their burned properties and are leaving the area.
Lincoln County Commissioners directed staff to bring forward an order to adapt the Marion County model to waive construction fees retroactively to Sept. 8, in an effort to aid wildfire victims as they rebuild. Belmont said staff would prepare an order for Commissioners to look at, possibly as soon as next week.
The Construction Excise Tax was also addressed at Monday's meeting. Commissioner Hall said she and Rep. David Gomberg did a "deep dive" into what could be done to alleviate those paying the tax twice. After consulting with Legislative legal counsel, Gomberg said he would work to move legislation forward to possibly amend SB 1036 to address the issue in a November special session or a January regular session.
"We do care," Hall said. "we want to do everything to help citizens rebuild."