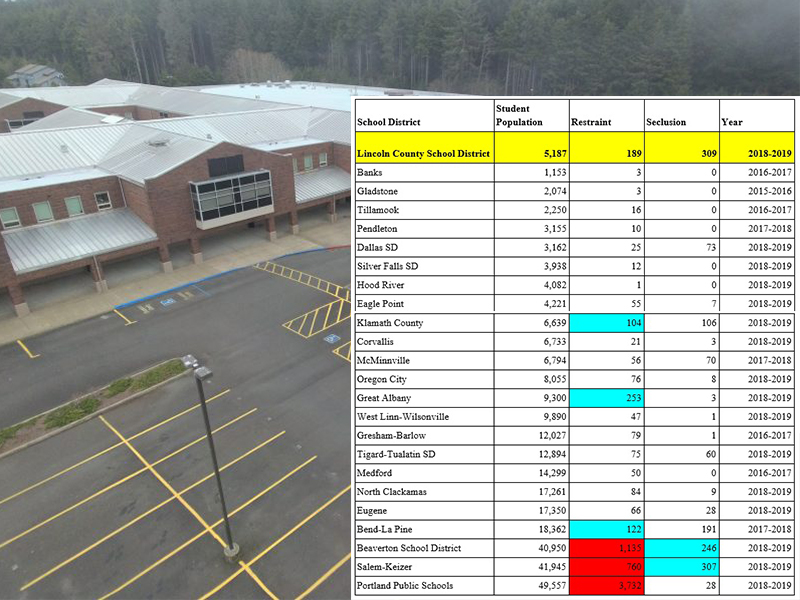 Lincoln County School District (LCSD) led most of Oregon in the number of reported restraints and exceeded all other districts in the use of seclusion of students for the 2018-19 school year.
According to an annual report provided by LCSD Superintendent Dr. Karen Gray for the Oregon Department of Education for the 2018-19 school year, 309 students were secluded and 189 were restrained out of a 5,187 student population. LCSD's numbers are disproportionate with other school districts who have reported restraint and seclusion. Neighboring Salem-Keizer School District, with a student population of 49,945, says it had 307 seclusions and 760 restraints for 2018-19.
Gray's report offers additional information and discloses 43 students were physically restrained a total of 189 times and 55 students were secluded a total of 309 times. Seven students were placed in restraint or secluded more than 10 times.
Out of the 55 students secluded by LCSD, 42 had a "disability status." Twenty-three of them were physically restrained.
Twenty students and 31 staff were injured in incidents during the 2018-19 school year. No students died as a result of restraint or seclusion.
According to the LCSD report, no students in Lincoln County schools were placed in locked rooms.
"I have a hard time imagining that the numbers listed by some of those other school districts are completely accurate based on the definition of seclusion/restraint," Gray said. "This is also data from over a year ago, so it would be nice to have time to compare the numbers to the 2019-20 school year and then we'd be better able to answer what actions we are taking, and why we believe it's having a positive impact."
On June 6, 2019, Senate Bill 963 was signed into law by Governor Kate Brown. Senate Bill 963 changes the restraint and seclusion laws in Oregon public education programs. It went into effect July 1, 2019.
The terms "physical restraint" and "seclusion" as defined by Gray in her report:
"Physical restraint" means the restriction of a student's movement by one or more persons holding the student or applying physical pressure upon the student.
"Seclusion" means the involuntary confinement of a student alone in a room from which the student is physically prevented from leaving. "Seclusion"does not include the removal of a student for a short period of time to provide the student with an opportunity to regain self-control if the student is in a setting from which the student is not physically prevented from leaving.
The term "physical restraint" as defined by Senate Bill 963:
"The restriction of a student's actions or movements by holding the student or using pressure or other means." Restraint is to be used only when the student's behavior "imposes a reasonable risk of imminent and substantial physical or bodily injury to the student or others" and "less restrictive interventions would not be effective."
"Our school district is implementing the Positive Behavior Intervention and Support (PBIS) framework district-wide, which includes training for all staff in proactive and preventative behavior management strategies," Gray said. "This has been a huge focus point for the district's professional development and training and shall continue to be. Our major and minor behavior, suspension and exclusion data is very encouraging (in that they are decreasing) so we believe our training during 2019-20 is paying off for kids."
Gray wrote in her report the steps taken to reduce the number of restraint and seclusion incidents for the 2019-20 school year which was cut short due to the COVID-19 pandemic:
Parent and staff meetings to review, edit, or create behavior support plans.
Training of staff in Nonviolent Crisis Intervention (NCI) to reinforce the importance of deescalation.
Focus on the use of self-regulation skills with students.
Use of redirection, calming techniques, positive encouragement, breaks, visual icons, verbal cues, and timer warnings for transitions.
Increased communications with parents/guardians. Students taught safe options and alternatives to running away.
Modification of students' schedules to avoid triggering situations.
Gray also listed the district's plan to reduce the use of restraint and seclusion in her report:
Wraparound services coordination with county health department, local mental health services and the Linn-Benton-Lincoln ESD.
Training of staff to conduct Functional Behavior Assessments.
Continued monitoring of Behavior Support Plans and adjustment of plans as needed.
Additional staff training in NCI de-escalation techniques.
Implementation of district-wide Positive Behavioral Intervention Supports (PBIS).
The following was provided to Homepage from an LCSD teacher, who under the condition of anonymity offers first-hand accounts that restraint and seclusion are "overused" by the district, especially in special programs:
Our community and our country are experiencing a time like no other. COVID-19 has shuttered businesses and schools and brought our economy to a near standstill. Lincoln County currently has the highest unemployment rate in the state. More recently our nation witnessed the horrific, and heart-wrenching death of George Floyd who was restrained and suffocated by a white police officer. Since then, calls for action have sounded in cities and countries around the world. While the spotlight shines on national events, we cannot overlook the progress that we can make right here in our own community. For the Lincoln County School District, this means taking a hard look at the district practices that disproportionately impact our students with disabilities and our students from socioeconomically disadvantaged households. Specifically, LCSD needs to address the practices that are resulting in the overuse of restraint and seclusion.
Oregon school districts prepare and release an annual report on the use of physical restraint and seclusion. The chart below is a collection of restraint and seclusion data from districts across the state. LCSD leads most of the state in the number of reported annual restraints and exceeds all other districts in the number of reported seclusions. This data demonstrates that LCSD must rethink its policies and approaches to disruptive behavior and to seek more ethical and effective practices.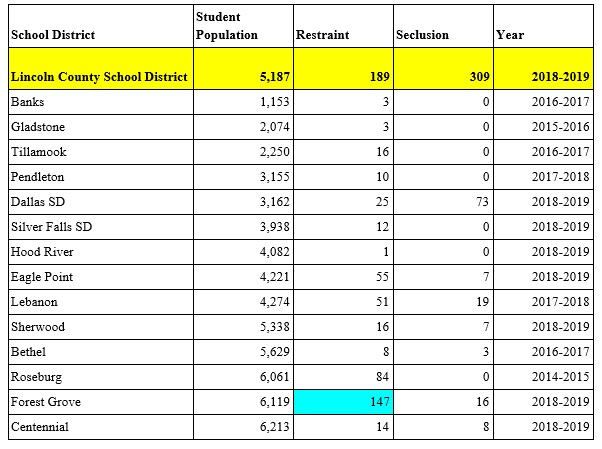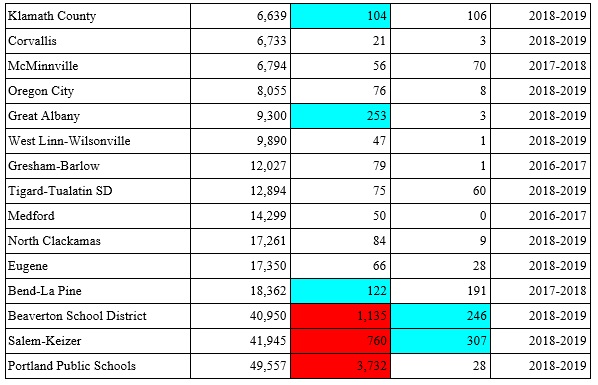 In light of recent events, I feel morally obligated to share my experiences and bring to light the behavior management practices that result in the frequent use of restraint and seclusion. Much like the district-wide PBIS (Positive Behavior Interventions and Supports) initiative that has begun making its way into classrooms throughout the district, LCSD special programs are expected to implement behavior management systems that reward students for displaying appropriate behaviors. The basic principle of this approach is that rewarding positive behavior increases its frequency. However, this approach often only looks at the externally observable behavior and does not consider skill deficits, trauma histories, mental health needs, or neurodiversity in students.
A wealth of research is available from the fields of psychology, neuroscience, and child development that highlight the limitations and potentially negative consequences of behavior modification through rewards and consequences. With that said, my main criticism is not of the rewards, but of the consequences, including the adult response when students engage in noncompliant or disruptive behaviors. In my experience, when students become escalated or non-compliant they are expected to take a break or time out, most often in the designated seclusion rooms. Seclusion rooms are separate rooms with closing doors located within the special education classrooms. When a student is secluded it means they are inside this room while an adult holds the door closed to prevent the student from leaving. Often, when a student acts out and is directed to the seclusion room to take a break they escalate further, which frequently leads to restraint or seclusion when it could have been prevented.
During my time in LCSD, I have observed a school resource officer involved in the seclusion of an elementary student and I have witnessed multiple injuries to both staff and students as a direct result of unnecessary restraints and seclusions. These experiences only serve to further trauma and exacerbate any underlying mental health needs of students. Restraint and seclusion are only to be used in situations where students' behavior proves to be an imminent and ongoing threat to their safety or the safety of others. However, in my experience, this is not how restraint and seclusion are used in LCSD special programs. I firmly believe that the emphasis on compliance over compassion and control over connection in our special programs has resulted in an unacceptably high number of restraints and seclusions in schools throughout the district.
Change does not come easy but I believe it is possible to inspire a systems-wide lens change concerning student behavior. There are more ethical and effective approaches to addressing challenging behaviors that can dramatically reduce the number of restraints and seclusions. When students return in the fall many of them will be bringing with them new traumas. They will need educators that can provide nurturing and reassuring relationships. How do we want to meet these students when they walk back into our buildings and classrooms? It is time to create a more ethical school community that is trauma-informed, culturally responsive, and recognizes the importance of connection and compassion over control and compliance.