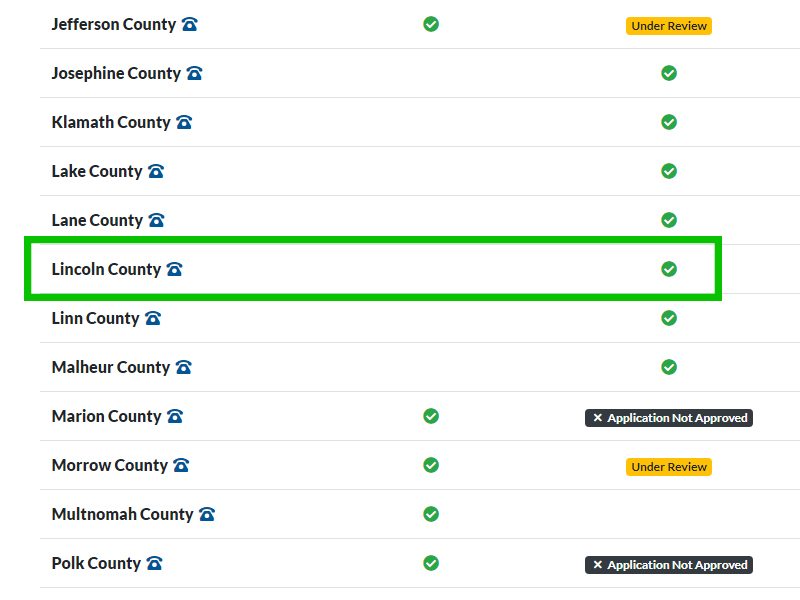 Governor Kate Brown announced Thursday Lincoln County is approved to enter Phase 1 Friday and businesses can open under a set of guidelines for restaurants, bars, and personal care services, such as salons.
Lincoln County's approval for Phase 1 takes effect Friday, May 15.
According to the Governor's website, Restaurants and bars must:
Ensure tables are spaced at least six (6) feet apart so that at least six (6) feet between parties is maintained, including when customers approach or leave tables.
Require all employees to wear cloth face or disposable coverings (provided by the employer).
End all on-site consumption of food and drinks by 10 p.m.
Personal care services (salons, barber shops, massage, etc.) must:
Make appointments with pre-appointment health check.
Maintain a customer log.
Maintain Six feet physical distancing between clients.
Remove all magazines, newspapers, snacks and beverages from waiting areas.
Require face coverings by employees and clients (depending on the services provided).
Gyms/ fitness must:
Limit maximum number of customers accordingly.
Enforce physical distancing & sanitation.
Local gatherings are limited to 25 with no traveling.
Lincoln County Commissioner Claire Hall has been posting live updates on Facebook concerning the reopening:
Counties who continue to meet prerequisites may be able to enter Phase 2 which includes gatherings up to 100 with physical distancing and limited visitation to nursing homes after 21 days in Phase 1. These guidelines are tentative and subject to change.
Under the proposed Phase 3, Governor Brown has said large gatherings and events will not be possible until a reliable treatment or vaccine is available. The following are canceled through at least September:
Concerts
Conventions
Festivals
Live-audience sports
Again, these guidelines are tentative and subject to change.
From the Governor's website:
If you have read the Phase 1 guidance and have further questions, please reach out to your local county officials.