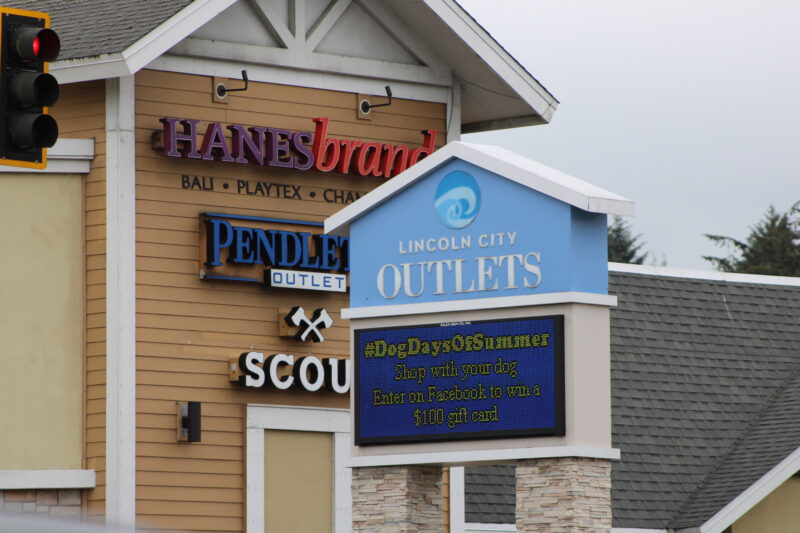 Lincoln County community services and FEMA are hosting a Multi-Agency Resource Center (MARC) that will be available for those whose homes and businesses were affected by the Echo Mountain Complex Fire and accompanying wind event.
If you are a renter at one of the affected properties you are also encouraged to attend.
The MARC will be open this week at the Lincoln City Outlets in Suite 200.
Tuesday, Sept. 22: 3-8 p.m.
Wednesday, Sept. 23: 1-8 p.m.
Thursday, Sept. 24: 8 a.m.–1 p.m.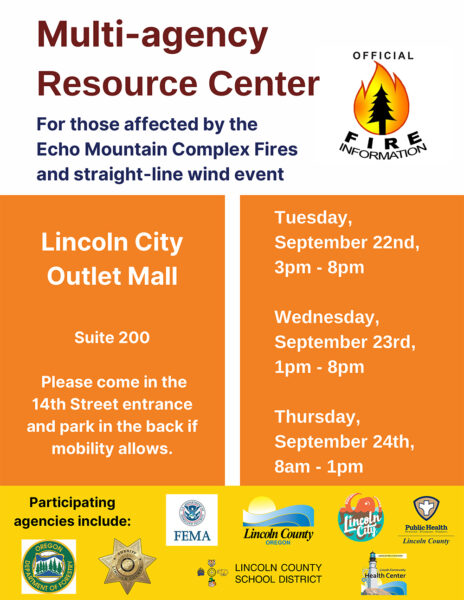 The MARC will include representatives from several support services, such as Planning Department, Solid Waste, Behavioral Health, Oregon Department of Forestry and FEMA. Additional resources will be available either in person or in printed form.
Registration/Attendance:
Free. No registration needed.
Due to COVID-19 conditions, only a limited number of persons will be allowed in at one time. Face coverings and hand sanitizer will be made available.
A greeter will be at the main entrance to provide information on the MARC and entrance will be based on first come first serve. Officials estimate 20-25 families will be allowed in at one time.
Computers with internet access will be available for those who need to file an application with FEMA or for the Small Business Administration.
Interpreters are available on site to assist as needed.
Confirmed Community Services Partners:
City of Lincoln City
DHS – Self Sufficiency
Federal Emergency Management (FEMA – financial assistance application)
Lincoln County Animal Shelter
Lincoln County Behavioral Health
Lincoln County School District
Lincoln County School District H.E.L.P.
Lincoln County Emergency Management (Small Business Administration Loan Assistance info)
Lincoln County Environmental Health Vital Records (birth and death certs)
Lincoln County Environmental Health (public water system monitoring)
Lincoln County Planning and Development (info on rebuilding, permits, process to rebuild)
Lincoln County Solid Waste
Ministerial Services
Northwest Septic Service
Oregon Department of Forestry
Pacific Power and Light
Red Cross – Clean Up Assistance Kits
Robertson Environmental
Additional resources near the MARC include:
The Donation Distribution Center is located in Suite 118 and is open from 10 a.m.-6 p.m.
Trauma Center for Disaster Victims (Behavioral Health) is located in Suite 410 and is open from 10 a.m.-5 p.m.
Questions or Need More Information?
Contact the Lincoln County Call Center at 541-265-0621 between the hours of 8 a.m.-6 p.m.
More information is available at www.co.lincoln.or.us/echomountainfire – go to the Disaster Damage and Recovery Page.