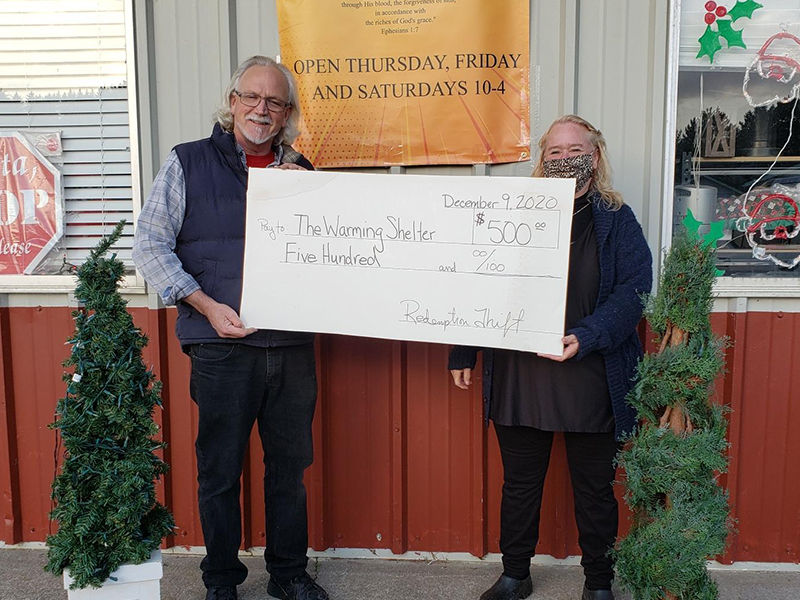 Redemption Thrift proprietor and former Lincoln City Mayor Don Williams made another donation Wednesday to nonprofit Coastal Support Services for their warming shelter efforts.
"Debbie and I, on behalf of Redemption Thrift, are proud to continue our ongoing support for Sharon and Amanda's efforts to help our local homeless population," Williams said.
In addition to the $500 cash donation, Williams gave over a dozen blankets to help the homeless this winter. Williams has given the bulk of his sales to various charities since starting the business earlier this year.
"None of this would have been possible without the overwhelming generosity of our community donating their items to Redemption Thrift and the love of Jesus Christ whose example we try to follow," Williams said.
Coastal Support Services provides case management and peer support to individuals and families struggling with addiction or homelessness. They operate a warming shelter that allows those in need a place to stay warm, meals and other basic necessities when the temperature reaches 40 degrees.
If you'd like to donate, please make checks payable to:
Coastal Support Services, P.O Box 173, Newport, OR 97365.
To donate to a specific program please put which program you want the money to go to in the Memo.
Redemption Thrift is located at 1206 SE 48th Place in Taft. Store hours are 10 a.m.-4 p.m. Thursday, Friday and Saturday.
If you are a group in need, contact Williams.