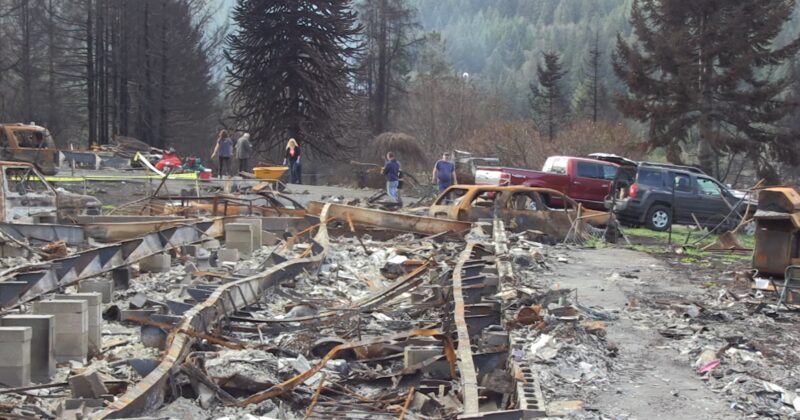 The Lincoln County School Board voted Tuesday night to waive the School Construction Excise Tax for replacement of homes destroyed in the Echo Mountain Complex Fire.
Superintendent Karen Gray said she and Facilities Director Rich Belloni will meet with County Commission Chair Kaety Jacobsen and County Counsel Wayne Belmont Dec. 15 to discuss details of the exception and will announce specifics of how property owners can apply, and a refund for those who have already paid the tax.
"I'm pleased that county government and the school district have come together to waive fees and taxes for homes destroyed in the wildfire," Lincoln County Commissioner Claire Hall, who first reported the school board vote Tuesday night said. "Every step we can take to make it easier for people to rebuild their homes and lives is the right thing to do."
The exception applies to primary homes, not vacation rentals and second homes, and homeowners will have until June 30, 2021 to apply.
The tax was passed by the Oregon Legislature in 2007 and was the subject of controversy as fire victims rebuilding said they were being taxed twice. SB 1036 allows school districts to charge a Construction Excise Tax against new construction so they can provide capital improvements, such as improving a kitchen at Oceanlake Elementary and Taft Elementary's roof and building additions. Although the original sponsors said they never intended the tax to apply in situations like this, current attorneys for the Legislature said the statute never directly addressed this question. Gray and board members emphasized they understood the pain of homeowners who lost their homes but wanted to make sure they were on firm legal footing in taking this step.
"We see a clear path to making this exception at this time," Gray said.
Lincoln Co. Commissioner Claire Hall contributed to this article.
Previous coverage:
Fire victims rebuilding face double taxation from school district
Legislators work to address double taxation, property taxes for fire victims
Lincoln County discusses waiver of fees retroactively for wildfire victims