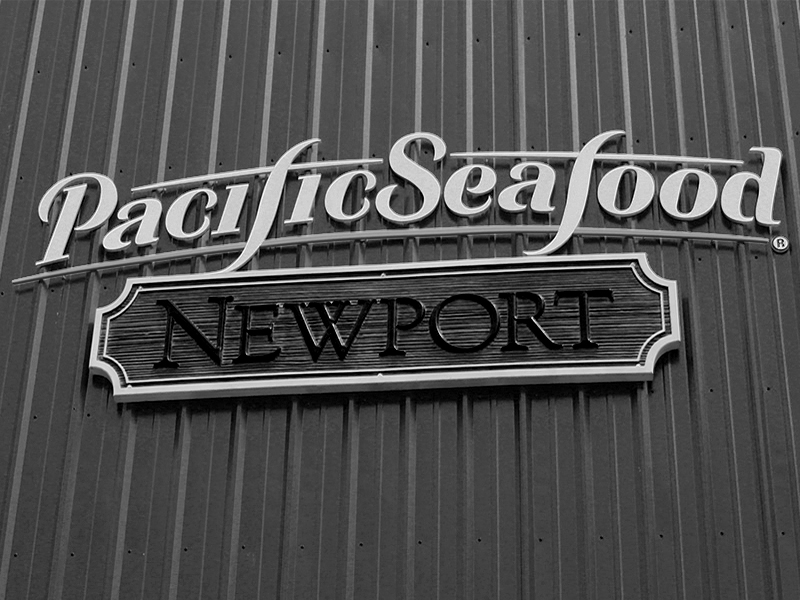 NEWPORT — A Lincoln County pandemic task force has been idled by a lack of information about the Covid-19 surge at a Pacific Seafood processing plant, where 124 confirmed cases of the disease on June 7 accounted for Oregon's largest single-day outbreak to date.
Health experts nevertheless claimed the risk of infection to the wider community remains "low" if safety protocols, such as wearing a mask, social distancing and handwashing, are undertaken.
"What we've found here is a group of people with a high positive rate, so the virus is definitely within Lincoln County with some risk to residents," said Dr. Paul Cieslak of the Oregon Health Authority, during a June 8 video press conference attended by county and state officials and a dozen reporters. "But it's pretty much contained within this group."
But county and state officials also acknowledged the limits of local health specialists to move quickly against a sudden outbreak, saying Pacific Seafood has not yet released the names or residences of the affected workers. Contact tracing is vital to blunting transmission of the disease, yet a score of county workers trained to follow the trail of Covid-19 are effectively sidelined as the fish-processing company reportedly conducts its own emergency response.
"Even though we have quite a little army standing by, all the people who tested positive have been informed by the company (Pacific Seafood) and told they need to isolate, and they are also asking the families also to isolate," said Rebecca Austen, head of the Lincoln Co. Health Department. "If they need help with food or medicine, they have people ready to do it."
Austen said the county, which formed a rapid-reaction team three months ago, has no authority to force Pacific Seafood to divulge data around the outbreak.
Despite evidence that food-processing plants are leading portals for the disease, Austen acknowledged that steps to oversee safety measures at Pacific Seafood were never fully taken. After initial meetings to supply "toolkits" of information to Pacific Seafood and other industrial operations, including the mill at Toledo, oversight by county and state officials ceased.
"We were hoping to do active surveillance, but that didn't happen," Austen commented. "I don't recall why. As far as whether or not the toolkits were carried out I cannot speak to that. I don't know how well they did in following the procedures."
Austen said the county attempted to conduct "an active survey" to establish a baseline among plant workers but were "unable to carry out" the task. While fish plant officials claim to have checked workers for symptoms of the disease, Austen said the results would be meaningless without testing to identify asymptomatic or silent carriers. Such testing is not required by government health authorities, though Austen said her agency is working to change the policy.
An official with the Oregon Dept. of Agriculture, Rustin Rock, said his agency descended on the Pacific Seafood plant after the outbreak was reported.
"We predominantly discussed policies the firm was putting into place at the time," he responded. "We did not dig into their past practices."
Recommended plant protocols include checking employee temperatures, watching for symptoms, physical distancing and sanitation procedures.
County commissioner Kaety Jacobson urged citizens to restrain from singling-out groups such as migrant workers for "blame."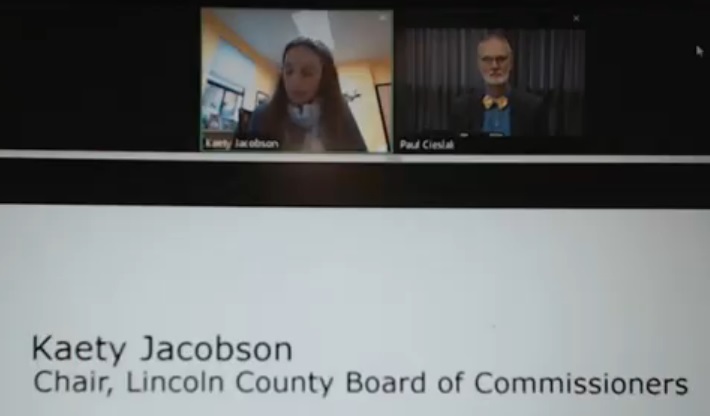 "This is a scary thing for our county," observed Jacobson, who said the pandemic had appeared "distant" until now. "We have rules to prevent the spread of Covid, but not a rule against kindness. The 'blame-the-victim' mentality is incredibly disheartening."
She added that local hospital capacity and supplies of personal protective equipment remain available "at this point."
Austen said that that a group of Serbian and Ukrainian workers hired by Pacific Seafood that are housed at local Newport hotels have all tested negative.
"As far as we know everybody who has become sick is a resident of this county," Austen asserted, although company officials still retain that information.
The first positive case at the plant was reported June 2, with additional cases confirmed the next day. By June 5, Pacific Seafood tested 376 workers, reporting 124 cases on June 7.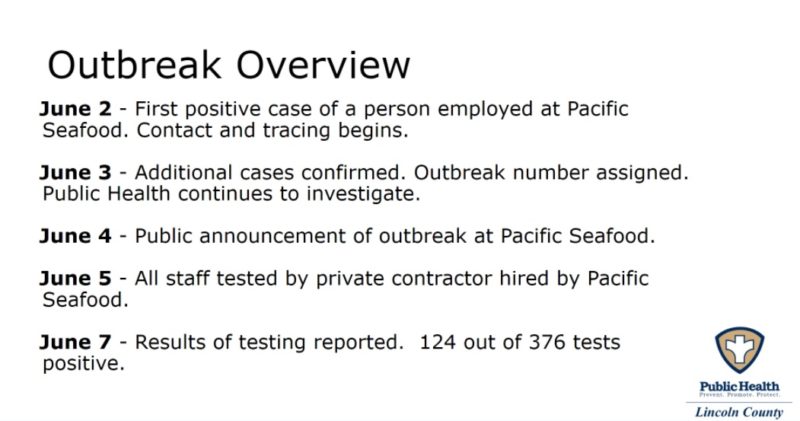 A spokesman for the company was invited to attend Monday's press conference but declined, citing responsibilities to control the plant outbreak.