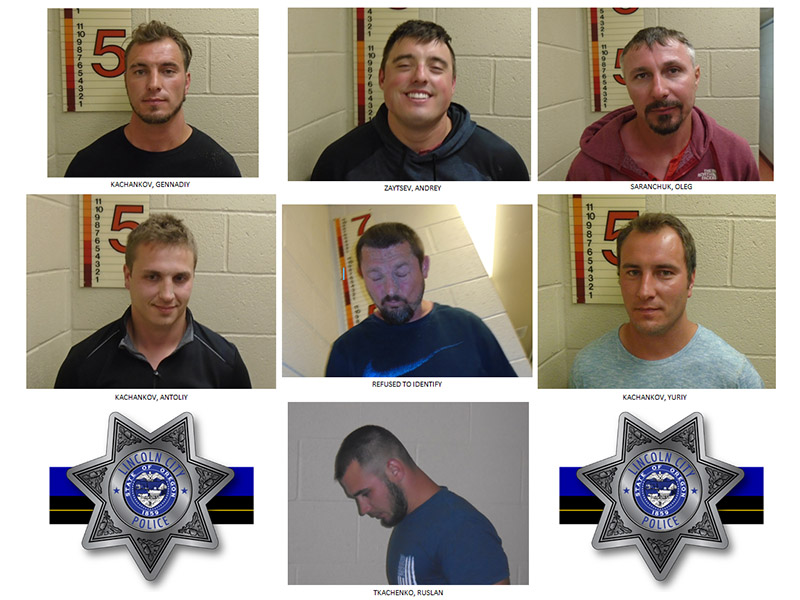 Update from Lincoln City Police Department 5:47 p.m. Tuesday, July 7:
At the time of the arrests, one of those in the group refused to identify himself. That subject was transported to the Lincoln County Jail and lodged there pending his identification.
Once the subject was down at the jail he was identified to be Oleg Saranchuk (45) of Clark County Washington. It was determined that due to a language barrier and some lack of cooperation the subject originally identified as Oleg Saranchuk (in the original mug shot photo spread) had been misidentified, and was in fact Andrey I. Leonchik (41) of Clark County, Washington. Both men were charged with the following crimes: Riot, Interfering with Police, Disorderly Conduct II, Harassment, Possession of Illegal Fireworks, and Offensive Littering. Andrey Leonchik was cited and released from the Lincoln City Police Department. Oleg Saranchuk was later released from the Lincoln County Jail.
The case investigation is being referred to the Lincoln County District Attorney's Office for further review and determination of charges.
—————————————————–
Seven Clark County, Wash. men were arrested on Independence Day by Lincoln City Police for harassing a black family, launching illegal fireworks and causing a disturbance on the beach in front of Inn at Spanish Head.
According to police officials, at 9:33 p.m. officers were dispatched to a group of people launching illegal fireworks and causing a disturbance on the beach. The first officers arrived in an all terrain vehicle and were surrounded by a group of about 10 people who began taunting and challenging the officers as they seized illegal fireworks.
Several officers arrived as backup and learned the group causing the disturbance was responsible for yelling racial slurs and using Nazi salutes towards a black family who said they felt intimidated by the men. Lincoln City Police say they formed a line between the white Clark County men and the black family, allowing them to safely leave the beach and return to their room. During this time the men continued to shoot illegal aerial fireworks and taunt the officers, "trying to challenge them to fight."
Several more officers arrived and police moved in on the highly intoxicated confrontational group and placed them under arrest for a variety of criminal charges.
Gennadiy Kachankov (30), Antoliy Kachankov (28), Andrey Zaytsev (28), Oleg Saranchuk (45), Ruslan Tkachenko (22), all of Clark County Wash., were charged with the following crimes:
Riot
Interfering with police
Disorderly conduct
Harassment
Possession of illegal fireworks
Offensive Littering
They men were cited and later released.
An additional male, who refused to identify himself and who had no identification on his person, was transported to the Lincoln County Jail for fingerprint identification and charged with the above listed crimes. Yuriy Kachankov, 30, of Clark County, was also charged with the above along with Resisting arrest. He was cited and later released.
Lincoln City Police was assisted by Toledo Police Department and Lincoln County Parole and Probation.