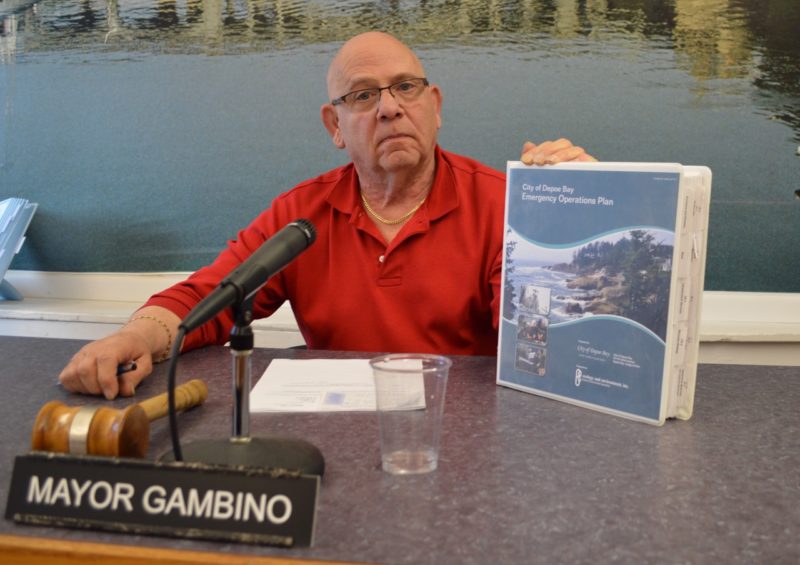 It would be difficult to name a more Utopian spot on the Oregon coast than Depoe Bay, a picturesque seafaring town with 1,600 largely blissful residents who are about to be flattened by a financial meteorite.
Home to a wildly-successful resort, a vibrant shopping and restaurant scene, and world-class fishing and whale watching, Depoe Bay exudes in every direction the wealth it draws through tourism and affluent retirees. Since becoming a city in 1972, it has been a small-town paradise without traffic, crime, homelessness or costly property taxes.
It is hard to square the notion, then, of a city with posh developments at both entrances turned into a smoking crater of insolvency. But municipal failure looms sure as Lincoln Savings and Loan. In that notorious 1989 bankruptcy, elderly depositors suffered most, as will the highly-invested citizens of Depoe Bay whose median age, 55, far exceeds the Oregon average of 39.
Glaring mismanagement of city hall over the last two administrations, those of former Mayor Barbara Leff and current Mayor Robert Gambino, culminated in the embarrassing collapse of finances. Unpaid vendors and others that were paid twice, unauthorized raises, payroll mistakes, lost paperwork, misfiled monies and unreconciled financial reports were part of the disarray that led the city to miss required state audits for the last two years.
The fiscal irregularities occurred after the council — with businessman Jerome Grant the sole dissenter — hired one of its own, city councilor Jeff Wiseman, as city recorder in Sept., 2017, when Leff was Mayor. Wiseman, who claimed to be an accounting specialist, was fired in Nov., 2018, for failing to keep the books up.
Gambino became mayor in an uncontested election two months later amid a flurry of state and federal fines, the suspension of revenue-sharing funds (from marijuana, alcohol and gas taxes) and the city's loss of its four-star Moody's rating, thus making it difficult to borrow money for needed repairs to the aging sewer system. While the new mayor pledged to fix the chaos that occurred on his watch, the city's books remain unbalanced to this day.
It is possible that Gambino, a city councilor since 2012, lacks a clear understanding of how his tax-free city operates more as a business enterprise than levy-supported public entities. The town's major sources of income — marine gasoline sales, slip rentals and a nightly room tax — beg the management expertise of an entrepreneur rather than a dabbler.
As if to underscore his detachment, Gambino abruptly ended recent budget committee deliberations after some members began to whittle-away at spending on sacred cows. Their calls to create new revenue streams and raise heavily-discounted fees and rates on favored businesses were effectively silenced. Then, on May 19, Gambino led a split vote to further slash the number of allowable vacation rentals, whose room taxes produce 40 percent of the city's operating capital.
New City Recorder Barbara Chestler — a lucky catch who prepared a "bare bones" spending plan that may get the city through 2020 — last week reported that for the first time Depoe Bay spent more than it took in. The city council that once bought tsunami sirens is now awash in an ocean of red ink.
Resilient citizens of "The World's Smallest Harbor" have survived many environmental catastrophes including wildfires, tornado-strength windstorms and shockwaves from a 2011 Japanese tsunami that ripped boats from their moorages and destroyed a pier. They rebounded from a 2017 Solar Eclipse that drained thousands from skimpy city coffers on crowd-control measures and sun goggles for hoards that never arrived, and most recently emerged intact from the Wuhan Bat Virus.
But no natural disaster could wreak the man-made calamity Depoe Bay now faces. Running on the fumes of a rapidly diminishing reserve fund, the city has about eight to 10 months before going broke, according to budget documents.
It should be just enough time for Robert Gambino, whose term expires in January, to become the last mayor of Depoe Bay.
(Editor's note: Rick Beasley, a writer and columnist for Lincoln City Homepage, is a member of the Depoe Bay Budget Committee)