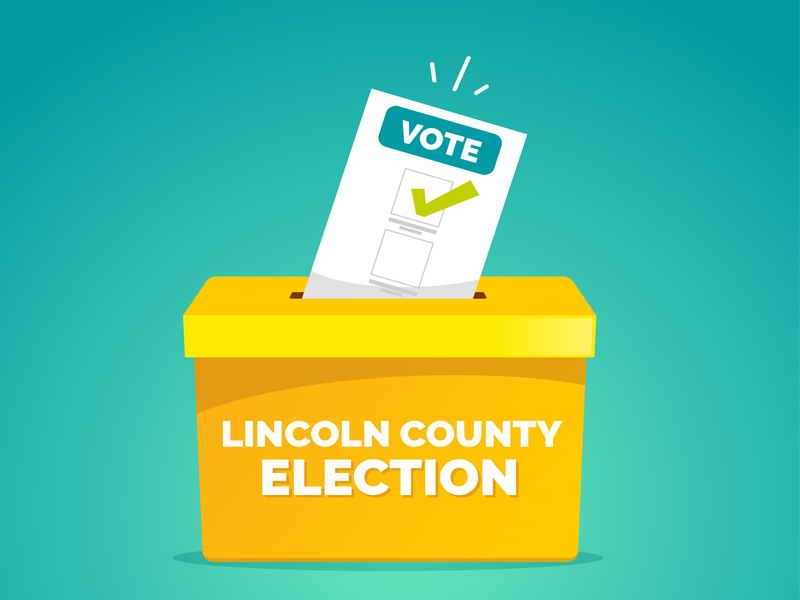 With 99 percent of the votes counted so far, below are the initial Lincoln County election results from County Clerk Dana Jenkins' office as of 10:15 p.m. Jenkins will certify the election in a few weeks.
Wahlke leads Lincoln City mayor race
Susan Wahlke will win the race for Lincoln City's replacement Mayor. Dick Anderson moved to the Oregon State Senate, prompting the Lincoln City City Council to put the role of fill-in mayor to the voters in this election.
North Lincoln Fire & Rescue District Local Option Levy Measure failing
In a too-close-to-call vote, NLFR's $1.22 per $1,000 assessed value five year tax is failing by a mere 22 votes. If the measure is defeated, NLFR says firefighters will be laid off from current employment and response times would increase. Additional cuts to volunteer programs would also be likely.
Complete election results (updated as of 5/18/21 at 10:15 p.m.)
City of Lincoln City Mayor

Don Williams
Susan Wahlke
Riley Hoagland
Fernando Garza
John C Forse
City of Waldport Council Member

| | | |
| --- | --- | --- |
| | | |
Linn-Benton-Lincoln Education Service District, Zone 2

| | | |
| --- | --- | --- |
| | | |
Oregon Coast Community College District, Zone 1

| | | |
| --- | --- | --- |
| | | |
Oregon Coast Community College District, Zone 2

| | | |
| --- | --- | --- |
| | | |
Oregon Coast Community College District, Zone 5

| | | |
| --- | --- | --- |
| | | |
Lincoln County School District, Zone 3

Lance Vanderbeck
Ron Beck
Erica R Wilson
Mike Rawles
Lincoln County School District, Zone 4

Peter Vince
Stephen Vogel
Lincoln County School District, Zone 5

Senitila McKinley
Eric Goss
Lincoln County Library District, Zone 1

| | | |
| --- | --- | --- |
| | | |
Lincoln County Library District, Zone 2

| | | |
| --- | --- | --- |
| | | |
Greater Toledo Pool Recreation District, Position 1

| | | |
| --- | --- | --- |
| | | |
Greater Toledo Pool Recreation District, Position 2

| | | |
| --- | --- | --- |
| | | |
Greater Toledo Pool Recreation District, Position 3

| | | |
| --- | --- | --- |
| | | |
Port of Alsea, Position 1

| | | |
| --- | --- | --- |
| | | |
Port of Alsea, Position 3

| | | |
| --- | --- | --- |
| | | |
Port of Alsea, Position 5

| | | |
| --- | --- | --- |
| | | |
Port of Newport, Position 2

| | | |
| --- | --- | --- |
| | | |
Port of Newport, Position 3

| | | |
| --- | --- | --- |
| | | |
Port of Newport, Position 4

| | | |
| --- | --- | --- |
| | | |
Port of Toledo, Position 1

| | | |
| --- | --- | --- |
| | | |
Port of Toledo, Position 3

| | | |
| --- | --- | --- |
| | | |
North Lincoln Health District, Position 2

| | | |
| --- | --- | --- |
| | | |
North Lincoln Health District, Position 3

| | | |
| --- | --- | --- |
| | | |
North Lincoln Health District, Position 7

| | | |
| --- | --- | --- |
| | | |
Pacific Communities Health District, Position 3

| | | |
| --- | --- | --- |
| | | |
Pacific Communities Health District, Position 4

| | | |
| --- | --- | --- |
| | | |
Pacific Communities Health District, Position 5

| | | |
| --- | --- | --- |
| | | |
Alsea Rural Fire Protection District, Position 1

| | | |
| --- | --- | --- |
| | | |
Alsea Rural Fire Protection District, Position 2

| | | |
| --- | --- | --- |
| | | |
Alsea Rural Fire Protection District, Position 3

| | | |
| --- | --- | --- |
| | | |
Central Oregon Coast Fire & Rescue District, Position 1

| | | |
| --- | --- | --- |
| | | |
Central Oregon Coast Fire & Rescue District, Position 2

Todd E Holt
Peter Carlich

Dave Brooks
Kathryn Menefee
Greg Dunn
Depoe Bay Rural Fire Protection District, Position 1

| | | |
| --- | --- | --- |
| | | |
Depoe Bay Rural Fire Protection District, Position 2

| | | |
| --- | --- | --- |
| | | |
Depoe Bay Rural Fire Protection District, Position 3

| | | |
| --- | --- | --- |
| | | |
East Lincoln County Fire & Rescue District, Position 1

| | | |
| --- | --- | --- |
| | | |
East Lincoln County Fire & Rescue District, Position 2

| | | |
| --- | --- | --- |
| | | |
Newport Rural Fire Protection District, Position 4

| | | |
| --- | --- | --- |
| | | |
Newport Rural Fire Protection District, Position 5

| | | |
| --- | --- | --- |
| | | |
North Lincoln Fire & Rescue District, Position 4

| | | |
| --- | --- | --- |
| | | |
North Lincoln Fire & Rescue District, Position 5

Eric Creighton
Dan Drayton
Nancy Oksenholt
Seal Rock Rural Fire Protection District, Position 1

| | | |
| --- | --- | --- |
| | | |
Seal Rock Rural Fire Protection District, Position 4

Michael Burt
S D Skip Smith
David Oliver
Seal Rock Rural Fire Protection District, Position 5

| | | |
| --- | --- | --- |
| | | |
Siletz Rural Fire Protection District, Position 3

| | | |
| --- | --- | --- |
| | | |
Siletz Rural Fire Protection District, Position 4

| | | |
| --- | --- | --- |
| | | |
Siletz Rural Fire Protection District, Position 5

| | | |
| --- | --- | --- |
| | | |
Yachats Rural Fire Protection District, Position 1

| | | |
| --- | --- | --- |
| | | |
Yachats Rural Fire Protection District, Position 3

| | | |
| --- | --- | --- |
| | | |
Yachats Rural Fire Protection District, Position 4

| | | |
| --- | --- | --- |
| | | |
Yachats Rural Fire Protection District, Position 5

| | | |
| --- | --- | --- |
| | | |
Beverly Beach Water District, Position 1

| | | |
| --- | --- | --- |
| | | |
Beverly Beach Water District, Position 2

| | | |
| --- | --- | --- |
| | | |
Beverly Beach Water District, Position 3

| | | |
| --- | --- | --- |
| | | |
Carmel Beach Water District, Position 3

| | | |
| --- | --- | --- |
| | | |
Carmel Beach Water District, Position 4

| | | |
| --- | --- | --- |
| | | |
Carmel Beach Water District, Position 5

| | | |
| --- | --- | --- |
| | | |
Kernville-Gleneden Beach-Lincoln Beach Water District, Position 1

| | | |
| --- | --- | --- |
| | | |
Kernville-Gleneden Beach-Lincoln Beach Water District, Position 2

| | | |
| --- | --- | --- |
| | | |
Lower Siletz Water District, Position 2

| | | |
| --- | --- | --- |
| | | |
Lower Siletz Water District, Position 3

| | | |
| --- | --- | --- |
| | | |
Otter Rock Water District, Position 1

| | | |
| --- | --- | --- |
| | | |
Otter Rock Water District, Position 2

| | | |
| --- | --- | --- |
| | | |
Otter Rock Water District, Position 4

| | | |
| --- | --- | --- |
| | | |
Panther Creek Water District, Position 1

| | | |
| --- | --- | --- |
| | | |
Panther Creek Water District, Position 2

| | | |
| --- | --- | --- |
| | | |
Panther Creek Water District, Position 3

| | | |
| --- | --- | --- |
| | | |
Seal Rock Water District, Position 1

| | | |
| --- | --- | --- |
| | | |
Seal Rock Water District, Position 2

| | | |
| --- | --- | --- |
| | | |
Seal Rock Water District, Position 3

| | | |
| --- | --- | --- |
| | | |
Southwest Lincoln County Water District, Position 1

| | | |
| --- | --- | --- |
| | | |
Southwest Lincoln County Water District, Position 2

| | | |
| --- | --- | --- |
| | | |
Southwest Lincoln County Water District, Position 3

| | | |
| --- | --- | --- |
| | | |
Devils Lake Water Improvement District, Position 1

| | | |
| --- | --- | --- |
| | | |
Devils Lake Water Improvement District, Position 3

| | | |
| --- | --- | --- |
| | | |
Devils Lake Water Improvement District, Position 4

| | | |
| --- | --- | --- |
| | | |
Devils Lake Water Improvement District, Position 5

| | | |
| --- | --- | --- |
| | | |
Bear Creek Hideout No 2 Special Road District, Position 1

| | | |
| --- | --- | --- |
| | | |
Bear Creek Hideout No 2 Special Road District, Position 2

| | | |
| --- | --- | --- |
| | | |
Bear Creek Hideout No 2 Special Road District, Position 3

| | | |
| --- | --- | --- |
| | | |
California Street Special Road District, Position 2

| | | |
| --- | --- | --- |
| | | |
Little Switzerland Special Road District, Position 2

| | | |
| --- | --- | --- |
| | | |
NE San Marine Special Road District, Position 1

| | | |
| --- | --- | --- |
| | | |
NE San Marine Special Road District, Position 2

| | | |
| --- | --- | --- |
| | | |
New Bridge Special Road District, Position 1

| | | |
| --- | --- | --- |
| | | |
New Bridge Special Road District, Position 3

| | | |
| --- | --- | --- |
| | | |
Panther Creek Special Road District, Position 2

| | | |
| --- | --- | --- |
| | | |
SE Nelson Wayside Drive Special Road District, Position 2

| | | |
| --- | --- | --- |
| | | |
Starr Creek Special Road District, Position 1

| | | |
| --- | --- | --- |
| | | |
Starr Creek Special Road District, Position 3

| | | |
| --- | --- | --- |
| | | |
Surfland Special Road District, Position 1

| | | |
| --- | --- | --- |
| | | |
Surfland Special Road District, Position 3

| | | |
| --- | --- | --- |
| | | |
Westwood Village Special Road District, Position 2

| | | |
| --- | --- | --- |
| | | |
Cape Foulweather Sanitary District, Vote for Two

No Candidate Filed
No Candidate Filed
Gleneden Beach Sanitary District, Vote for Two

| | | |
| --- | --- | --- |
| | | |
Salishan Sanitary District, Position 1

| | | |
| --- | --- | --- |
| | | |
Salishan Sanitary District, Position 4

| | | |
| --- | --- | --- |
| | | |
Salishan Sanitary District, Position 5

| | | |
| --- | --- | --- |
| | | |
Siletz Keys Sanitary District, Position 1

| | | |
| --- | --- | --- |
| | | |
Siletz Keys Sanitary District, Position 2

| | | |
| --- | --- | --- |
| | | |
Siletz Keys Sanitary District, Position 3

| | | |
| --- | --- | --- |
| | | |
Measure 21-199 – North Lincoln Fire & Rescue District – North Lincoln Fire & Rescue District Local Option Levy Measure

| | | |
| --- | --- | --- |
| | | |
Measure 21-200 – Kernville-Gleneden Beach-Lincoln Beach Water District – Renewal of Current Local Option Tax For Capital Projects

| | | |
| --- | --- | --- |
| | | |
Measure 21-201 – East Lincoln County Fire & Rescue District – Authorizes General Obligation Bond to Improve Service Delivery

| | | |
| --- | --- | --- |
| | | |
Measure 21-202 – Seal Rock Rural Fire Protection District – Five-Year Local Option Levy to Replace Current Staffing Levy

| | | |
| --- | --- | --- |
| | | |