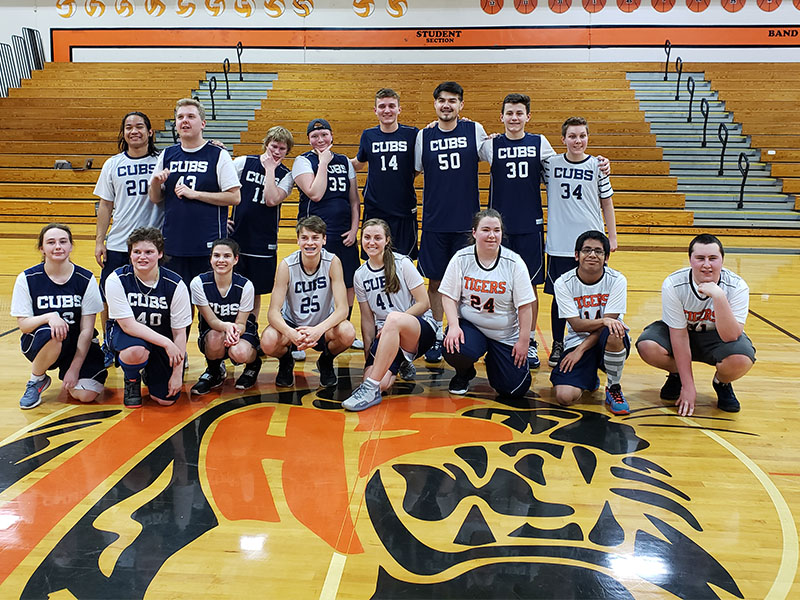 Two teams comprised of Newport and Taft 7-12 players blazed up and down the hardwood Thursday night in Lincoln City to raise money for Special Olympics Oregon Lincoln County, with all athletes scoring at least once.
Hailed as a "great game," every player on the floor scored at least one basket in the Tigers home gym.
The Special Olympics athletes recently played Saturday, Feb. 22 at Oregon State University in a tournament where both teams earned silver medals.
With the Unified Basketball season coming to a close, the Traditional season begins and both teams will combine to form one Youth Traditional team.
Completely staffed by volunteers, Special Olympics never makes athletes pay and depends on donations to fund training venues, uniforms, equipment, food, lodging and transportation costs.
Knights of Columbus' attended the fundraiser game and presented a check to Special Olympics for $3,650. The money was raised from a candy sale held on Special Olympics behalf.
Donations received at the door totalled $480.
Special Olympics officials want to thank the sponsors and the community for coming out and cheering on the athletes.
The mission of Special Olympics is to provide year-round sports training and athletic competition in a variety of Olympic-type sports for children and adults with intellectual disabilities, giving them continuing opportunities to develop physical fitness, demonstrate courage, experience joy and participate in a sharing of gifts, skills and friendship with their families, other Special Olympics athletes and the community.