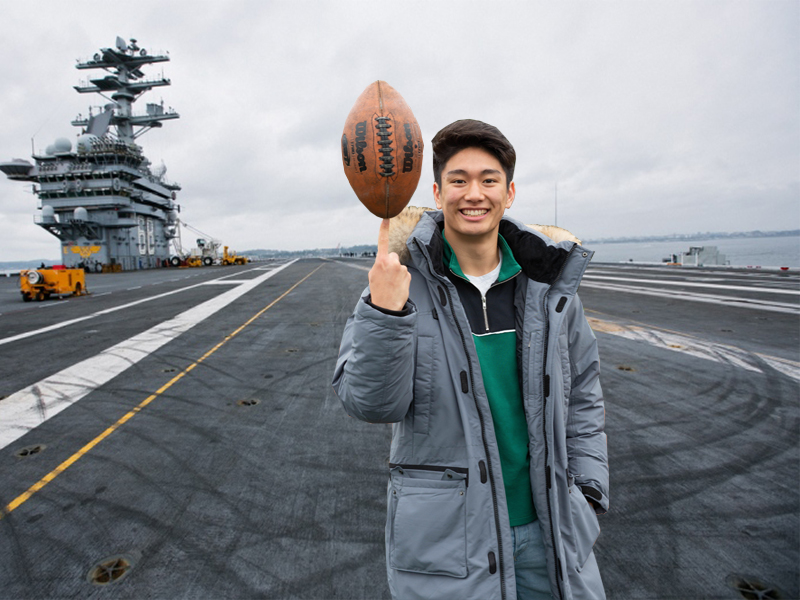 It will be "Anchors Aweigh" in more ways than one this week when Taft High senior David Jin hurdles his way into the Class 3A Special District 2 Track and Field Championships in Dayton.
The 17-year-old student leader, who has won eight of the 12 hurdling events he has competed in this season, will soon be off to the U.S. Naval Academy in Annapolis to study mechanical engineering.
Taft's starting quarterback and a decorated wrestler, Jin's stellar high school sports career will likely cross the finish line May 17-18 when the Tigers compete in the Class 3A State Track and Field Championships at Mt. Hood Community College in Gresham.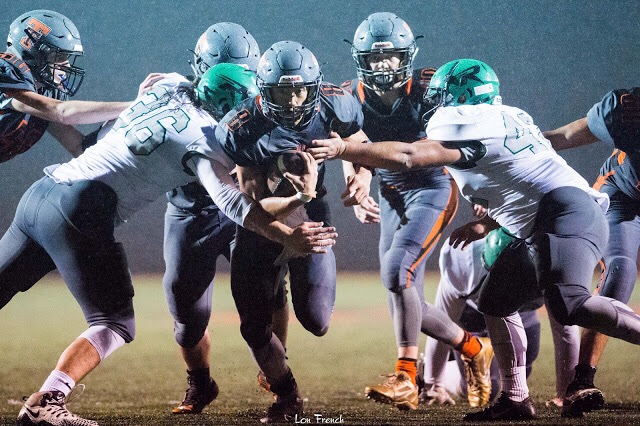 "As a coach and school counselor for about 15 years, David is one of the most well-rounded individuals I have encountered," Taft wrestling coach Robb Ellis said.
Jin is expected to compete in the 110- and 300-meter hurdles Tuesday and Wednesday in Dayton, and possibly even "anchor" a relay for Taft.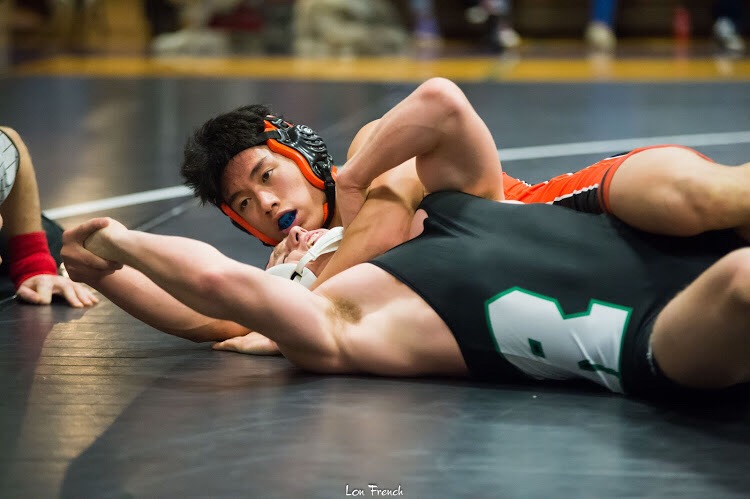 Jin's future as a Naval Academy recruit is testament to the boundless academic and athletic achievements he has shared with his classmates in five years at Taft High 7-12 since his family moved to Lincoln City from Pasadena, Calif., five years ago.
"He is very respectful to his teachers and coaches, a great athlete, a leader, in the top 1 percent for academics and also has musical talents," Ellis said. "He has a strong faith and a lot of integrity. He is hard on himself sometimes because he always wants to do the best job he possibly can."
Born June 28, 2001, Jin is the son of Young-hoon Jin, senior pastor at the Lincoln City Korean Church, and Jae-heea, a homemaker and mother to Veronica, a 16-year-old Taft sophomore, and Ariel, a fifth-grader at Taft Elementary.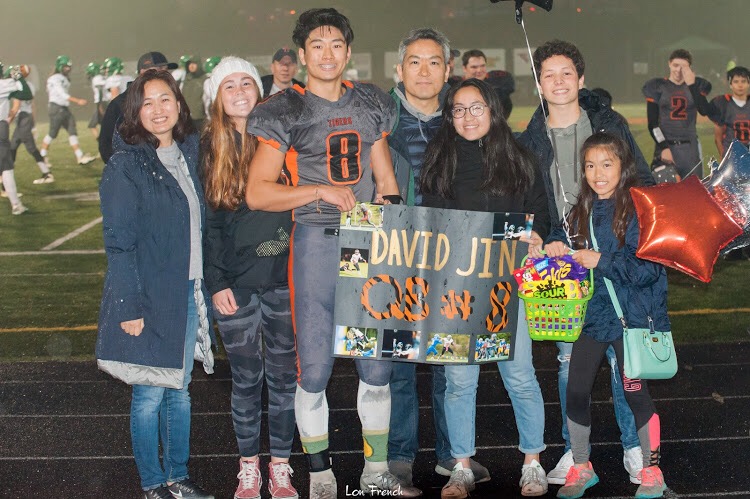 Jin's introduction to high school sports upon his arrival in Lincoln City in the summer of 2014 has forged friendships he cultivates to this day. That includes his longtime relationship with former Taft multisport star Pete Lahti, among the school's most highly regarded scholar athletes.
"The first thing that impressed me with David is how coachable he is," said Lahti, who played football the past four seasons at Lewis & Clark College in Portland, where he will graduate this week with a degree in biology in pursuit of a career as a dentist. "I got to work with him at quarterback when he was first stepping up to play varsity. Anything I told him, he took it seriously, and I saw it being put to work every time he stepped on the field. He wants to learn as much as possible, and that is crucial for a developing player."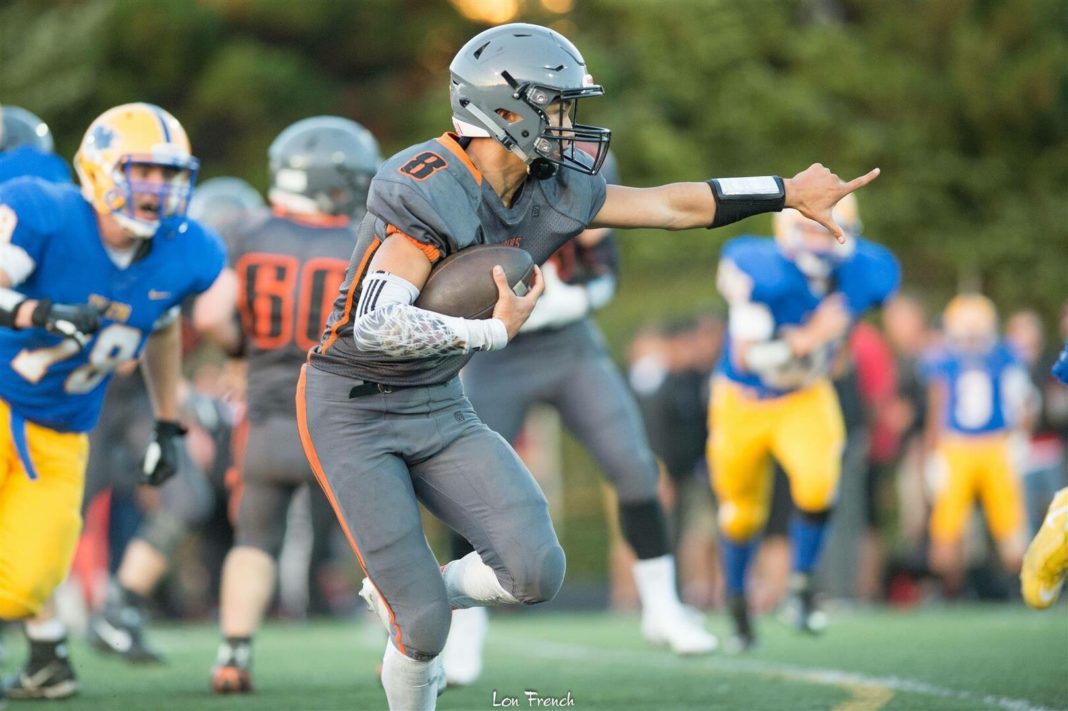 Lahti was taken aback by Jin's presence as a person as well as his promise as a player. Jin's unwavering desire to excel paralleled his talent, his predecessor said.
"His drive impressed me. I could tell how bad he wanted to succeed," Lahti said. "He didn't just wish that he was talented; he went out and worked for it. It was a lot of fun to watch him grow as a player and mature as a person. He wanted to work out both on the field and in the weight room, and those things helped immensely."
Lahti said it was Jin's inquisitiveness that struck him most, however.
"He impressed me with questions that didn't pertain to the physical side of sports," he said. "He realized how important the mental aspects of sports are, too, which I think is rare in a high school athlete.
"He wanted to pick my brain to see how I approached things when I played quarterback in high school and how I approach things now, and he applied them to himself. He put all of these things into being a leader, and it showed."
On the track, Jin has won four of the six 110-meter hurdle races and four of the six 300-meter hurdle events he has competed in this spring. He has also run a 11.97 100-meter dash.
He placed sixth in the Meet of Champions, which features only winners of this year's races. He posted a personal-best 15.96 in the 110-meter hurdles at last week's Toledo Twilight, and a 44.23 PR in a Special District 2 meet April 18 at Taft.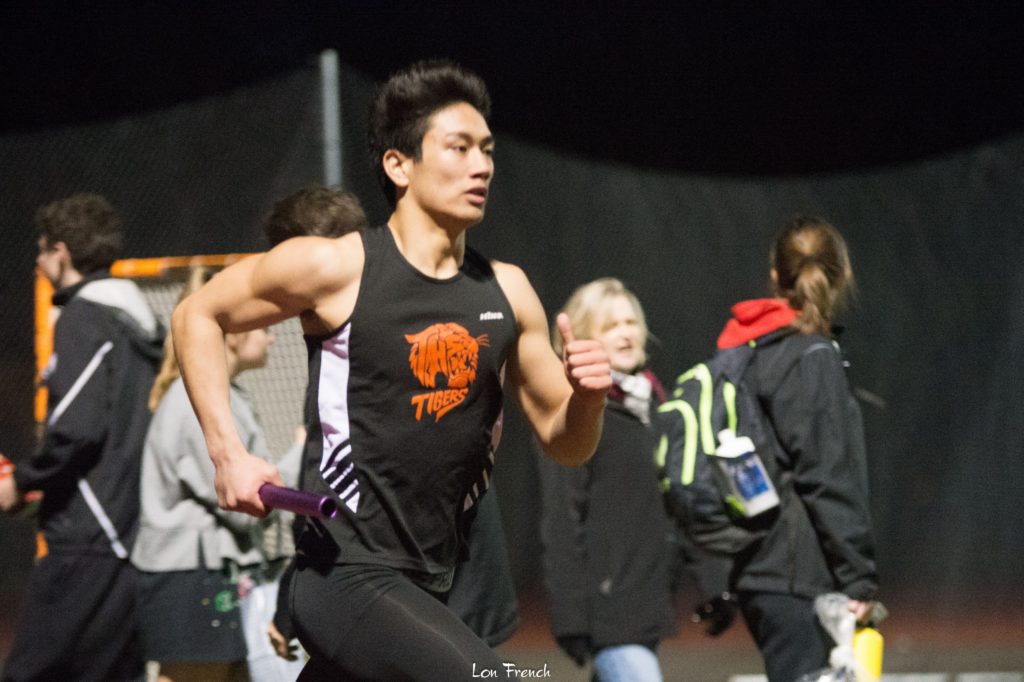 While he's also anchored Taft's 4×100 relay team, football remains Jin's first love.
"I love football because of the unbreakable bond that can't be formed anywhere else among a group of high school boys," he said. "It also brings with it a complex layer of strategy and preparation, along with the high physical demand.
"I hold the quarterback position above all the other positions that I've played because it has been the most demanding, yet rewarding, experience. I need to be physically, mentally and emotionally prepared to lead an entire offense for four quarters, and — no matter what — I need to be the one who keeps their head up. Ranging from quick decision-making skills, to maintaining composure under pressure, to even forming a unique connection with each player on the team, many skills are required of the quarterback."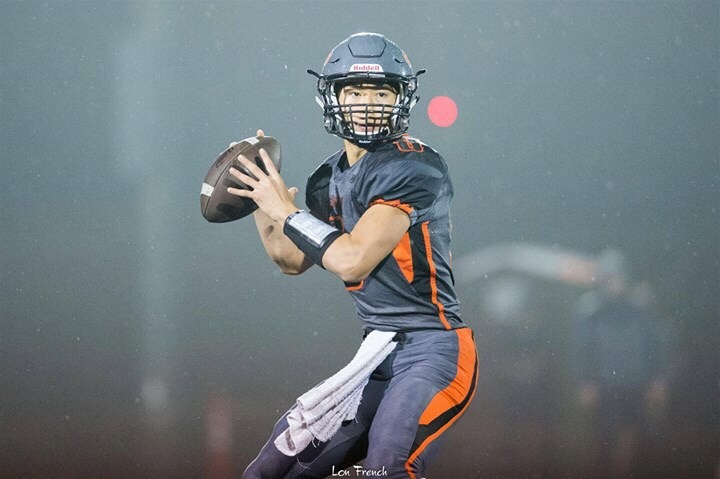 Jin reminisces about his first interception in a varsity game against Willamina his freshman season; beating Sutherlin on a toe-tap reception by fellow senior Tyee Fisher in the corner of the end zone; his time at Camp Rilea summer camp; hurdling a player and scoring three touchdowns on Senior Night against defending State champion Rainier; and his time learning from Lahti.
"My favorite moment watching David in athletics came watching him wrestle in the Taft gym," said Lahti of Jin, who represented Taft at State in the 170-pound class despite weighing in at 162. "I wished him luck and he proceeded to pick up a kid, throw him over his head, slam him to the mat, and pin him in a matter of about 30 seconds. He came and greeted me with a big smile afterwards. That was awesome."
Also a swimmer and State alternate in a relay, Jin is an accomplished guitar player and singer whose favorite subjects are math and science. He enjoys video games, working out with friends, nature hikes, beach walks, boogie boarding, kayaking, swimming in the lake and "eating constantly."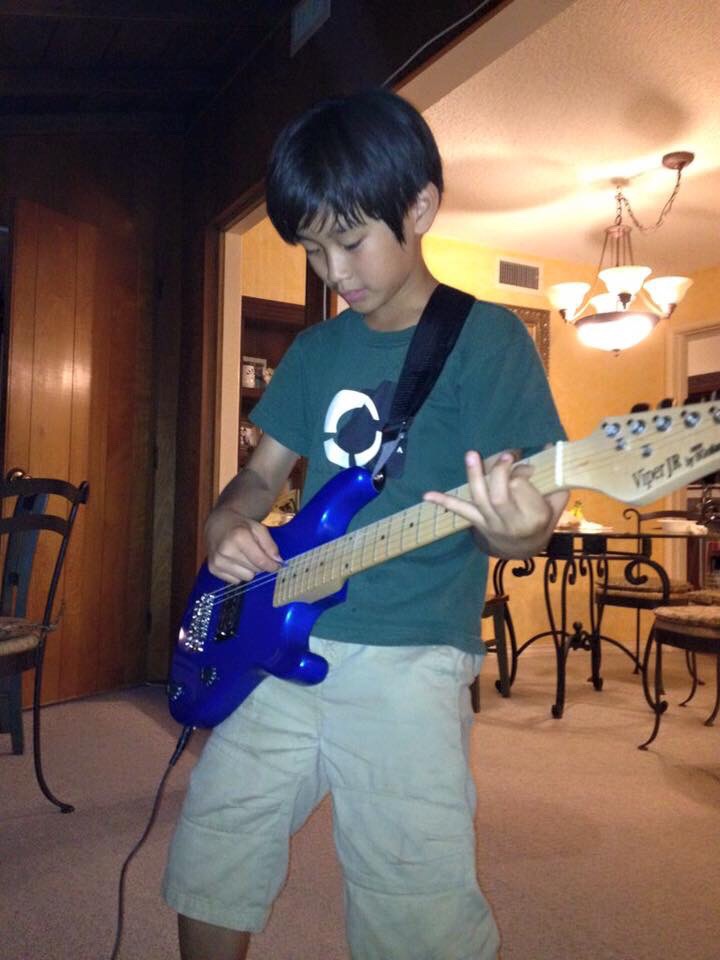 Most of all, though, he cherishes his relationship with Christ.
"My main goal in life is to share the love of God with as many people as possible and become a worship leader," he said.
Jin credits many people as being influential in his life, particularly his mom and dad.
"My parents have both acted as a huge encouragement during my athletic and academic endeavors, and they never doubted or rejected my hopes," he said. "They found ways to devote their time and energy to see how I could be well-fed, well-rested and well-prepared for any job or opportunity that stood in front of me."
Athletically, Jin cites Taft football coach Jake Tolan for helping him keep his abundant accomplishments in perspective.
"Mr. Tolan is a needed guidance in my life, as he knew just how to get in my head and make me a better man," Jin said. "He was a great football coach with amazing smarts, but he focused even more on building my character."
Then, there are those outside of sports and family who have had a lasting impact.
"My friend, Diego Vallejo, helped me grow as a man of Christ and made himself vulnerable and open to me, creating a bond with me that motivated me to reach out to others about God," Jin said.
Others have watched admirably as Jin has grown from adolescence into adulthood.
"He has definitely matured over the years since I first met him in our Bible club," said Pastor Phil Magnan, who has known Jin for about four years. "He is genuine and humble, and even has a good sense of humor. I think one of his most endearing qualities is that he shows respect and genuine concern for anyone he meets.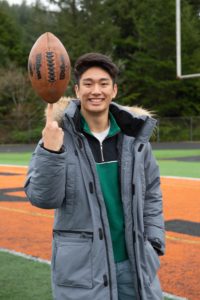 "Over the years, he has also shown how he has an inquisitive mind about virtually everything. He isn't afraid to ask questions and attempt to grasp the greater meaning of the things he is interested in.
"It is also somewhat fascinating how he attracts the interest of other students so easily. They seek him out. This has only reinforced my notion that he must be a very approachable person and shows respect for anyone he meets. He never brags, nor sees himself as superior to others, but rather lifts those he meets."
Magnan points to Jin as the type of young adult who will serve America and its Armed Forces well.
"He is very committed to doing what is right and loving towards those he meets," he said. "I appreciate such a dedicated individual like David, as his example and demeanor gives me hope for the next generation."
For his part, Jin, who will serve five years in the Navy after graduating from Annapolis, salutes the community he has represented.
"I'm so glad I had the chance to live in and experience Lincoln City," he said. "It is so beautiful and jaw-dropping, and it gave me the opportunity to play sports and thrive, which would not have happened in California. God is to thank for everything good that has happened to me."