PICS BY ERIC DEMELLO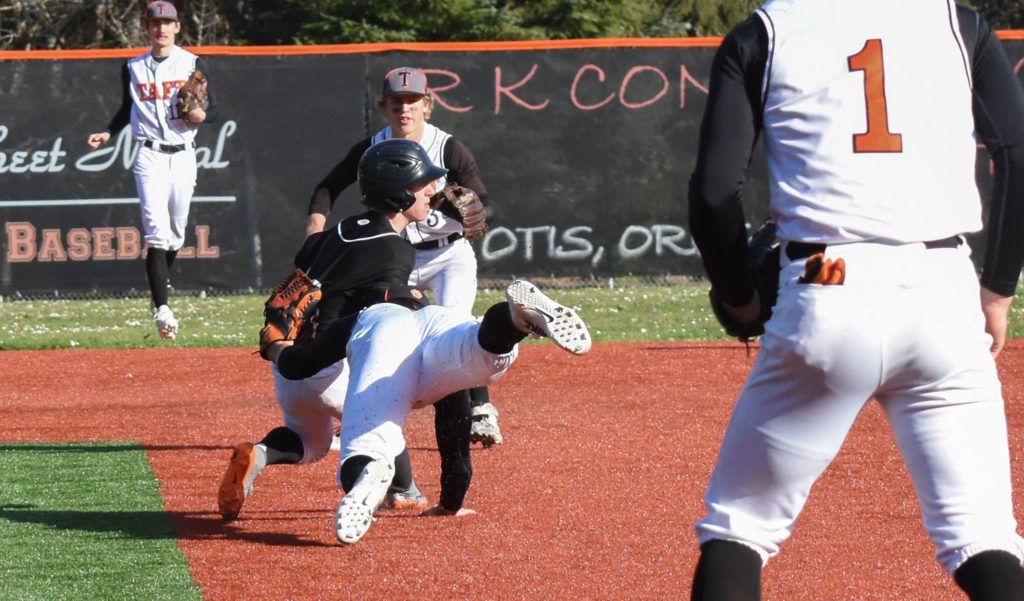 They have a 10-run mercy rule in Oregon high school baseball for a reason — and that reason might be pitching ace Jack Stempel and the players supporting him at the plate and on the field for the Taft High Tigers.
The senior right-hander notched his second 10-0 West Valley League home win in four days Tuesday with a two-hit, six-inning victory over Santiam Christian.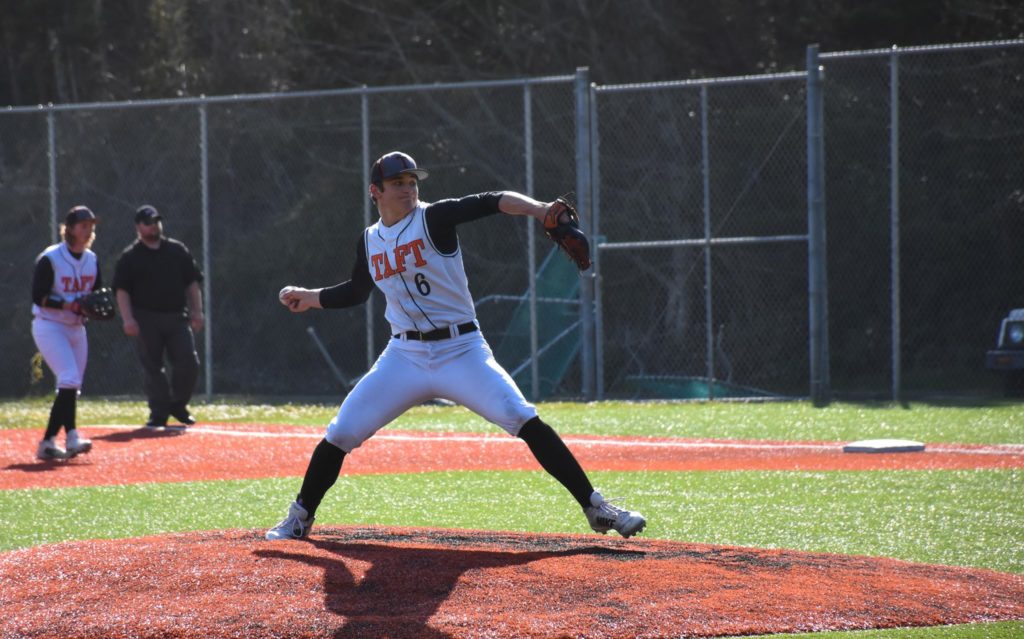 "We've been looking forward to this game all week," senior hitting star Caleb King said, "so, to see our lineup hitting top to bottom and putting constant pressure on them was a great sight. Jack threw an absolute gem, and our defense was everywhere to back it up."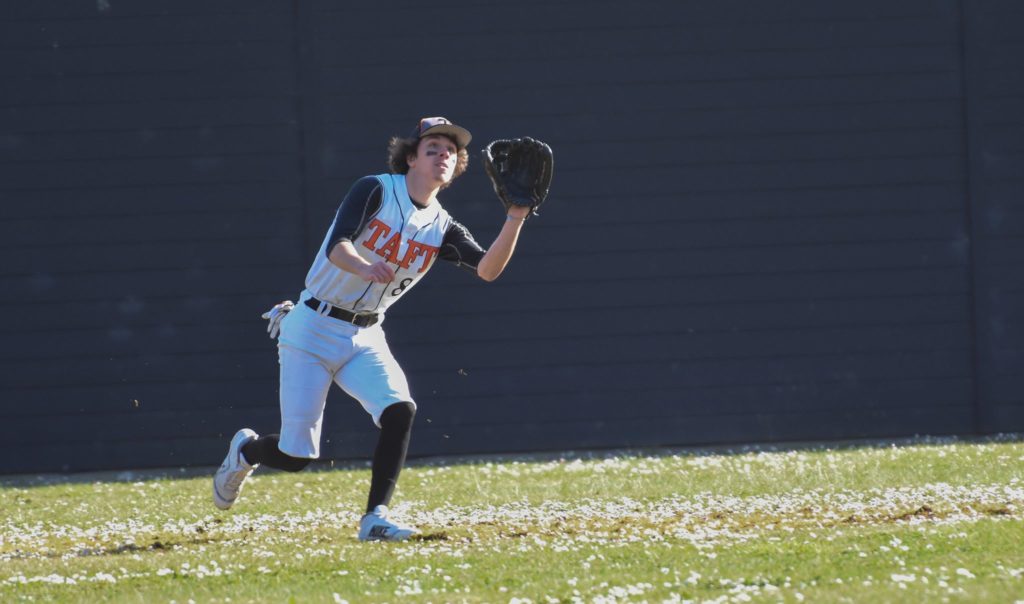 Stempel struck out six and walked none on the heels of a nine-strikeout, no-walk one-hitter Friday over Amity in five innings.
"We played outstanding tonight, offensively and defensively," Stempel said. "I felt confident on the mound, and our defense made all the plays."
King, a senior outfielder and fellow pitching star for the Tigers, had three hits, drove in two runs and scored three times in support of Stempel, who benefitted from a five-run first inning.
"We came out ready to play today," said first-year Taft Coach Matt Hilgers, whose Class 3A Tigers (11-2, 4-0) took over the state's top ranking with the win. "We were focused from pitch one. Everybody, including guys in the dugout, wanted this one."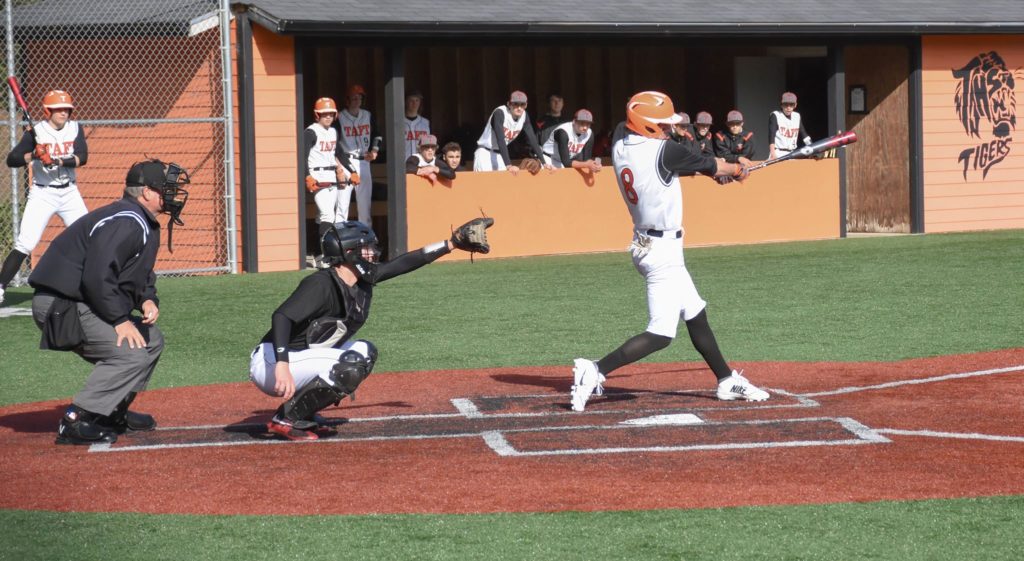 The 12th-rated Eagles, who shared first place with Taft entering Tuesday's game, fell to 8-5, 3-1 as the Tigers followed their five-run opening frame with two runs in the second inning, one in the fourth and two in the sixth — the last coming on an RBI single from junior Kameron Kessler, who made several key grabs at third base.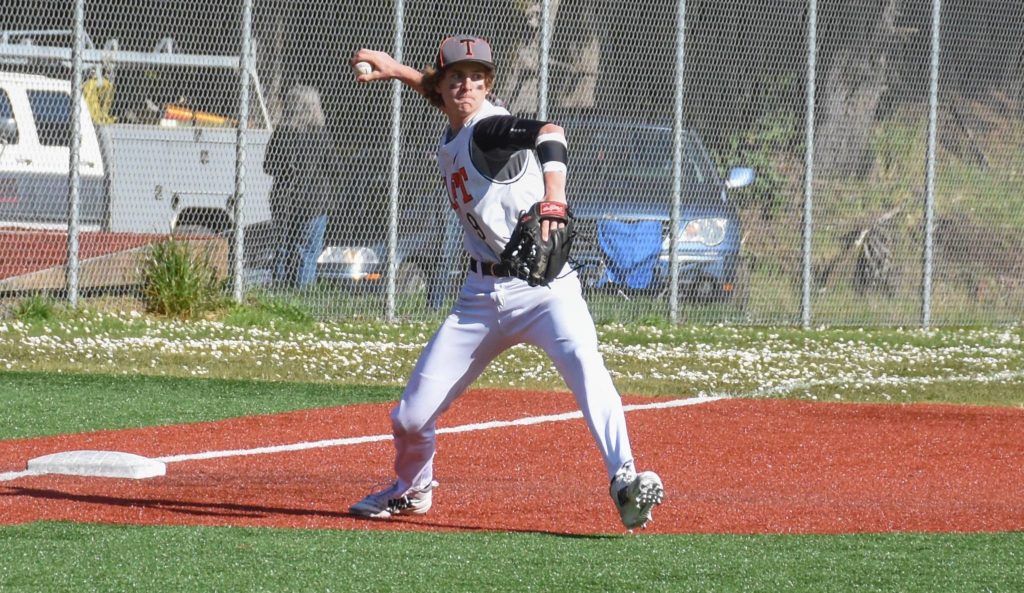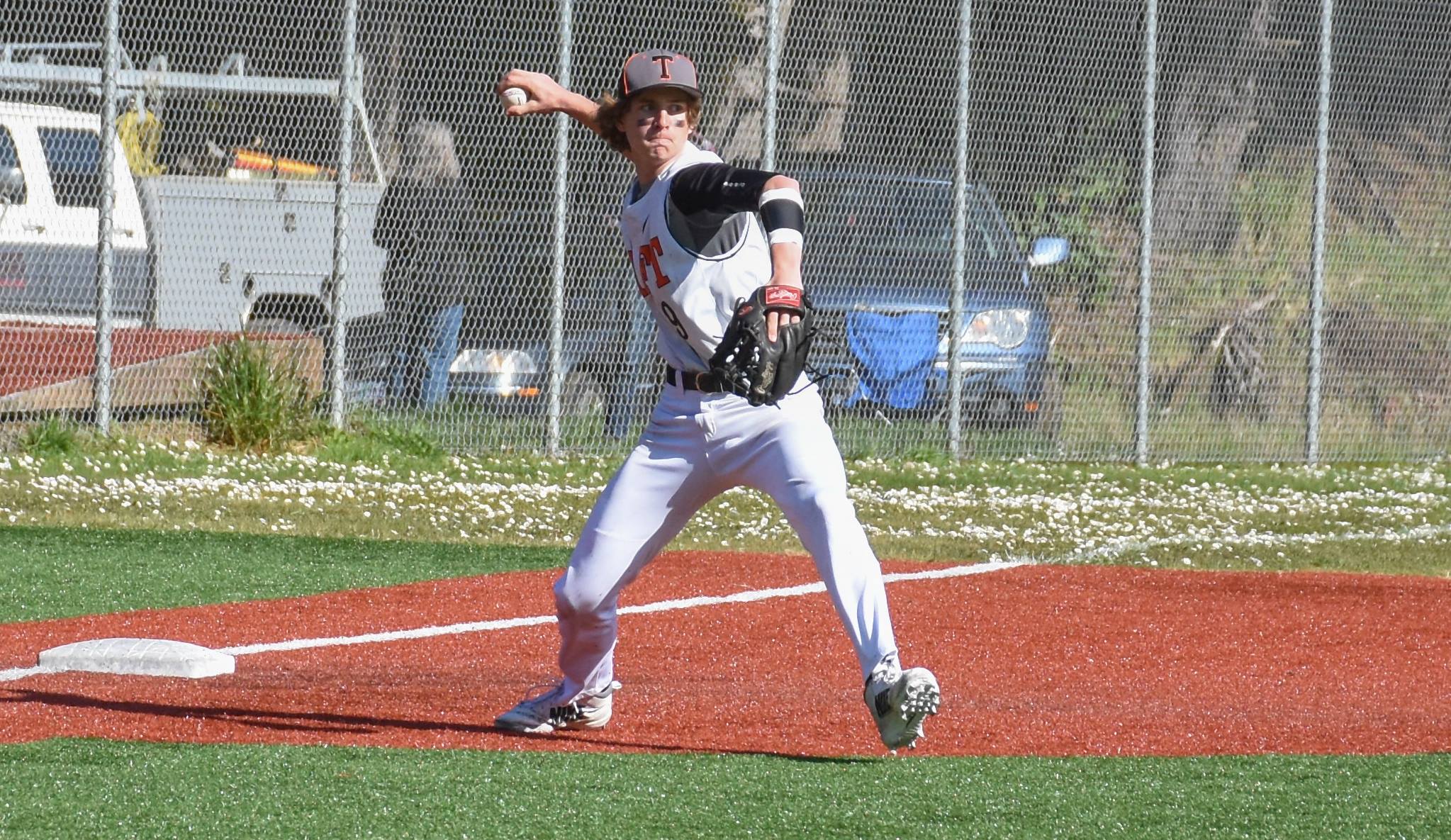 "We had another solid pitching performance from Jack and made plays behind him," Hilgers said. "We put the pressure on them early and that propelled us throughout the game."
Senior shortstop Josh Salsbery had two hits and scored twice from the leadoff spot, and sophomore catcher Eli DeMello drove in a run and scored three times for the Tigers, who won their fifth straight.
"Eli DeMello was a wall behind the plate and threw a few guys out in big situations," said Stempel, who had two hits and scored a run from the cleanup slot.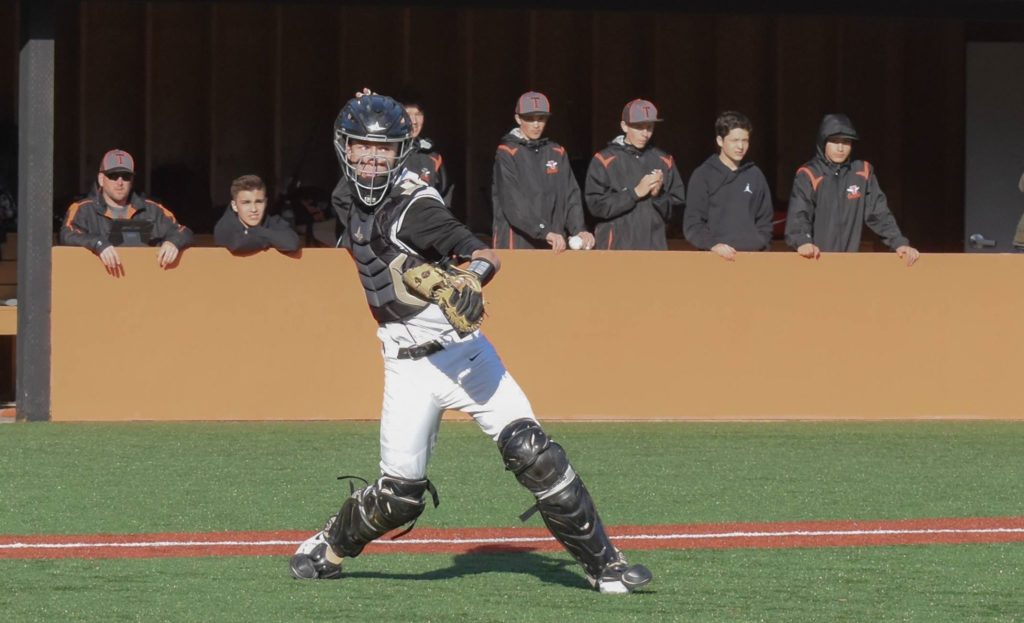 Junior outfielder Tyee Fisher doubled in two runs for Taft.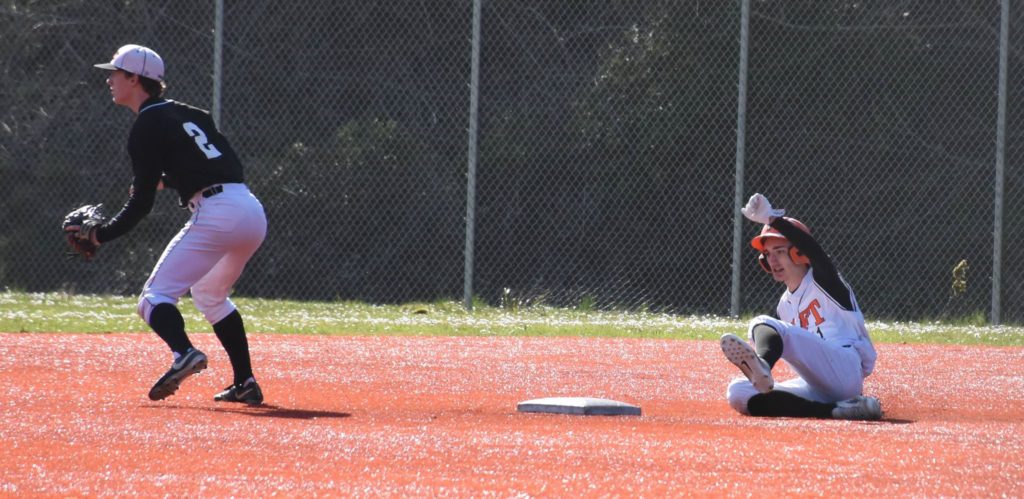 The Tigers are scheduled to compete again at 4:30 p.m. Friday in a league game at Willamina (0-4, 2-10) and at 1 p.m. Saturday in a non-conference contest at Pleasant Hill (5-3, 2-0 Class 3A Mountain Valley).
"We look forward to playing Willamina on Friday and hope to carry this momentum into the rest of the season," Stempel said.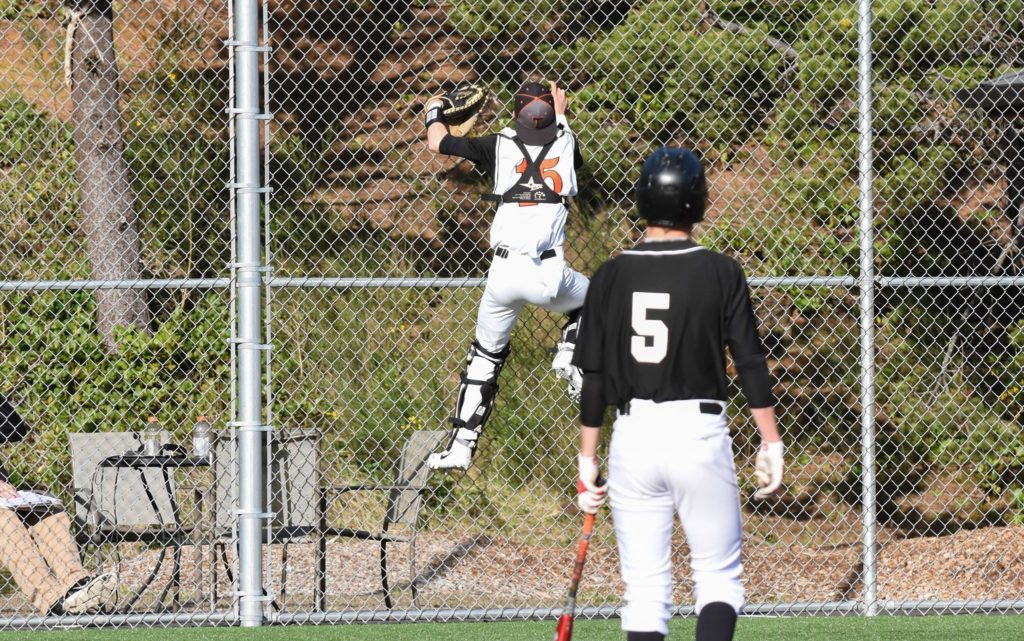 Taft 10, Santian Christian 0
SANTIAM CHRISTIAN    AB  R  H BI  
Patrick Otis                3  0  0  0
Ryan Hall                  3  0  1  0
Grant Carley             2  0  0  0
Sean Riley                2  0  0  0
Mason Wirth              2  0  1  0
Vandon Haugen         2  0  0  0
Ryan Mendenhall       2  0  0  0
Zeke Gilbert              1  0  0  0
Ben Galceran            2  0  0  0
TOTALS                   19  0  2  0
TAFT                 AB  R  H BI
Josh Salsbery         3  2  2  0
Eli DeMello           4  3  1  0
Caleb King            4  3  3  2
Jack Stempel          4  1  2  1
Cody Knott            3  1  1  0
Kam Kessler           4  0  1  1
Tyee Fisher           3  0  1  2
Bleiz Kimbrough       3  0  0  0
Trenton Fisher        3  0  0  0
TOTALS               31 10 11  6
SANTIAM CHRISTIAN             000 000 — 0
TAFT 2018                     520 102 — 10
LOB–SANTIAM CHRISTIAN 2, TAFT 7. ERR–Vandon Haugen, Ryan Mendenhall, Ben Galceran (2), Zeke Gilbert (3), Kam Kessler. 2B–Caleb King, Tyee Fisher. HBP–Zeke Gilbert, Josh Salsbery. SB–Josh Salsbery (2), Eli DeMello (2), Jack Stempel.
SANTIAM CHRISTIAN               IP    H    R   ER   BB   SO   HR
Grant Carley (L)               2.00    6    7    4    0    2    0
Sean Riley                     3.33    5    3    3    1    2    0
TAFT
Jack Stempel (W)               6.00    2    0    0    0    6    0
WP–Jack Stempel. BB–Cody Knott.
Taft roster/schedule
Santiam Christian baseball roster/schedule
Class 3A West Valley League standings
Class 3A OSAA rankings