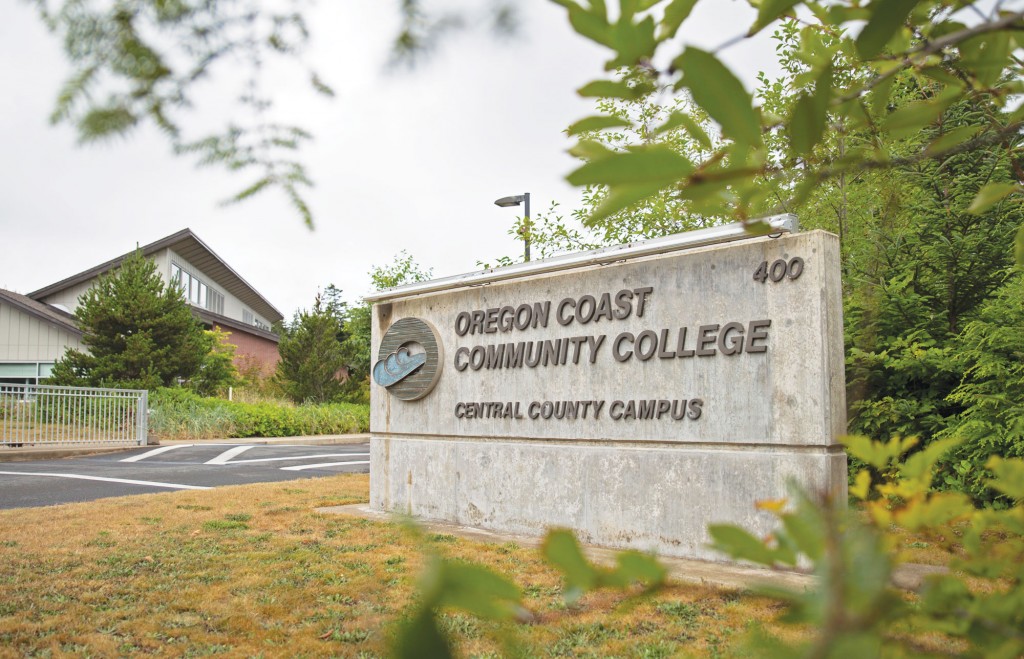 Oregon Coast Community College students Flor Isela Gaspar Marquez and Waverly Sudborough joined college President Dr. Birgitte Ryslinge and met Friday with Gov. Kate Brown as members of the All-Oregon Academic Team.
Both students are due to graduate this June from their OCCC programs of study.
"We're so proud of Flor and Waverly," Dr. Ryslinge said. "They are wonderful ambassadors of our county and OCCC's amazing student body, and I look forward to the celebration in Salem."
The All-Oregon Community College Academic Team, a part of the national All-State Community College Academic Team program, recognizes high achieving two-year college students who demonstrate academic excellence and intellectual rigor combined with leadership and service that extends their education beyond the classroom to benefit society.
Phi Theta Kappa – the community college honor society – along with community college presidents and community college state associations sponsor All-State Community College Academic Team ceremonies in 38 participating states.
Students from the 38 participating states nominated to the All-USA Community College Academic Team are automatically named to the All-State Community College Academic Teams. Ranking on the All-State Community College Academic Teams is generally determined by the student's score in the national competition.
In addition to the All-Oregon Academic Team honor, Waverly Sudborough also was named to the Coca-Cola Academic Team, an awards program in conjunction with Phi Theta Kappa International. At the Coca-Cola Academic Team awards, to be held in Florida in April, 50 students will be honored as Gold Scholars, 50 students as Silver Scholars, and 50 students as Bronze Scholars.
Waverly has been named one of only 50 Gold Scholars in the nation, and will receive a $1,500 scholarship for her Fall 2019 term.
'Education is the key to success'
Isela Gaspar Marquez was born and raised in an indigenous town called San Jose Miahuatlan in Puebla, Mexico, where she spoke Nahuatl, the language of ancient Aztecs. She moved to the United States in 2012, speaking no English at all.
"Living here has been most difficult for me because of the language barrier," she said. "My transition to English was a steep and sharp obstacle for me. I like challenges, though, and I never gave up. I believe that in challenge lives greatness, so, with hard work, determination, and courage,
"I overcame the language barrier. In 2015, I graduated from Newport High School with a GPA of 3.53, enrolled in college, and become a United States citizen in 2017."
Flor has been a member and served as an officer for OCCC's chapter of Phi Theta Kappa Honor Society and been an active member of Juntos, an Hispanic outreach enterprise, first as a volunteer and then as a facilitator.
"My experience as a community college student has been one of the greatest experiences I have ever had in my life," Flor said. "Attending college has helped me a lot to develop many of my skills, such as communication skills, time management, self-motivation, leadership, teamwork, etc. Another thing I like about OCCC is that it has a great staff, good teachers and advisors."
Flor is a Medical Assistant student at OCCC and plans to earn a nursing degree after working as a medical assistant first. "I believe education is the key to success," she said, "and I try to connect my passion for education with my desire to helping others. In fact, I also intend to be a medical interpreter for Hispanic people. Based on what I have experienced as an immigrant, my desire to help others has grown. because I don't want other people who don't speak English suffer as I did because of the language barrier."
Ready to transfer
Sudborough moved with her family to Lincoln County in the summer of 2017 from San Diego, Calif.
"I lived there for about seven years after moving from Maine, where I was born," Waverly said. "Living in such varied places has given me a more holistic view of our country and the people who live here. I've really enjoyed all the different areas I've lived in, and while I do miss the sunny skies of Southern California on occasion, you just can't beat the beauty of the Oregon Coast."
Waverly will graduate with a two-year transfer degree this June, and plans to attend either Pacific University or Western Oregon University in the fall.
She said she opted to begin her college career at Oregon Coast for a variety of reasons.
"It also just made more financial sense to earn my general education credits at OCCC since it was so much cheaper than going to a four-year university first thing out of high school.
"OCCC has been a wonderful experience for me. The faculty are fantastic – very personable and accommodating – and the school all around has a more relaxed feel to it. The students here are from all walks of life, and I've made some great friends I wouldn't have had the chance to otherwise."
Upon transferring, Waverly says she plans to major in mathematics.
"Math has always been a subject that has just clicked for me, and I'm eager to see what options are out there for me," she said. "I've been considering becoming a math teacher, but my plans aren't set in stone yet."

Oregon Coast Community College is in its 32nd year of service to Lincoln County, with facilities in Waldport, Lincoln City and Newport. The College offers two-year transfer degrees, Associate Degrees and a variety of degree and certificate programs ranging from nursing to business, and from early childhood education to teaching. Learn more about OCCC at oregoncoastcc.org, or by calling 541-867-8501.