Concerns about beach parking access for elderly, disabled keep access point open to cars
State officials have decided to continue allowing parking on the beach from a controversial access point in Lincoln City.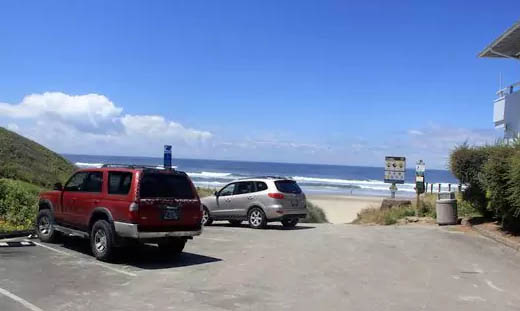 Strong opposition to a proposal banning vehicle access from N. 35th Court, on the north side of town, prompted the decision, officials said.
"Rather than taking the extreme measure of closing it down, we're going to focus on what people said they were most worried about — safety," OPRD spokesman Richard Walkoski said.
OPRD officials will make their recommendation to the Oregon Parks and Recreation Commission, which makes decisions, at a meeting on Feb. 8.
The entry point is one of only two places in Lincoln City where people can drive vehicles onto the beach and park. The more popular access point — and the one in better shape — is at N.W. 15th Street.
Until recently, the N. 35th Court site was rarely used by vehicles. It includes a small parking area and sandy pathway to the beach, and was used mostly by pedestrians.
In the summer of 2015, however, a handful of people began using the access point to drive onto the beach.
Property owners nearby weren't happy with the drive-in access. A petition to outlaw access was signed by 28 property owners, kick-starting a review by the state.
OPRD proposed a rule closing the beach to vehicle access. They took public comment and held a series of meetings in Lincoln City and Salem.
In public comments tallied by OPRD, 67 people were opposed to the closure while 22 were in favor.
Those who opposed the closure cited a lack of other places to drive onto the beach in Lincoln City, which imposed a hardship on the handicapped and elderly.
"My youngest son has mobility issues and uses a wheelchair," wrote Amy Hunt in public comments. "It is not possible for (him) to hike down to the beach and wheelchairs cannot be pushed through sand. Denying cars beach access would literally take away the beach from my 10 year old who loves it."
They also mentioned having the ability to load equipment such as kite boards and jet skis.
"This is a great beach to drive down and park on," Eric Creighton of Otis wrote. "My family and I would like to come down to park and watch the casino fireworks and enjoy the sunsets. This is also a good spot for kite boarding and launching jet skis."
Supporters of the closure said the access point is dangerous and creates congestion and problems in an area heavily used by families.
"Vehicle beach access at N 35th Court in Lincoln City has created an extreme safety risk for children and families using the beach and playing in the stream at this location," wrote Shawn Engelberg of Lincoln City. "I have observed several hair-raising episodes between vehicles and pedestrians."
Others mentioned the better beach access for cars at N.W. 15th Street.
"Cars really have no place on our beaches," wrote Carrie Saucy-Bowersox. "They leak pollutants and encourage people to drive instead of walk. I understand that disabled access is an important part of our beach system and I want that access to continue. But we shouldn't allow access in a place that is expensive to maintain. We have a nice access point on 15th St."