If you don't mind braving freezing temperatures you may be interested in attending the Lincoln City Visitor and Convention Bureau's Beachcombing Clinic.
January 2nd at 9 AM – 11 AM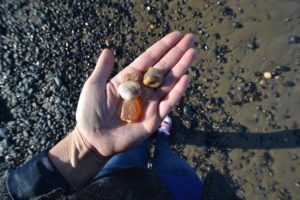 Unearth treasures from the sand and sea while learning how to hunt for agates, gemstones, jasper, petrified wood and other coastal collectibles.
Each clinic begins with a brief orientation by local expert Laura Joki at the 35th Street beach access (near Joe the Sea Lion statue). To get there, from Highway 101 turn west onto 35th Street (at the Christmas Cottage) and continue down the street to the access. Public parking lots are located at 35th and 32nd Street. There is also limited street parking along SW Anchor Avenue.
Following the orientation, Laura will guide participants along the beach and help them identify coastal treasures. Some of the treasures you may encounter include agates, fossils, gemstones, shells, petrified wood, jasper, amber, rocks and minerals. Each clinic lasts 2 hours. Questions and feedback are encouraged from all participants.