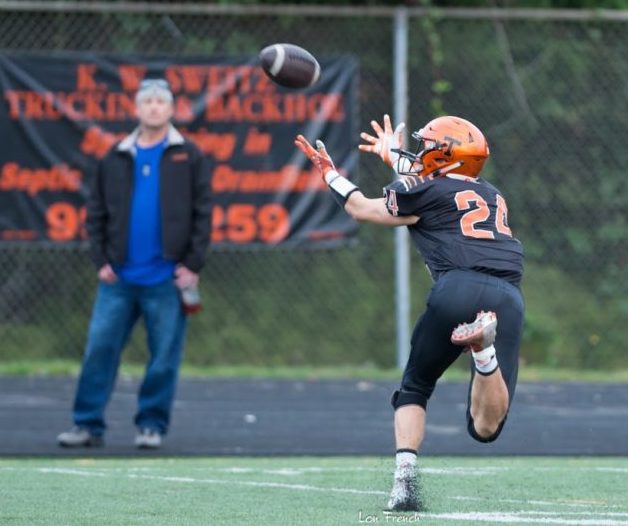 The Taft High football team, fresh off its second home victory of the season, will get its final tune-up for league play Friday when it visits unbeaten Class 3A counterpart Yamhill-Carlton.
7 p.m., KBCH (1400-AM)
w/Eric Goss and Boone Marker
The Taft Tigers, of the Special District 1 West, have sandwiched a 33-18 road loss at Sutherlin between 14-6 and 24-6 home wins over Harrisburg and Knappa entering the 7 p.m. game against the Yamhill-Carlton Tigers of the SD 1 East.
"Every game is a new game," Taft coach Jake Tolan said. "I am proud of our effort. Our kids are resilient and believe in our ability to get better day-in and day-out."
Fifteenth-ranked Taft will open league play Friday, Oct. 4, at third-rated Amity (2-1).
Photos by Lon French
"With our schedule, every game is a big game and must-win," Tolan said of this week's matchup against fifth-ranked Yamhill-Carlton. "League or not, we have a tough schedule with top-rated opponents."
Yamhill-Carlton has scored at least 40 points in each of its three victories and outscored opponents by a combined score of 137-56 (46-19). It opened with 49-34 and 40-14 road wins at Warrenton and Jefferson before a 48-8 home win last week against Willamina.
Yamhill-Carlton coach Brennon Mossholder is expected to look to quarterback Jaime Garcia to target fellow senior and team captain Jakob Jarvis, while senior lineman and tri-captain Samuel Dixon will be counted on for protection up front and for pressure on the defensive line.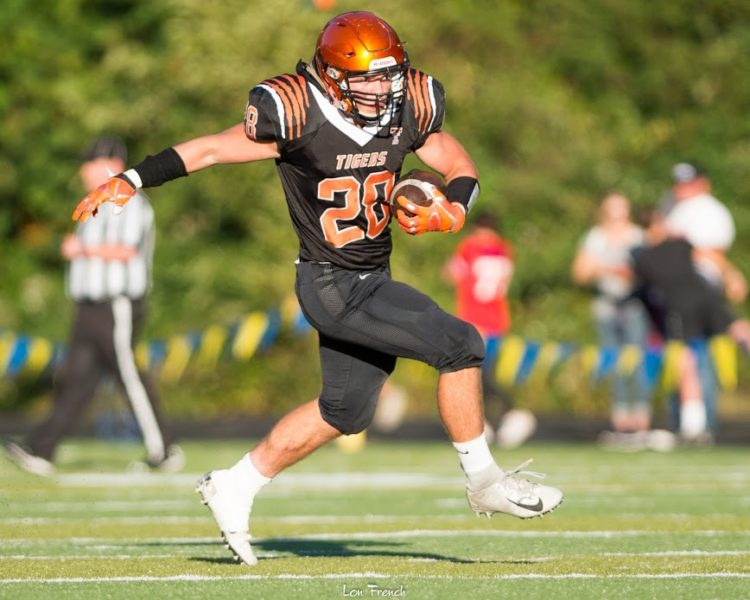 Taft, which has outscored its opponents 56-46 (19-15) this year, is coming off an 18-point home victory over Knappa that featured nearly 150 yards of offense from junior receiver JJ French and the return of a healthy line.
"We had our full line in place and spent the week rebuilding our continuity on the line," Tolan said. "JJ French had a great game, and I was equally impressed with Logan Gilleo's play at linebacker."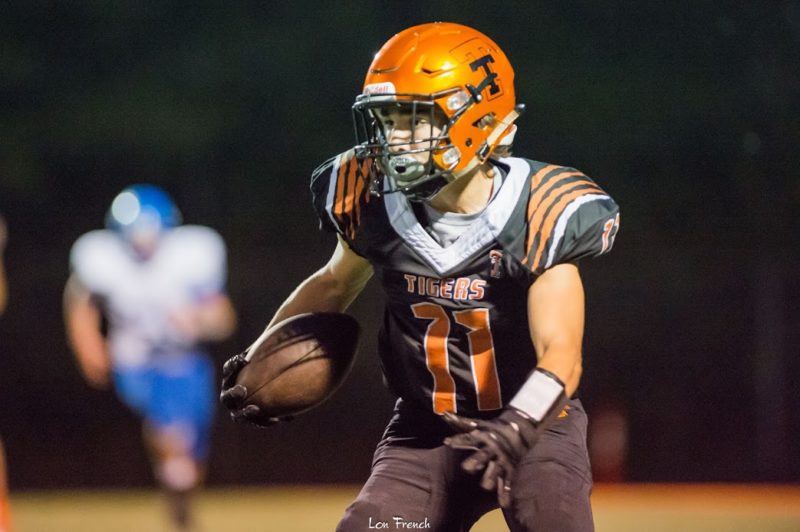 Tolan said Taft's defensive line "pressured all night," and that its special teams, led by junior Fco Ramos, converted twice on two-point conversions "with two athletic plays off the snap."
French scored two touchdowns and senior wide receiver Jordan Hall added another in Taft's victory last week over the Loggers (1-2).
"Every player, position and side of the ball will work to continue to get better every day," Tolan said. "Yamhill-Carlton is a tough team, and we will spend this week preparing. It is nice to have a full JV squad to get a preview of the program."

Taft Roster
| No. | Name | Position | Grade | Height | Weight |
| --- | --- | --- | --- | --- | --- |
| | Colby Helms | RB/LB | 11 | 5-10 | 190 |
| | William Calderon | K/DB | 11 | 5-7 | 150 |
| 1 | Cayden Edmonds | WR/DB | 10 | 5-8 | 130 |
| 2 | Jordan Hall | WR/LB | 12 | 5-11 | 165 |
| 3 | Kaden Hindman | WR/S | 10 | 5-10 | 170 |
| 4 | Trenton Fisher | WR/DB | 12 | 5-11 | 135 |
| 5 | Brendan Welch | WR/LB | 11 | 5-10 | 175 |
| 6 | Austin Winters | WR/LB | 10 | 5-10 | 140 |
| 7 | Sam Allan | WR/DB | 9 | 6-0 | 140 |
| 8 | Josh Ruiz | RB/DE | 10 | 6-1 | 200 |
| 10 | Braxton Brockett | RB/LB | 9 | 5-7 | 130 |
| 11 | Fco Ramos | WR/S | 11 | 5-9 | 160 |
| 12 | Gavin Koceja | QB/DB | 9 | 5-10 | 140 |
| 13 | Bear Reyes | WR/LB | 9 | 5-7 | 150 |
| 14 | Tristan Beach | WR/LB | 12 | 6-0 | 165 |
| 15 | Haden Chavez | WR/LB | 9 | 5-8 | 165 |
| 16 | Darius Smith | WR/DB | 11 | 5-9 | 170 |
| 17 | Afton Dean | WR/LB | 10 | 6-0 | 200 |
| 19 | Antonio Suarez | QB/LB | 11 | 5-10 | 175 |
| 20 | JJ French | RB/LB | 11 | 5-10 | 175 |
| 21 | Alex Carrasco | RB/LB | 9 | 5-4 | 160 |
| 23 | Roman Pena | WR/DB | 9 | 5-9 | 135 |
| 24 | Trenton Hall | RB/LB | 12 | 5-11 | 175 |
| 26 | Devin Evjen | RB/LB | 9 | 5-8 | 180 |
| 28 | Logan Gilleo | RB/LB | 12 | 6-0 | 195 |
| 44 | Alec Bosworth | OL/DL | 12 | 6-1 | 235 |
| 51 | Dylan Rodriquez | OL/DE | 10 | 5-9 | 160 |
| 52 | Jose Magallanes | OL/DL | 9 | 5-4 | 150 |
| 53 | Micah Davis | RB/DE | 12 | 5-11 | 180 |
| 55 | Elin Fitch | OL/DE | 12 | 6-4 | 185 |
| 56 | Jesse Carrillo | OL/DL | 10 | 5-10 | 220 |
| 57 | Jace Phippen | OL/DL | 12 | 5-11 | 230 |
| 62 | Damian Hill | OL/DL | 9 | 6-0 | 250 |
| 66 | Tyrese Hellman | OL/DL | 12 | 6-2 | 240 |
| 69 | Raiden Hansen | OL/DL | 9 | 6-4 | 290 |
| 70 | Oscar Sanchez | OL/DL | 9 | 5-10 | 225 |
| 74 | Bash Welch | OL/DL | 11 | 5-10 | 305 |
| 77 | Dakotah Steen | OL/DL | 10 | 6-4 | 350 |
| 99 | Tony Garcia | OL/DE | 12 | 5-11 | 260 |
Yamhill-Carlton Roster
| No. | | Name | Position | Grade | | |
| --- | --- | --- | --- | --- | --- | --- |
| 1 | | Jacob McGhehey | QB/DB | 9 | | |
| 2 | | Kaden Stehr | WR/DB | 9 | | |
| 3 | | Kaleb King | | 9 | | |
| 4 | | Jaime Garcia | QB/DL | 12 | | |
| 7 | | Darby Brey | WR/LB | 9 | | |
| 8 | | Max Armstrong | | 9 | | |
| 9 | | Jakob Jarvis | WR/DB | 12 | | |
| 10 | | Quinten Ramsey | WR/DB | 11 | | |
| 11 | | Levi Bakke | WR/DB | 9 | | |
| 12 | | Kaden Raever | RB/LB | 9 | | |
| 13 | | Mikel Rivas | WR/LB | 11 | | |
| 16 | | Preston Domion | | 9 | | |
| 18 | | Garrett Doran | WR/LB | 12 | | |
| 20 | | Colby Stehr | WR/DB | 12 | | |
| 22 | | Kristopher Caloca | WR/DB | 11 | | |
| 23 | | Eli Potter | WR/DB | 11 | | |
| 24 | | Jacob Preston | RB/LB | 10 | | |
| 25 | | Erik Potter | RB/LB | 9 | | |
| 32 | | Brodin Tuning | WR/LB | 10 | | |
| 33 | | Tiger Reimann | LB/TE | 10 | | |
| 34 | | Spencer Horne | WR/DB | 9 | | |
| 35 | | Jesse Luttrell | RB/DL | 9 | | |
| 37 | | Gavin Stafford | TE/DL | 9 | | |
| 53 | | Konnar Dorsey | | 9 | | |
| 60 | | Hunter McAvoy | OL/DL | 9 | | |
| 61 | | Evan Culver | OL/DL | 9 | | |
| 62 | | Wyatt Hurley | OL/DL | 10 | | |
| 63 | | Samuel Dixon | OL/DL | 12 | | |
| 64 | | Dustin Talbott | OL/DL | 12 | | |
| 70 | | Dylan McInnis | OL/DL | 12 | | |
| 71 | | Ryan LeFebvre | OL/DL | 10 | | |
| 72 | | Jordan Clements | OL/DL | 9 | | |
| 73 | | Joshua Clements | OL/DL | 9 | | |
| 74 | | Kole Whiting | OL/DL | 10 | | |
| 75 | | Pedro Tavera | OL/DL | 12 | | |
| 76 | | Ian Cooper | OL/DL | 10 | | |
| 77 | | Caden Coleman | OL/DL | 10 | | |
| 78 | | Hunter Stephenson | DL/TE | 11 | | |
| 79 | | Hunter Barnett | OL/DL | 9 | | |
| 85 | | Francesco Gritti | WR/DB | 12 | | |
| 86 | | Kacper Drabicki | | 12 | | |
| 87 | | Trey Richmond | TE/DL | 11 | | |
| 88 | | Noah Birt | TE/DL | 12 | | |
| 89 | | Nevan Jarvis | | 11 | | |