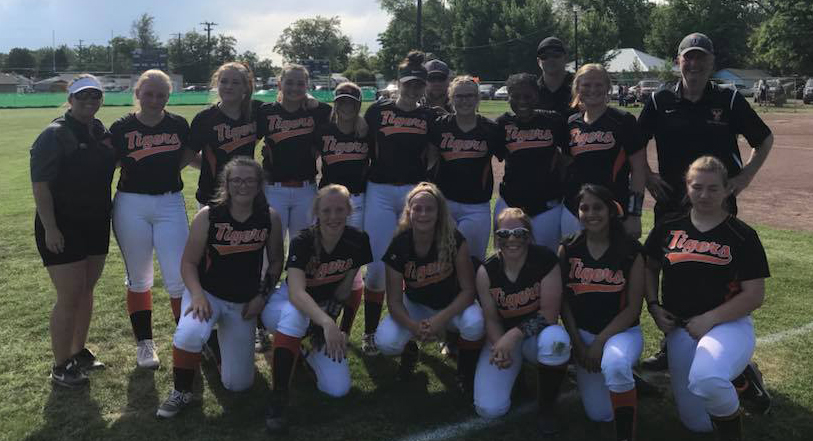 It was the traveling team that felt right at home Wednesday in the first round of the Class 3A OSAA State Softball Championships.
Taft High turned a 286-mile, five-hour bus ride to the upper northeast stretches of the state on the eve of the game into a 12-2 victory over Stanfield/Echo and a berth in the quarterfinals of the 16-team single-elimination tournament.
"The highlight of the game today was everything," Taft coach Sandy Stuart said. "We were relaxed and strong on both offense and defense."
Catcher Hailee Danneker hit a three-run home run in support of fellow sophomore Emma Coulter, who scattered four hits and had three of her own while going the distance for the five-inning win.
"It really feels like we beat the odds heading across the state and playing in the 90-degree heat," Taft senior centerfielder Alyssa Tanksley said. "We persevered, and once we got the bats going it felt like nothing was going to stop us."
Ninth-seeded Taft (18-10, 8-2 West Valley) will play at league champion Dayton (20-8, 9-1), a 10-0 winner Wednesday over Lakeview (11-12, 6-3 Southern Cascade) at 5 p.m. Friday for a spot in the semifinals. The top-seeded Pirates and Tigers split regular-season contests, with Taft winning 4-2 at home on April 20 and Dayton 9-7 at home on May 9.
"The girls came over to the 80- to 90-degree heat and worked hard to win," Stuart said. "We were relaxed and confident and came out swinging early."
Three walks set the table and timely hitting cleared it in helping the Tigers jump on top in the one-sided tourney opener with three runs in the top of the first.
After freshman Claira Tolan walked to lead off the game, Coulter singled and Tanksley walked to load the bases. Freshman Makena Cole then walked to bring home the game's first run before senior Madison Clanton doubled in two runs for a 3-0 Taft lead.
Freshman Kayla Lininger walked to lead off the second inning and Tolan singled before Danneker hit her three-run shot over the fence for a 6-0 advantage.
Taft, which batted around in the inning, loaded the bases again before more walks and two wild pitches scored two more runs for an 8-0 lead. More free passes, errant throws and fielding miscues built a 12-0 cushion by the time the infield dust had settled.
The Cougars (19-7, 9-3 Old Oregon), who walked 10 Taft batters, scored twice in the bottom of the fourth to trim the margin to 12-2.
"Our coaches told us from the beginning that all we needed was confidence at the plate and on the field, and with that confidence would come success." Taft senior infielder Naomi Rini said. "They couldn't have been more right."
Coulter went 3-for-3 with an RBI, while Clanton had two hits and three runs batted in. Sophomore Corey VanDamme had two RBIs for the Tigers, while freshman leadoff hitter Kyla Knott, junior courtesy runner Anna Ortiz, Tanksley and Tolan scored twice each.
"We had a slightly different defense out there due to some issues off the field," Stuart said. "That defense played amazing."
Stuart credited Tolan for "a killer game" at shortstop and Coulter for an "amazing" effort in the circle.
"We are excited to get to the next round,' she said. "We are so happy and I am so proud of the work they have been putting in."
The State title game will be contested Friday, June 1, at the Oregon State University Softball Complex.
Taft 12, Stanfield/Echo 2
TAFT                       AB  R  H BI
Kyla  Knott               3  2  0  0
Claira Tolan              2  2  1  0
Hailee  Danneker      3  1  1  3
Emma Coulter          3  0  3  1
Alyssa  Tanksley       3  2  1  0
Makena Cole            1  1  0  1
McKenzie Evenson    1  0  0  0
Madison  Clanton      3  1  2  3
Corey VanDamme    4  1  1  2
Kayla Lininger          2  0  0  1
*Anna Ortiz             0  2  0  0
TOTALS               25 12  9 11 
ECHO/STANFIELD  AB  R  H BI
K Hart                      3  0  2  0
A Putman                 2  0  0  0
M Weems                 2  0  1  0
N Toombs                1  1  0  0
A Weems                 2  1  1  0
L Keltz                     2  0  0  0
A Ray                      2  0  0  1
A Barnes                 2  0  0  0
A Braitgwaite          2  0  0  0
M Huff                    2  0  0  0
TOTALS               20  2  4  1
TAFT                            390 000 — 12
ECHO/STANFIELD       000 20x — 2
LOB–TAFT 8, STANFIELD/ECHO 4. ERR–Makena Cole, L Keltz, A Barnes. HR–Hailee  Danneker. SB–Madison  Clanton, Anna Ortiz.
TAFT                            IP    H    R   ER   BB   SO   HR
Emma Coulter             5.00    4    2    2    1    3    0
STANFIELD/ECHO
A Ray                          5.00    9   12    8   10    7    1
PB–Hailee  Danneker. WP–A Ray (2). BB–Kyla  Knott, Kayla Lininger, Madison  Clanton, Makena Cole (2), Hailee Danneker, Alyssa  Tanksley, Claira Tolan (2), Emma Coulter,