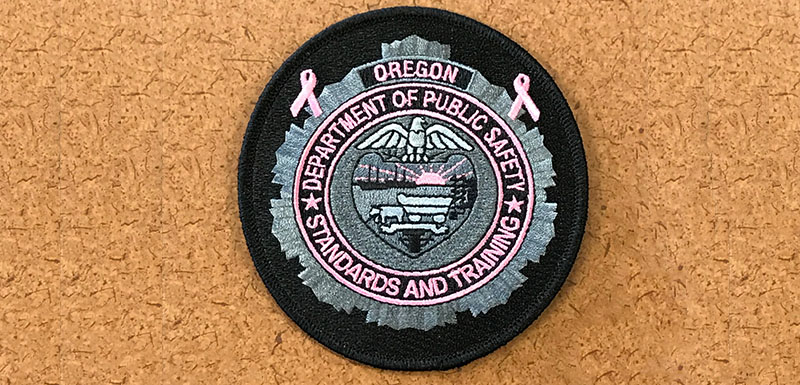 The Oregon Department of Public Safety Standards and Training (DPSST) has continued its support of the Pink Patch Project to raise awareness for breast cancer.
The Pink Patch Project (#PinkPatchProject) is an innovative public awareness campaign that involves hundreds of public safety agencies around the country. The goal of the Pink Patch Project is to increase awareness about the life-saving benefits of early detection and intervention in the fight against breast cancer.
The patches are intended to stimulate conversation between DPSST staff and the community and raise awareness.
"DPSST staff know first-hand the impact breast cancer and other cancers have in our organization, our families and our community," DPSST Director Eriks Gabliks said.
"Anything we can do to bring awareness to the issue or support our staff who have, or are fighting cancer is worth the time," He said.
"Breast Cancer Awareness Month is an opportunity to also bring awareness to the cancer issues faced by our career and volunteer firefighters around the state. Firefighters have a 9 percent higher risk of being diagnosed with cancer than the general U.S. population and a 14 percent higher risk of dying from cancer than the general U.S. population according to the Firefighter Cancer Support Network. Bringing awareness to all cancers and sharing information about detection and prevention is paramount."
October is Breast Cancer Awareness Month, which is an annual campaign to increase awareness. It is estimated that approximately 1 in 8 women will be diagnosed with breast cancer in ther lifetime
Breast Cancer Awareness Month http://www.nationalbreastcancer.org/breast-cancer-awareness-month
Susan G. Komen Oregon & SW Washington https://komenoregon.org/
Firefighter Cancer Support Network http://www.firefightercancersupport.org/
The Department of Public Safety Standards and Training (DPSST) operates the Oregon Public Safety Academy which spans more than 235 acres in Salem. The Academy is nationally recognized for its innovative training programs and active stakeholder involvement. Eriks Gabliks serves as the Director, and Sheriff Jason Myers of the Marion County Sheriff's Office serves as the Chair of the Board. The department implements minimum standards established by the Board for the training and certification of more than 40,000 city, tribal, county and state law enforcement officers, corrections officers, parole and probation officers, fire service personnel, telecommunications, emergency medical dispatchers and private security providers.