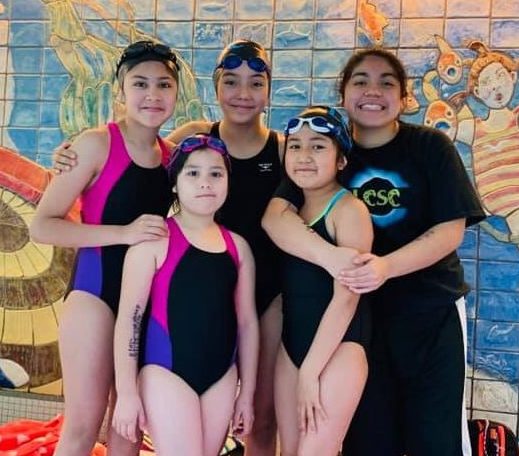 Five Lincoln City Swim Club members won races to lead the girls to second place and the boys to third this weekend in the annual April Invitational Swim Meet at the Lincoln City Community Center pool.
Daisy Cobos won the girls 8-and-under 25-yard butterfly and 200 freestyle; Napy Meyer the girls 15-and-over 100 backstroke and 100 fly; Dylan Barerra the 13-14 100 fly; Hunter Lunstedt the 15-and-over 50 free; and Isabelle Serrato the 15-and-over 400 free.
"It was a busy weekend. We had some great swims," LCSC coach Lissa Parker said.
Virtually all of Lincoln City's 25 swimmers improved on their times with 11 second-place finishes and eight thirds, including three runner-up showings by 14-year-old Mugen Evenson.
"It was a challenging weekend for our parents as we are a fairly small group right now," Parker said. "A lot of kids are doing other high school sports, and so the parents that we did have running the meet were multitasking and doing several jobs at once.
"All in all, though, we pulled off a great meet with 186 swimmers and their families. Everyone was happy and the weather was awesome."
Most of LCSC's scoring came from its 10-and-under and 8-and-under girls contingent.
"Daisy Cobos, Yireth Fuentes and Ileyana Moreno took off over 14 seconds in their events," Parker said. "Abby Halferty and Heidi Moreno had good swims. Another youngster who is fearless is Dylan Murphy. TJ Evenson is a go-getter."
Parker said other huge time drops were posted by Lesley Lagunes, Logan Meyer, Brandon Murphy, Noah Serrato and Ryuma Evenson. Parker said it was a first-time meet for Allison Lua, Carly Wisehart and Siri Khalsa.
"They performed very well," she said.
"For relays, the older guys had a couple firsts in both the 200 free and 200 IM relays," she said. "They are looking forward to Mugen coming onto the Taft team as a freshman next year."
The older girls, plus Lesley Lagunes, got second place in the 200 IM relay.
Meyer was able to swim all weekend despite recovering from recent illness, Parker said.
"Swimmers like Erica Zamorano, Sammy Halferty, Lydia Prins and Sam Cortes are all doing other sports right now, but pitched in for the team," she said.
"Hunter Lunstedt has been working at an afternoon job pretty regularly, but he still managed to pull off a personal-best in the 50 free without very much practice," Parker said. "Older swimmers like Rachelle Serrato have been coming to practice regularly, and that was reflected in her races, as has Dylan Barrera."
Parker said one of the teams, Capital from Salem, just formed,so it did not score in the meet due to a 120-day grace period before new squads are considered a club in Oregon.
APRIL INVITE INDIVIDUAL RESULTS
Team Scores
Girls
1. Bend Swim Club 1,288
2. Lincoln City Swim Club 411.50
3. Portland Aquatic Club 244
4. Newport Swim Team 219
5. Nehalem Swim Team  167
6. South Coast Aquatic Team 140
7. Tillamook YMCA Sharks 109
8. Gold Coast Swim Team 75
Boys
1. Bend Swim Club 1,143
2. Portland Aquatic Club 777
3. Lincoln City Swim Club 547
4. Newport Swim Team 181
5. South Coast Aquatic Team 84
6. Tillamook YMCA Sharks 80
7. Gold Coast Swim Team 50
8. Nehalem Swim Team 19