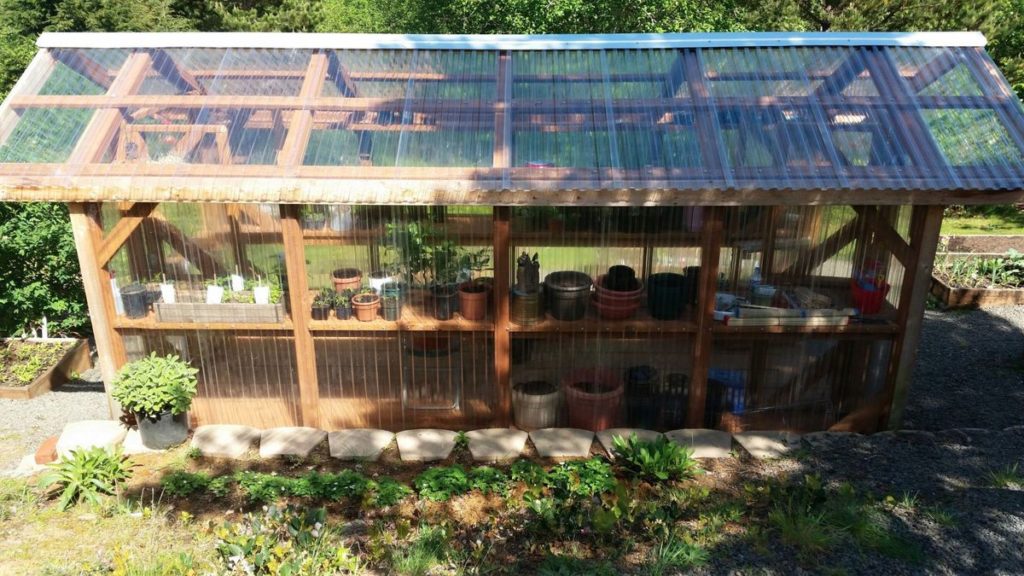 Structures that help extend the coastal growing season were included in the Seed to Supper program at Ridge Apartments.
Several Lincoln City agencies—including Oceana Family Literacy, The Ridge, OSU County Extension, and Lincoln County Master Gardeners—were the sponsors this summer of "Seed to Supper," an innovative program to provide gardening education to members of various communities in Oregon.  Set up by the Oregon Food Bank, the program taught attendees how to do everything from planting and cultivating vegetables to preparing and cooking them. The six session program, the first in Lincoln County, was conducted at the Ridge apartments in Lincoln City.
"Our goal has been to help people grow healthy and edible food," says Liz Olsen, the master gardener program coordinator in Newport.  "Our collaboration with partners like Oceana Family Literacy allows us to give back to various communities by showing participants the importance of healthy eating and healthy living."
Adds Donna Davis, the president of the Lincoln County Master Gardener Association: "If people have the ability to grow food and prepare it, they will be more ready to face the future.  For example, if an earthquake or tsunami hits us, we may have to sustain ourselves for long periods of time."
Over 4,000 people have gone through the program in 28 Oregon Counties since 2007.  The partnership between the Oregon Food Bank and the OSU Extension Service began in 2012.
Instructor training for volunteer educator teams began in March with Olsen, Davis, Vickie Meneses, Oceana director, and Juan Perez, assistant director.  In June, the teaching sessions began with students, who met once a week at the Ridge.  Jennifer Pettit, an education program specialist in the Newport Extension office, also participated.
"It was great to get this kind of specialized training," says Perez, who got help in reading and writing and passed his GED exam after attending Oceana classes for several years.  "It added to the skills I need to better myself in life.  Now I want to share what I have learned with others.  My goal is to help members of the Mexican community do what I did."
The Seed to Supper curriculum is designed to teach adults how to garden on a budget.  Each course consisted of two hours of class time per week and covered these topics: planning a garden, getting started with healthy soil, planting a garden, container gardening, caring for your garden, and harvesting and using your bounty.  The last session covered canning, drying, and freezing.  Students who attended four of the six classes received a gardening book, seeds and plant starts, and a certificate of completion.
"The Seed to Supper" program aims to address the root causes of hunger through providing free vegetable gardening instruction," reads a brochure from the Oregon Food Bank.  "It is not intended to take the place of existing gardening courses offered to the general public by the OSU Extension Service and Master Gardeners."
The use of the conference room at the Ridge apartments in Lincoln City highlights the involvement of Northwest Coastal Housing, according to Meneses.  In partnership with The Ridge, Oceana provides instruction in English and GED preparation there and at Oceana Family Literacy throughout the year.  "The connection with the Extension Service extends our service beyond language instruction to food and gardens," she continues.  "We were very happy to be a part of this pilot program. It gave students the chance to have a good time so they could forget the drudgery of learning language."
The next Seed to Supper program will begin in February 2017. Oceana Family Literacy is located at 561 SW 29th in Lincoln City. For more information, call 541-921-1865.