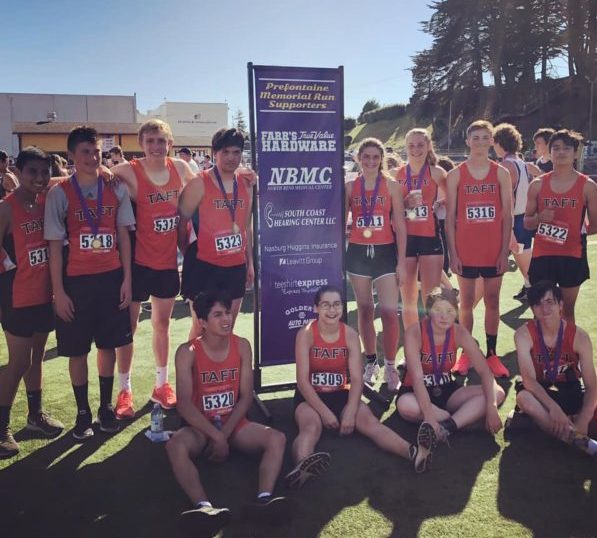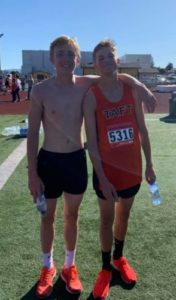 Lucas Hindman placed 28th and Hunter Lundstedt 34th Saturday to lead the Taft High boys, while fellow senior Autumn Ellis finished 25th to pace the girls in the Prefontaine Memorial 5K at Coos Bay.
Hindman clocked a time of 18.39.9, while Lundstedt  finished in 18:52.1 at Marshfield High School two days after running in the Nestucca Cape Kiwanda Challenge.
Ellis ran 5,000 meters in 22:34.9 in the meet that honors former Olympic middle and long-distance star Steve Prefontaine in his hometown.
The Taft High boys and girls both placed ninth in the team competition. Grants Pass defeated Roseburg for the boys and girls team titles.
Roseburg senior Zachary Traul won the boys race in 15:54.4, while senior Faith Schultz of Grants Pass was the girls winner in 18:45.6.
The Tigers return to the track Saturday at the Toledo XC Challenge.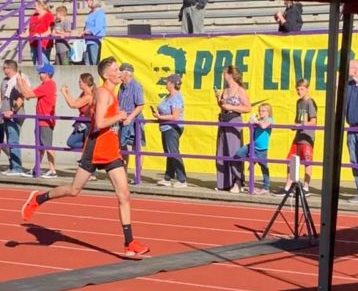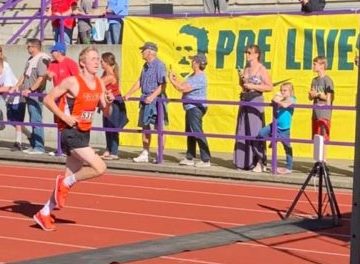 Boys
5,000 Meters 

Individual Results

1.
12
Zachary Traul
15:54.4

Roseburg

2.
9
Alexander Garcia-S…
16:17.6

North Bend

3.
10
Ethan Bland
16:25.6

Grants Pass

4.
11
Asa Marwick
16:49.4

Hidden Valley

5.
11
Bryce Hobbs
16:50.6

Grants Pass

6.
10
Jake Sorani
17:01.3

Cascade Christian

7.
10
Jude Ortega
17:03.8

Arcata

8.
10
Liam Bucknell
17:05.1

Grants Pass

9.
10
Kaleb Barnes
17:05.6

Brookings-Harbor

10.
10
Nicholas Looper
17:14.5

Roseburg

11.
11
Wesley Powell
17:23.9

Grants Pass

12.
10
Preston Smith
17:24.1

Roseburg

13.
12
Aaron Prince
17:31.7

Marshfield

14.
11
Miles Johnson
17:33.2

Arcata

15.
10
Ryan Gladbach
17:33.5

Grants Pass

16.
9
Kyle Staten
17:35.5

Hidden Valley

17.
10
Evan Tucker
17:36.3

Grants Pass

18.
9
Caleb Christian
17:49.2

Hidden Valley

19.
10
Ryan Johnston
17:49.6

Grants Pass

20.
9
Quaid Petronella
17:58.5

Grants Pass

21.
12
Chris Walker
18:03.4

Grants Pass

22.
11
Robert Kliewer
18:04.9

Marshfield

23.
11
Andrew Pelson
18:05.2

Hidden Valley

24.
10
Jeremy Huff
18:26.5

Grants Pass

25.
12
Kyran Erwin
18:29.7

Marshfield

26.
9
Grant Bohannon
18:32.8

Hidden Valley

27.
11
Zachary Holt
18:33.4

North Bend

28.
12
Lucas Hindman
18:39.9

Taft

29.
10
Brian Powell
18:41.8

Roseburg

30.
12
Steen Olson
18:43.1

Roseburg

31.
10
Taylor Lander
18:43.3

Roseburg

32.
9
Micah Lusby
18:43.4

Roseburg

33.
10
Jacob Calvert
18:43.9

Marshfield

34.
12
Hunter Lundstedt
18:52.1

Taft

35.
10
Andrew Weber
18:56.0

Grants Pass

36.
12
Zachary Abblitt
18:56.5

Brookings-Harbor

37.
9
Wyatt Olinghouse
18:57.3

Roseburg

38.
10
Logan Diaz McNeal
18:57.3

St Mary's

39.
10
Everest Abblitt
18:58.1

Brookings-Harbor

40.
10
Johnny Flanagan
19:01.3

North Bend

41.
12
Daniel Strom
19:05.9

Brookings-Harbor

42.
11
Kaleb Scott
19:10.4

Hidden Valley

43.
10
Hyrum McGinnis
19:12.4

Roseburg

44.
10
David Noble
19:12.8

St Mary's

45.
9
Gabe Simmons
19:13.7

Roseburg

46.
10
Esmaiel Guerrero
19:16.5

Hidden Valley

47.
9
Jacob Morin
19:18.7

Grants Pass

48.
11
Drake Lasky
19:19.9

Grants Pass

49.
10
Ian Letts
19:20.1

Arcata

50.
10
Finn Murphy
19:26.2

Arcata

51.
9
Ty Havniear
19:28.1

Cascade Christian

52.
9
Cody Rommes
19:29.6

Hidden Valley

53.
12
Carson Casey
19:35.4

Cascade Christian

54.
10
Tucker Thompson
19:38.1

Roseburg

55.
11
Hunter Jordan
19:39.9

Pacific

56.
10
Max Sloan
19:45.6

Grants Pass

57.
11
Lucas Forshee
19:48.4

Waldport

58.
12
Garrett Baird
19:56.2

Coquille

59.
9
Cody Arnold
19:56.8

St Mary's

60.
12
Aidan Zellmer
19:58.3

Brookings-Harbor

61.
10
Ian Nolan
19:59.1

North Bend

62.
12
Kason Bonds
19:59.4

Roseburg

63.
12
Parker Townsend
19:59.6

Roseburg

64.
12
Jake Renteria
20:05.4

Arcata

65.
10
Eli Briseno
20:08.2

Grants Pass

66.
10
Trenton Parrott
20:13.2

North Bend

67.
11
Tristian Donaldson
20:19.3

Grants Pass

68.
10
Ephraim Webber
20:21.5

Roseburg

69.
9
Jared Wallace
20:21.6

Arcata

70.
11
Owen Gramley
20:22.7

St Mary's

71.
12
Eric Lingyi Wang
20:35.2

St Mary's

72.
11
Rafael Perez Del V…
20:36.0

Taft

73.
9
Milo Kirby
20:38.2

Roseburg

74.
12
Cade Ealy
20:38.8

Grants Pass

75.
11
Brogan Markel
20:39.1

North Bend

76.
10
John Silva
20:43.3

Roseburg

77.
9
Noah Horbin
20:43.5

Grants Pass

78.
12
Wyatt Lowe
20:47.3

Roseburg

79.
12
David Pedrick
20:48.6

Powers

80.
9
Andrew Gordon
20:52.9

Waldport

81.
11
Daniel Perez
20:55.0

Grants Pass

82.
10
Max Medley
20:55.6

Grants Pass

83.
12
Brady Dexter
20:56.1

Reedsport

84.
11
Joaquin Jackman
20:56.7

Arcata

85.
11
Christian Steendahl
20:58.8

Brookings-Harbor

86.
9
Branko Briggs
21:00.0

Brookings-Harbor

87.
10
Mick Greenwood
21:00.4

Waldport

88.
9
Jack Waddington
21:00.4

Marshfield

89.
12
Joseph Larson
21:02.1

Roseburg

90.
11
Aidan Alcock
21:03.8

Roseburg

91.
11
Hunter Lucas
21:03.9

Hidden Valley

92.
11
Ashton Wolfe
21:04.1

Sutherlin

93.
12
Mario Yi Li
21:06.7

St Mary's

94.
11
Keegan Lahley
21:09.2

Sutherlin

95.
12
George Cook
21:17.3

Grants Pass

96.
12
Robby Clarke
21:17.4

Roseburg

97.
12
Peter Pihac
21:22.4

Roseburg

98.
11
Inigo Loidi
21:27.1

Grants Pass

99.
9
Lucas Blair
21:30.3

Arcata

100.
12
Hassaan Qadir
21:31.8

North Bend

101.
10
Will Salamunovich
21:38.0

Arcata

102.
12
Robby Rowe
21:40.2

Brookings-Harbor

103.
10
Harland Davidson
21:40.7

Grants Pass

104.
12
Jayce Laughlin
21:43.6

Roseburg

105.
11
Adam Leaton
21:51.6

Roseburg

106.
12
Nathan Oberg
21:51.9

North Bend

107.
9
Ethan Bastian
21:57.2

Roseburg

108.
12
Colby Fairbairn
21:57.9

Roseburg

109.
10
Brayan Mateo
22:08.8

Taft

110.
10
Gavin Johnston
22:11.9

Grants Pass

111.
9
Johnathan Stotler
22:15.0

North Bend

112.
11
Riley Mosher
22:20.9

Arcata

113.
10
Craig Ortega
22:29.4

Roseburg

114.
10
Carter Dryden
22:36.8

Roseburg

115.
9
Conner Doppelmayr
22:39.3

Sutherlin

116.
9
Toby Sanchez
22:40.9

Arcata

117.
12
Curtis Humphrey
22:43.5

Hidden Valley

118.
11
Dean Wellik
22:47.6

Arcata

119.
9
Brandon Martinez
22:50.1

Grants Pass

120.
11
Sean Taylor
22:53.9

Grants Pass

121.
9
William Sayler
22:56.6

St Mary's

122.
11
Corbin Luoma
22:57.6

Arcata

123.
9
Aidin Wilson
22:58.3

North Bend

124.
9
Ian Tommerup
23:00.3

Grants Pass

125.
10
Derek Bell
23:00.6

North Bend

126.
9
Evan Hernandez
23:01.0

North Bend

127.
9
Seth Sheely
23:05.0

Hidden Valley

128.
9
Angelo Cruz Garcia
23:07.6

Taft

129.
11
Stephen Jacquot
23:11.8

North Bend

130.
9
Dane Steendahl
23:14.3

Brookings-Harbor

131.
9
Thomas Johnston
23:18.3

North Bend

132.
12
Jordan Mata
23:29.4

Grants Pass

133.
9
Eli Jones
23:36.7

Taft

134.
9
Carson Morrison
23:49.2

Grants Pass

135.
9
Mason Van Ronnsom
23:50.5

Roseburg

136.
9
Justin Vinyard
23:50.6

Grants Pass

137.
11
Colin Ellis
23:58.4

Roseburg

138.
9
Conrad Stemler
24:00.0

Arcata

139.
9
Joshua Godfrey
24:03.8

Roseburg

140.
9
Ethan Nelson
24:05.0

Grants Pass

141.
9
Sam Cordon
24:07.5

Roseburg

142.
10
Evan Hough
24:09.2

Roseburg

143.
10
Ethan Leaton
24:10.0

Roseburg

144.
9
Will Doss
24:11.7

St Mary's

145.
9
Edward Conway IV
24:21.7

Roseburg

146.
10
Cooper Sustaire
24:26.8

Roseburg

147.
12
Enrique Molina-San…
24:48.0

Roseburg

148.
11
Graham Jones
24:48.5

Waldport

149.
9
Julian Hernandez
24:54.1

North Bend

150.
10
Kyan Meyers
25:08.4

Brookings-Harbor

151.
9
Jeremy Smith
25:18.7

Sutherlin

152.
10
William Miller
25:21.4

Brookings-Harbor

153.
10
Damian Amerman Smith
25:22.1

Pacific

154.
12
Ethan Price
25:31.5

Taft

155.
12
Austin Bellew
25:32.1

Roseburg

156.
9
Austin Skelton
25:32.2

Cascade Christian

157.
9
Devin Krussow
25:43.1

Douglas

158.
10
William Young Seid…
26:03.3

Roseburg

159.
9
Markus Kliewer
26:14.2

Marshfield

160.
10
Benjamin Cimoli
26:15.3

Pacific

161.
9
Cordell Guckert
26:31.8

Days Creek

162.
11
Chase Forsloff
26:32.3

Roseburg

163.
10
Joseph McCormick
26:53.4

Taft

164.
12
Cole Cardozo
27:02.4

Marshfield

165.
9
Ryan Hubbard
27:06.4

Hidden Valley

166.
11
Tyler Hill
27:24.7

North Bend

167.
10
Sam Dressel
27:25.1

Grants Pass

168.
9
Skyler Sunder
28:06.4

Reedsport

169.
12
Ryan Fukushima
28:39.7

Arcata

170.
12
Zeke Hernandez
29:37.1

Pacific

171.
9
Brodie Blair
30:28.4

Marshfield

172.
10
Nate Fukushima
30:47.1

Arcata

173.
9
Charlie Heim
35:05.7

St Mary's

174.
9
Bryson Laney
36:06.6

Roseburg

175.
11
Donald Rogers
40:06.4

Hidden Valley
Girls
Individual Results

1.
12
Faith Schultz
18:45.6

Grants Pass

2.
10
Eliza Eckman
19:00.4

Roseburg

3.
9
Sarah Beckstead
20:22.6

Grants Pass

4.
9
Natalie Sandeen
20:30.5

Hidden Valley

5.
12
Samantha Dara
20:32.8

Grants Pass

6.
9
Ai-Lan McGoldrick
20:35.0

Arcata

7.
10
Mary Sturley
21:00.1

Grants Pass

8.
9
Charis Childers
21:00.9

Roseburg

9.
12
Kaylee Delzotti
21:07.9

Marshfield

10.
9
Corinne Childers
21:15.7

Roseburg

11.
11
Katelyn Willard
21:22.1

Cascade Christian

12.
12
Samantha Eichman
21:25.6

Roseburg

13.
11
Sage Hartsfield
21:26.7

Grants Pass

14.
9
Bela Marshak
21:27.1

Grants Pass

15.
11
Celeste Sinko
21:33.5

North Bend

16.
12
Sophia Tate
21:51.9

Roseburg

17.
12
Abby Durrant
21:53.3

Grants Pass

18.
10
Trinity Minyard
21:57.3

Roseburg

19.
12
Maren Simchuk
22:01.5

Grants Pass

20.
12
Sally Berg
22:11.8

Hidden Valley

21.
10
Sarah Nicholson
22:15.8

Myrtle Point

22.
10
Madison Turner
22:18.8

Sutherlin

23.
11
Miriam Childers
22:27.7

Roseburg

24.
12
Sarah Sturley
22:32.7

Grants Pass

25.
12
Autumn Ellis
22:34.9

Taft

26.
9
Sara Slade
22:39.6

North Bend

27.
10
Bailey Wallack
22:52.6

Marshfield

28.
10
Ashley Radmer
22:52.9

Sutherlin

29.
12
Susanna Schatz
22:57.1

St Mary's

30.
12
Jordan Baarstad
22:58.5

Marshfield

31.
10
Sydney Trieu
22:59.5

Arcata

32.
12
Tatum Stuart
23:01.3

Grants Pass

33.
10
Sydney Godwin
23:02.2

St Mary's

34.
10
Julissa Landeros
23:07.1

Roseburg

35.
9
Celeste Le
23:13.3

North Bend

36.
9
Raven Alvarez
23:14.5

Arcata

37.
10
Emma Stuart
23:17.8

Roseburg

38.
9
Anna Grace Pelson
23:18.0

Hidden Valley

39.
9
Iris Donovan
23:20.7

Waldport

40.
11
Tiana Gilliland
23:22.9

Grants Pass

41.
9
Micah Wicks
23:31.3

Sutherlin

42.
12
Jenna Robinson
23:32.9

Grants Pass

43.
9
Cleo Barnes
23:33.7

Arcata

44.
12
Ashley Schuttpelz
23:36.7

Reedsport

45.
9
Ruth Godlin-Sullivan
23:41.4

Arcata

46.
10
Aleesa Lewis
23:42.6

Arcata

47.
9
Rose Hehn
23:45.6

Cascade Christian

48.
9
Mia Maier
23:49.5

Grants Pass

49.
11
Kylee Swanson
23:53.1

Arcata

50.
11
Carson Hall
24:05.4

St Mary's

51.
10
Haylee Bayard
24:06.1

Grants Pass

52.
9
Jaden Ratledge
24:10.5

Sutherlin

53.
10
Isabeau Redlinger
24:14.7

Grants Pass

54.
9
Jazlynn Landeros
24:17.9

Roseburg

55.
12
Ashleigh Timm
24:22.3

North Bend

56.
12
Maddie Goley
24:34.3

Arcata

57.
10
Addie Jensen
24:41.8

St Mary's

58.
10
Alaina Kuckuck
24:43.9

North Bend

59.
12
Tia Franklin
24:47.0

Arcata

60.
11
Alicia Gordon
24:53.9

Waldport

61.
11
Madison Trenner
25:12.7

North Bend

62.
11
Anna McCann
25:13.2

Gold Beach

63.
10
Megan Pearson
25:18.1

Brookings-Harbor

64.
9
Corrie Gohman
25:22.3

Sutherlin

65.
9
Darynne Huntley
25:46.2

Marshfield

66.
11
Taya Mannen
25:49.1

Roseburg

67.
9
Bianca Zacchino
25:52.3

Grants Pass

68.
10
Ariella Schultz
25:53.0

Grants Pass

69.
12
Alexa Shaver
26:23.3

Sutherlin

70.
12
Mekella Wong
26:26.8

St Mary's

71.
12
Brooke Orendorff
26:30.5

Taft

72.
9
Kara Kloster
26:32.9

Sutherlin

73.
12
Emma LoCicero
26:35.9

Roseburg

74.
12
Alaina Sustaire
26:46.2

Roseburg

75.
9
Abby Johnston
26:48.6

Grants Pass

76.
12
Imogen Snively
26:55.9

Coquille

77.
12
Abigail Smith
26:59.5

Roseburg

78.
10
Areli Lampke
27:22.2

Gold Beach

79.
9
Elizabeth Delgado
27:23.8

Marshfield

80.
12
Mao Urasaki
27:26.1

Sutherlin

81.
11
Destiny Cheas
27:42.9

Roseburg

82.
11
Brynn Graham
27:43.8

Hidden Valley

83.
11
Stephanie Way
27:45.1

Roseburg

84.
11
Lily Akin
27:57.6

Cascade Christian

85.
12
Ellie Crawford
28:01.7

Grants Pass

86.
10
Mylie Fox
28:06.8

Roseburg

87.
9
Linea Vizenor
28:40.5

Arcata

88.
12
Lena Oberle
28:43.4

Roseburg

89.
11
Claira Tolan
28:43.7

Taft

90.
9
Rylee Flanagan
28:50.0

North Bend

91.
10
Grace Wright
29:06.1

Coquille

92.
10
Olina Myers
29:09.7

Brookings-Harbor

93.
9
Rose Hadley
29:10.7

North Bend

94.
12
Morgan Baird
29:30.3

Coquille

95.
10
Adelina Willis-Blunt
29:44.9

Brookings-Harbor

96.
12
Julliette Pietsch
29:45.8

Grants Pass

97.
10
Kaydince Beach
29:49.8

Taft

98.
9
Annabel Smith
29:50.3

Arcata

99.
11
Aliyah Elantawi
29:54.0

Grants Pass

100.
9
Ella Miller
29:58.6

Roseburg

101.
10
Emily Stetson
30:16.7

Roseburg

102.
11
Sophie Cohan
30:19.0

Roseburg

103.
9
Marley Stuart
30:43.6

Grants Pass

104.
12
Atticus Wahl
30:54.6

Pacific

105.
11
Lillian Simon
31:15.5

Waldport

106.
11
Dani Gainer
31:21.4

Waldport

107.
9
Tatiana Marchi
32:10.2

Roseburg

108.
12
Kassie Diehl
32:30.3

Reedsport

109.
10
Marlene Cummins
32:30.7

Roseburg

110.
10
Miranda Roberts
33:14.3

Brookings-Harbor

111.
10
Baylee Laney
33:31.3

Roseburg

112.
9
Natasha Harmon
34:47.8

Hidden Valley

113.
12
Alani Cabal
35:21.1

Taft

Provided by Athletic.net