FACEBOOK POST —- Hannah Lamb
**HIT AND RUN ON ROADS END** At 5:40am this morning we awoke to a loud crash. Looked outside and saw a car speeding away. They must've been coming down the hill on Logan Road too fast, lost control and hit a car next door, sending it through the fence just missing our house and gas meter! The car that did this smashed into the white truck sending it into the car next to it and then left burnt rubber from getting stuck before speeding off (shown in the photos) The car that did this has to have some serious damage and is a teal/turquoise/aquamarine color. The cops came and took photos this morning and said a car was seen speeding south of town with damage but has yet to be located. Please share this and hopefully we can find the person and they can be held accountable.
Lincoln City Police are still searching for the suspect vehicle. Possibly a Honda, BMW, or Mercedes as the color is unique to those vehicles and witnesses described a small car.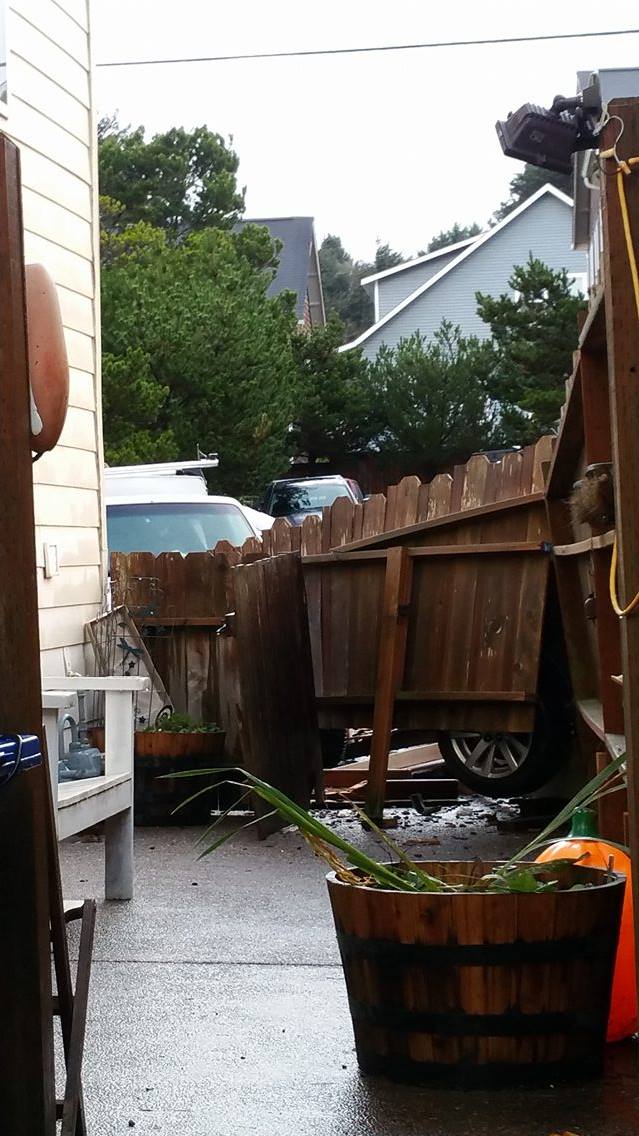 Hannah Lamb also said this could have been much worse as the vehicle in this image came within six feet of hitting their gas meter which is right next to a large boiler/water heater.
If you see any turquoise/teal/aquamarine vehicles with damage please contact the Lincoln City police Department at (541) 994-3636
"The truck and other car in our driveway belong to our neighbors. If the e-brake hadn't been on in the truck, all the cars would've been damaged and I don't think the person would've got away. So crazy how quickly things can change." – Hannah Lamb