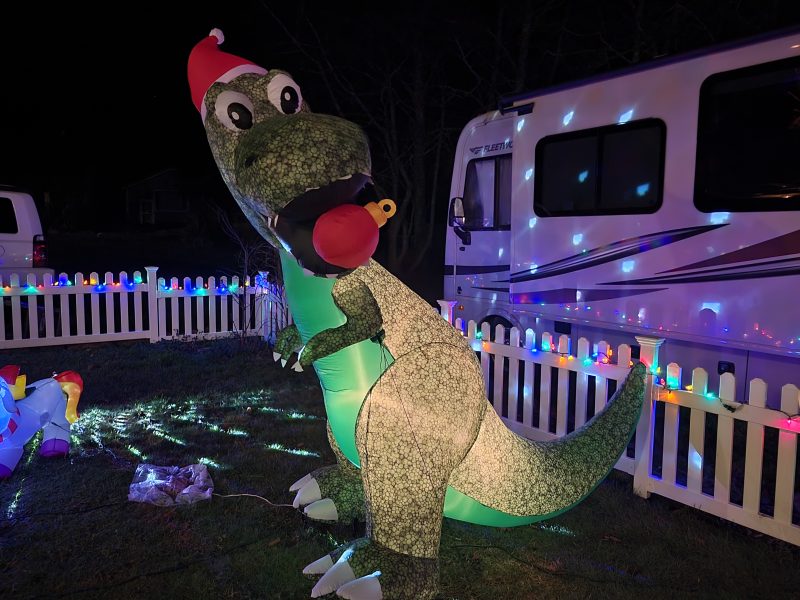 It seems that there is no escaping inflation in Lincoln City.  From dinosaurs to Santa, from R2-D2 to snowmen, inflatable Christmas decorations are nearly as popular around town as twinkling Christmas lights. 
Home inflatables are relatively new, compared to the large commercial displays, but where did they come from originally?  Well, you can thank Gemmy Industries and the creator of Big Mouth Billy Bass.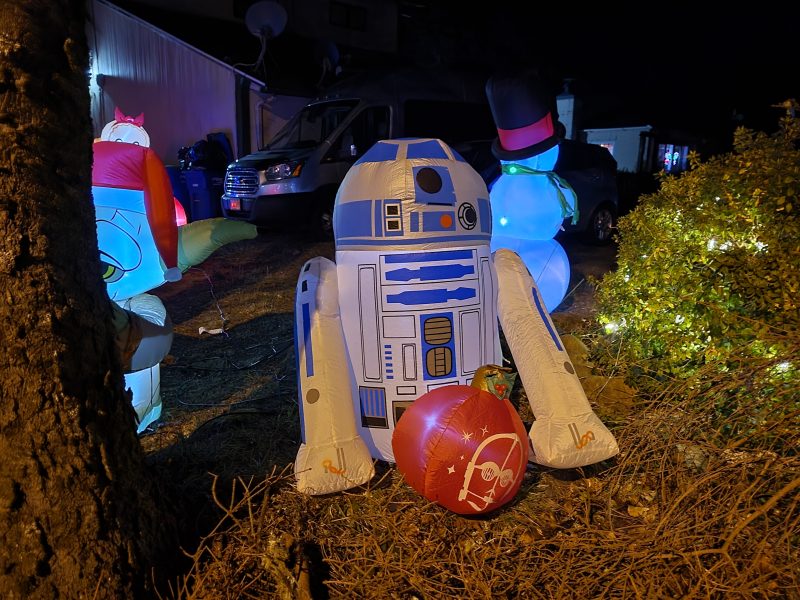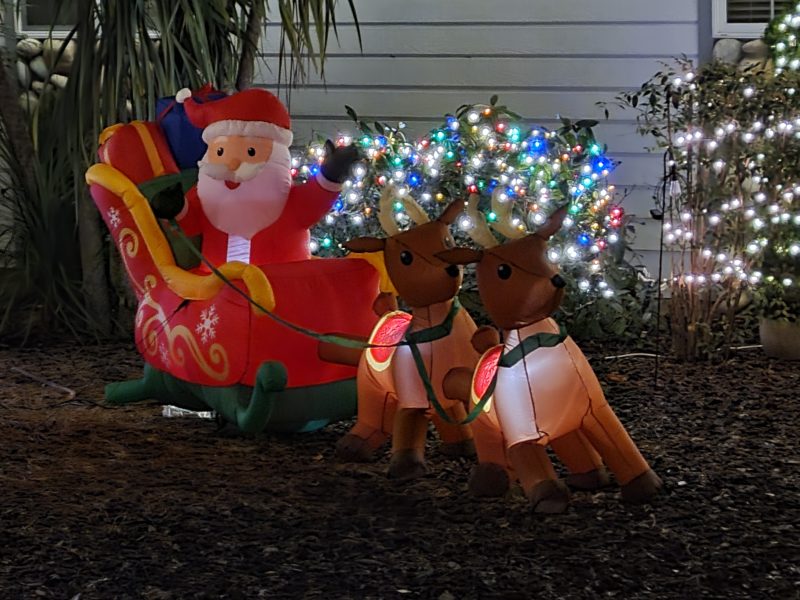 According to gemmy.fandom.com:
Airblown Inflatables are inflatable holiday indoor and outdoor decorations for all occasions. Their sizes range from 2 feet to about 20 feet tall/long. They are one of Gemmy's longest lasting product lines, and are also one of the most popular range of decorations that Gemmy has produced since their introduction in 2001.
After Big Mouth Billy Bass's success, Gemmy's co-owner, Dan Flaherty, was looking for another hit.
He was inspired by those giant inflated gorillas that you see outside of car dealerships.  His idea was, how do you turn that into something that the residential consumer can decorate with?
Early prototypes were inflated with hair dryers, which would overheat and burn out. Eventually Gemmy patented a fan that could run for months at a time. Regular polyester wouldn't inflate well, so the company worked with fabric mills to develop a special coating.
In 2001, Gemmy launched its first Airblown Inflatable, an 8-foot tall Santa Claus. "He was actually quite primitive," Harris said. "He had the big triangle of white fabric between his legs to give enough support so that he could stand up."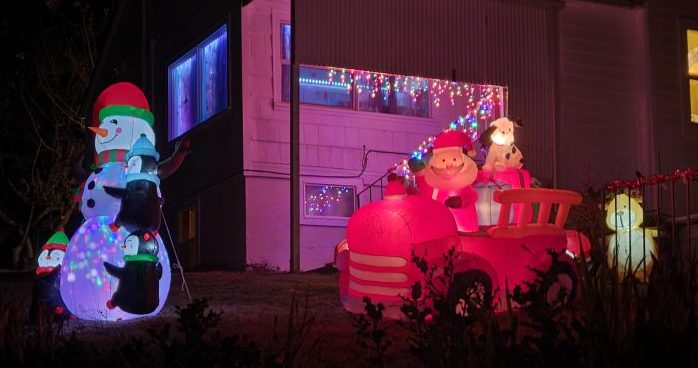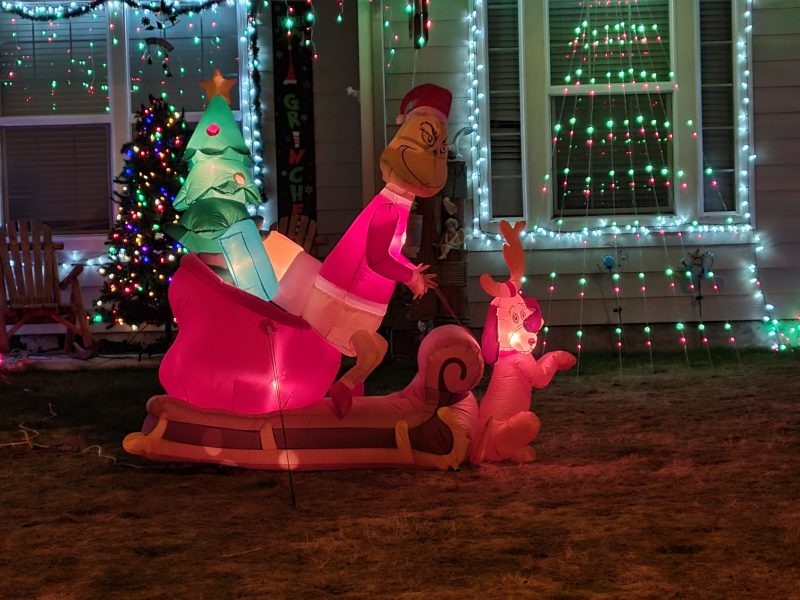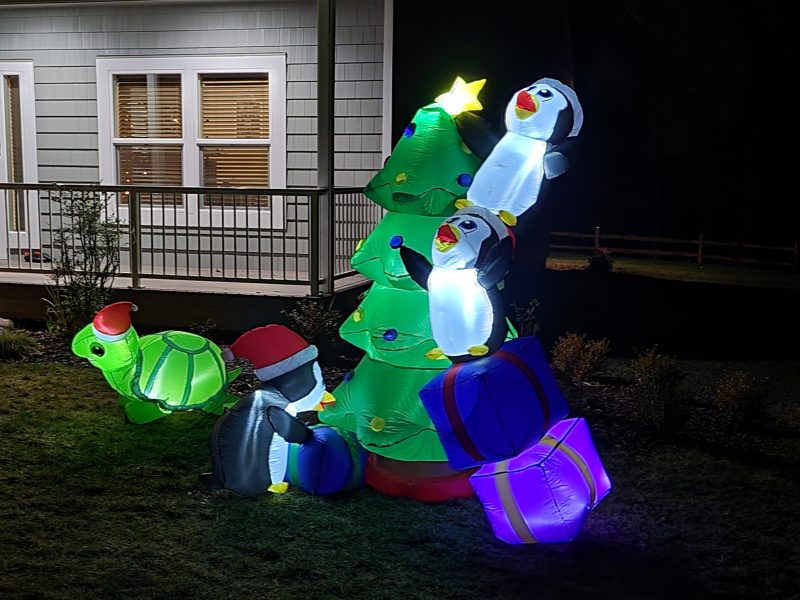 Airblown Motor Evolution (according to https://gemmy.fandom.com/)
All 4 ft inflatables had the small circle fan with the transformer in the middle of the plug: 2000 -2007
Metal base with attachable legs: 2002
Metal base with fold down legs: 2002-2003
Plastic black/gray base with fold down legs: 2004-present day
4ft round inflator with no lights: 2004-2008
3ft-5ft round inflator with light: 2007-present day
Plastic outside base with molded non-foldable legs in big Airblowns: 2004-present day
Plastic gray base with fold down legs and cover on animated Airblowns: 2012

Inflation on the farm.

A hot tub filled with cocoa!

Yoda and Snoopy party with the Gingerbread man!
Easy to install and easy to store, the pillowy billowing bags of festive cheer bring smiles to passerby and homeowner.  Of course the inflatable has but one nemesis here on the coast. Wind.  More than one display was seen toppled over in town.  Despite that, the hearty homeowner, with enough tent stakes and twine, can easily secure their polyester sculptures and not risk tumbling off a ladder.