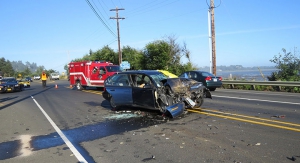 LINCOLN CITY — A male motorist was killed Friday morning in a two-vehicle crash on Highway 101 about three miles south of Lincoln City, authorities said.
Martin Sample, 53, of Lincoln City, was driving a 2007 Saturn when the vehicle rear-ended a dump truck in the northbound lane of the highway. He was pronounced dead at the scene.
The accident occurred just after 7 a.m., Oregon State Police said. The crash, which happened at Milepost 121, closed the highway for about 2 ½ hours.
The road was partially reopened at 9:30 a.m., with all lanes open to travel about 10:30 a.m. The incident is under investigation.