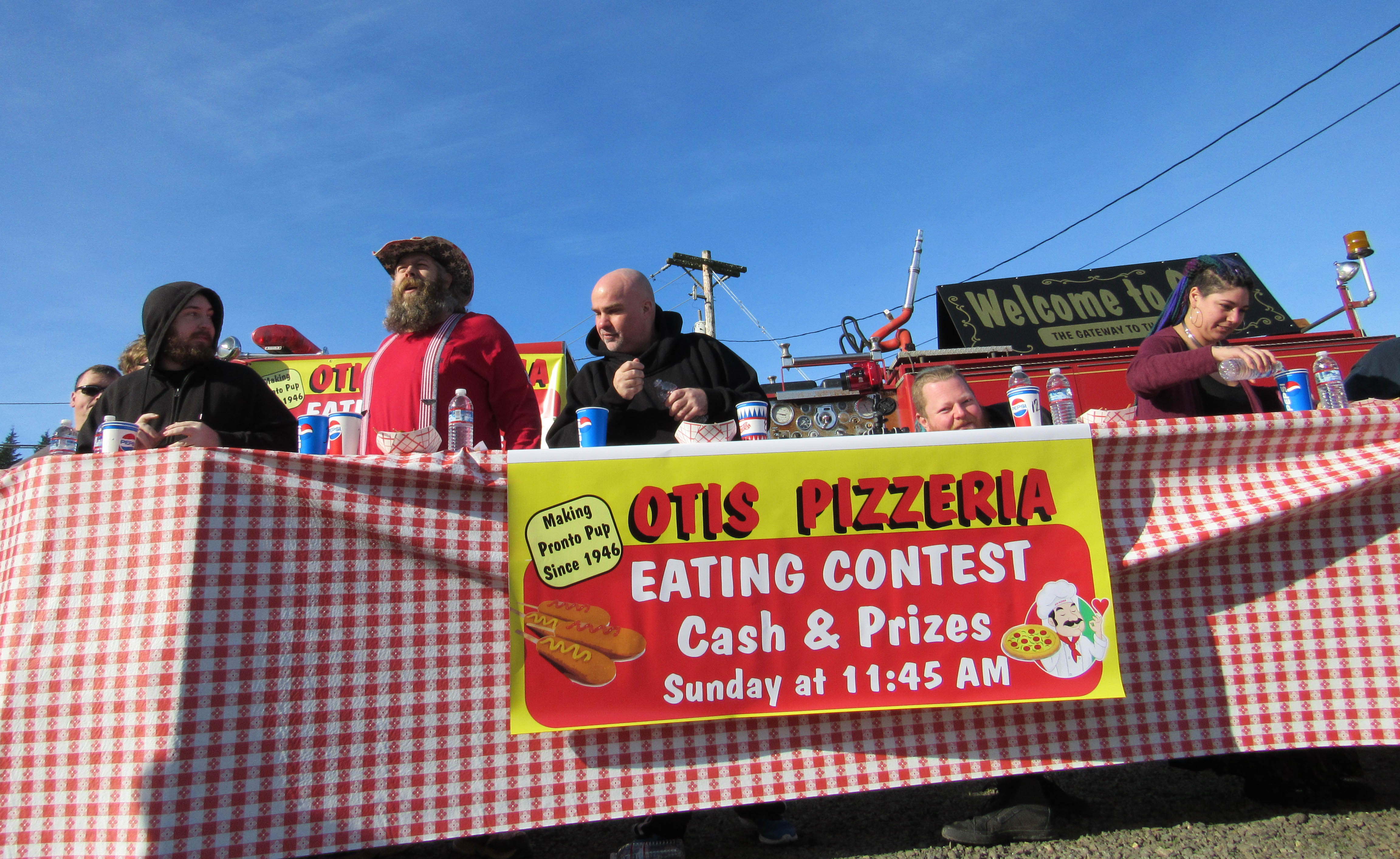 Competitive eater and YouTuber Max Carnage took home the $100 top prize Sunday in Otis Pizzeria's first-ever Pronto Pup eating contest for charity by consuming 10 1/2 corn dogs.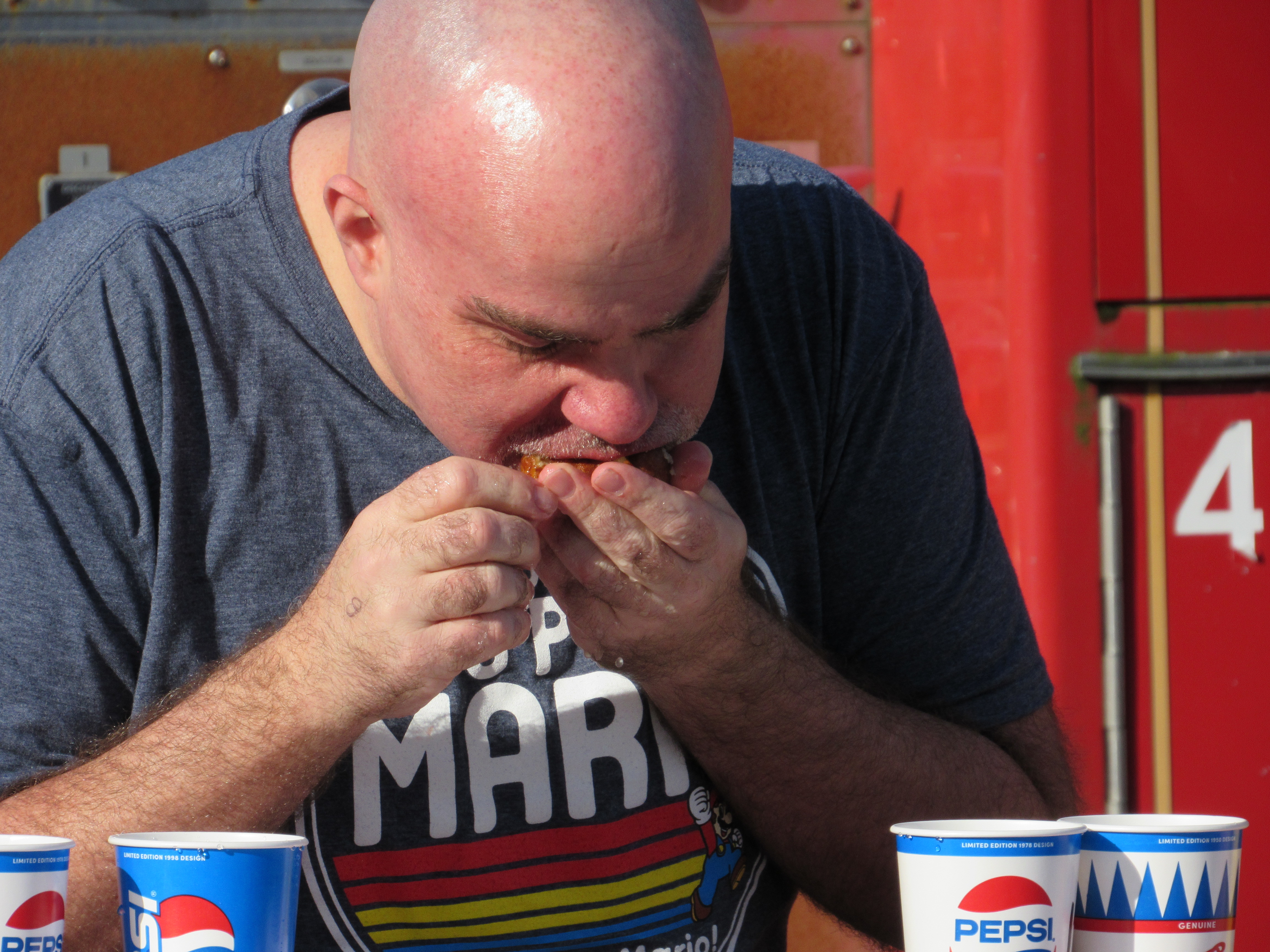 "I ate more than everyone else," Carnage said of his winning strategy. "Calling a Pronto Pup a corn dog is an insult to the Pronto Pup. A pronto Pup blows corn dogs out of the water."
Carnage, who runs the YouTube channel Big Eaters Club, said he plans to spend the $100 cash prize on "a bunch of milkshakes."
"I'm going to go to Lincoln City and buy a bunch of milkshakes," he said. "I'm serious. There's a place that has really good milkshakes in there and they have booze in them. I'm gonna go get a bunch of boozy milkshakes."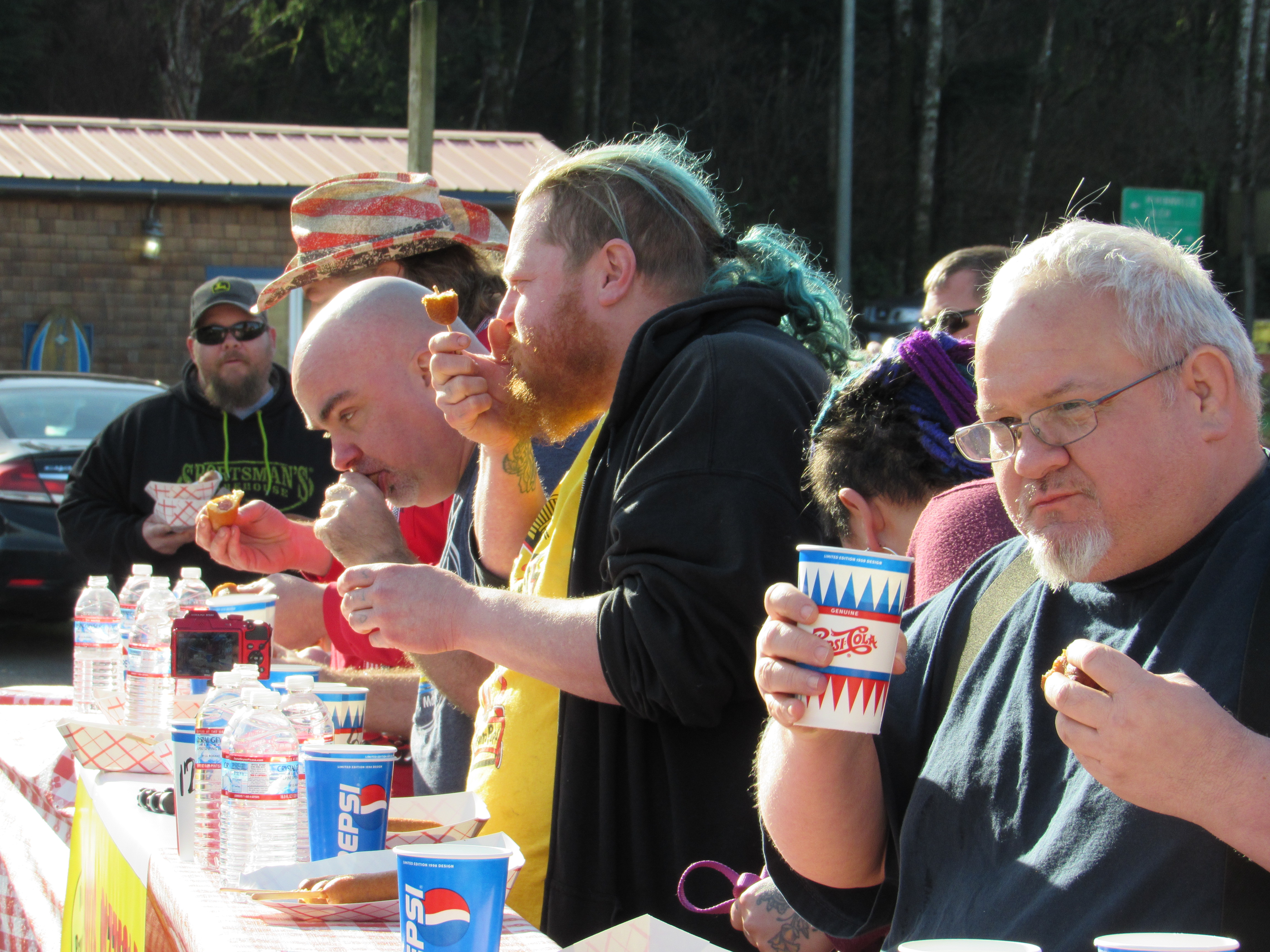 Eleven contestants used a variety of strategies to down as many Pronto Pups as possible in five minutes with only water to drink. Lincoln City Mayor Dick Anderson was one of four judges for the competition.
A group of five contestants drove from Salem for the event, and one, Rusty Shackleford, took second place and a $100 gift certificate to Otis Pizzeria.
Shackleford's technique was to cut the Pronto Pups in half, shred them and soak them in ketchup. He said he didn't feel very well after the competition and declined an interview, but said it was fun and he would be back.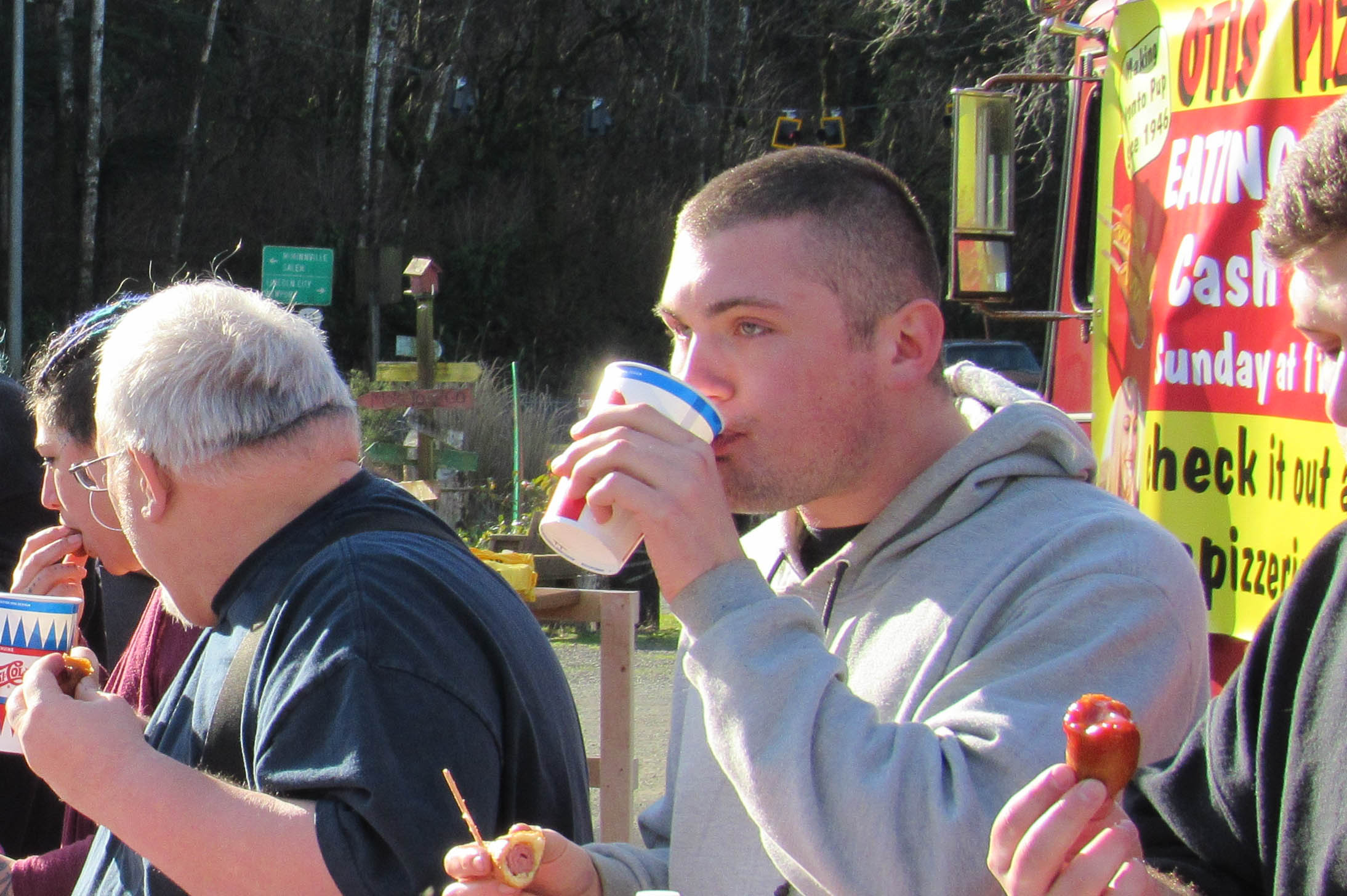 Third place went to Brian "Shrek" Mead, who ate seven Pronto Pups for a $50 gift certificate.
"Not gonna lie, the grease was getting to me," he said.
Mead dressed up for the occasion in a kilt and Buck knife strapped to his waist. He recently won a friendly eating competition at the Mexican restaurant Casa Rojas in Salem by downing 19 tacos in 15 minutes.
"This is my first competition with professionals," he said.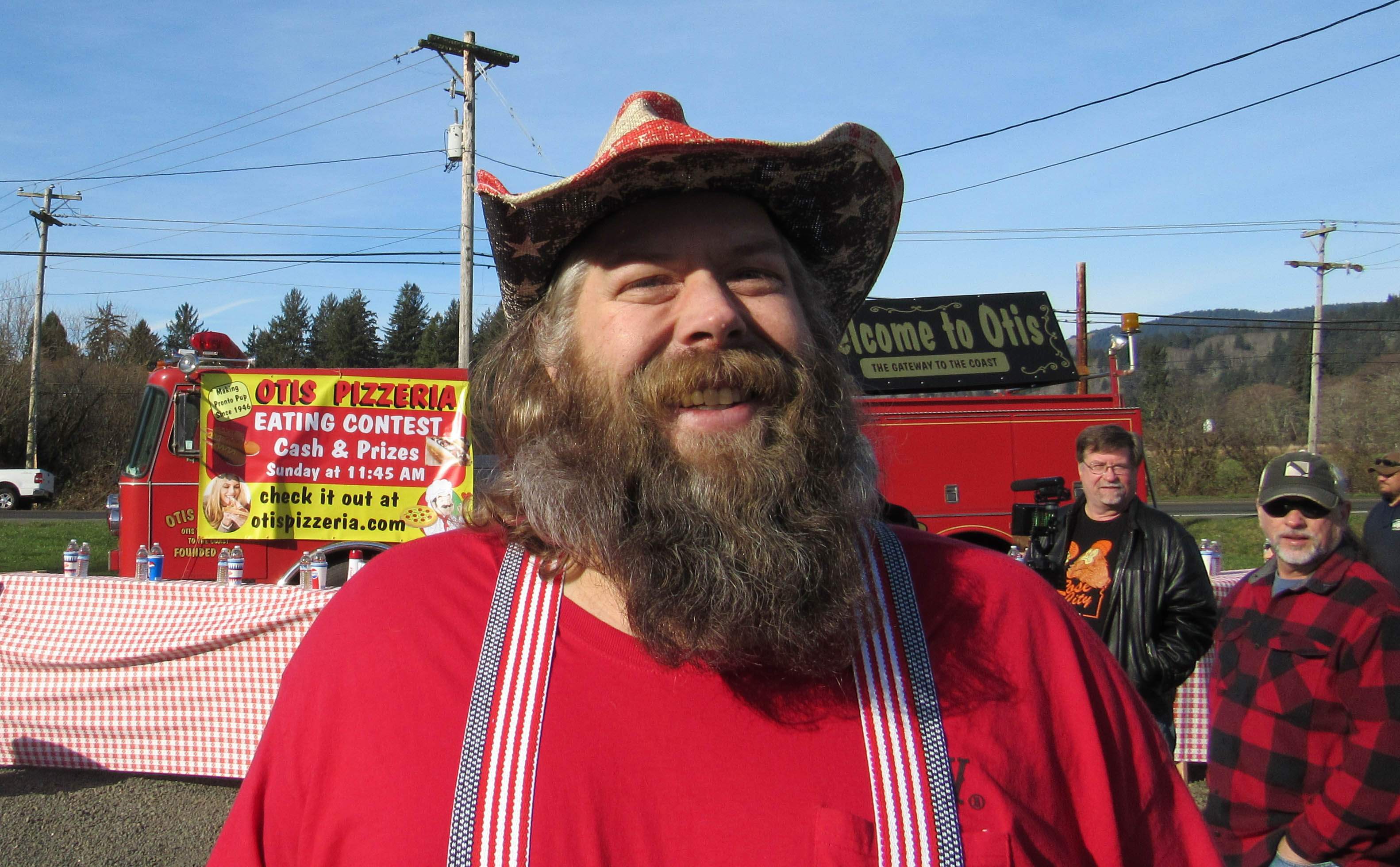 Oscar Ochoa, 22, from Otis, ate six Pronto Pups and was the only local to compete.
Previous coverage: