Lincoln City, OR – Summer time memories of the Oregon Coast bring smiles to many faces…each smile as unique as the memory behind it. For many who visited Lincoln City, it was the famous Pixie Kitchen that brought miles of smiles to a generation of faces. And for two days, on June 24th and 25th, this beloved attraction comes back to life as Pixiefest.
Pixiefest brings magical family memories of the Pixie Kitchen and Pixieland Amusement Park to Chinook Winds Casino Resort. From 11am to 7pm on June 24th and noon to 5pm on June 25th, patrons can relive memories of these attractions while creating new ones. Enjoy rides, entertainment, live music and food infused with Pixie whimsy.
Relive your childhood with the Pixie Memories exhibit, which contains displays of authentic Pixie signs, rides and merchandise from both the Pixie Kitchen and Pixieland. The North Lincoln County Historical Museum has opened their archives and are making these quirky historical documents of Lincoln City's past available for viewing at the festival.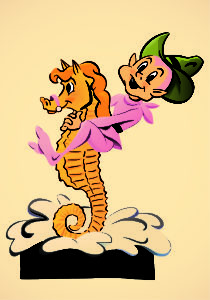 Of course, it wouldn't be a festival without rides and entertainment. Take a ride around the festival site in a mini-train reminiscent of the Little Toot, the popular Pixieland ride. Go for a spin in the Tubs O' Fun ride or bounce around in a carousel bounce house. Pixie-themed rides are included with the price of admission, as well as a complimentary Boo & Hiss Melodrama performance from the Pixieland Opera House.
Nosh on culinary treasures of the past, recipes courtesy of the Lincoln City Culinary Center, from the famous Pixie Kitchen. Try authentic cod balls, fried seafood confections made with smoked lingcod, or a cold Pixie scone while you enjoy the mischievous Pixie fun. For the adult Pixies, try a cocktail at the Pixie Kitchen Shell Room, a brilliant re-creation of the Pixie Kitchen bar complete with a mermaid enticing you to enter.
The Pixie Kitchen opened its doors on May 21st, 1953 in Wecoma Beach, Oregon. Owners Jerry and Lu Parks bought the restaurant from former owner T.C. Gallagher, who had called it Pixie Pot Pie. The Parks created a restaurant where families could enjoy an affordable meal and be transported to a magical fairy tale land. Special attention was given to children, who were viewed as customers, and were given place mats that folded into pixie hats and candy gifts. By the 1960s, the restaurant had become a popular tourist spot with the slogan "Heavenly Food on the Oregon Coast." So much so that an amusement park inspired by the restaurant, called Pixieland, was opened just north of Lincoln City.
Riding on the success of Pixie Kitchen, in 1967 Jerry Parks envisioned a 57-acre "Fairytale Story of Oregon". He unveiled plans to build Pixieland Amusement Park in the neighboring town of Otis. Opened in 1969, Pixieland was dedicated to the families of Oregon by Governor Tom McCall. Keeping in the fairytale theme of the Pixie Kitchen, Pixieland featured a steam locomotive, a log flume ride, and an opera house. Sadly, Pixieland would not survive the decade and closed its gates in 1974.
Help us kick-off the start of the summer season with Pixiefest, along with the 33rd Annual Summer Kite Festival and the Chinook Winds Casino Resort 22nd Anniversary Celebration.
For more information about Pixiefest, or to purchase tickets visit Pixiefest.com.