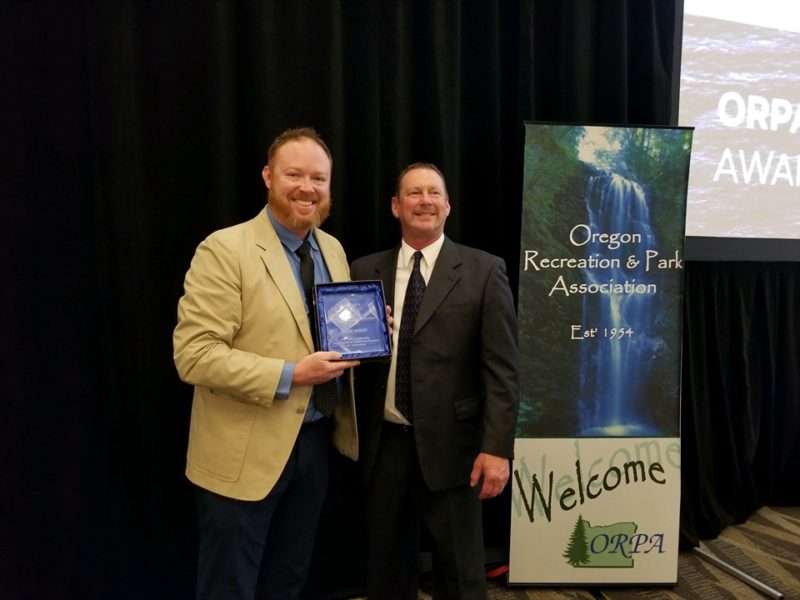 Thanking "all who work diligently to make sure our programs, buildings and parks are ready for use," Lincoln City Parks and Recreation Department Recreation Supervisor Boone Marker has received the 2019 Oregon Recreation and Parks Association 'Outstanding New Professional' award.
"It was with great surprise to be awarded the Oregon Recreation and Parks Association '2019 Outstanding New Professional Award,'" Marker said. "It is an honor to be recognized statewide and in front of hundreds of Parks & Recreation professionals."
The award recognizes a parks and recreation professional with a minimum of three years experience, and a maximum of 15 years, who has demonstrated leadership, initiative, innovation and overall contribution to the parks and recreation profession.
"I have been working with Lincoln City Parks & Recreation since 2015 and we have achieved some great growth in recreation and on the parks side," Marker, 35, said. "I'm lucky to have one of the best recreation teams in the state and thankful for wonderful support within our city's infrastructure."
Marker started his career at the Boys & Girls Club of Salem in 2000. He made his way to Lincoln City in the fall of 2015 to begin work in local Parks and Recreation.
"Boone is the epitome of a genuine Parks & Recreation professional, with his positive leadership, enthusiasm for health and wellness, great new ideas and obvious care for our Lincoln City community," Lincoln City Parks and Recreation Director Jeanne Sprague said. "We're fortunate to have him with LC Parks & Recreation. Thank you for recognizing him, ORPA."
Marker was named to a newly created position of Recreation Supervisor (formerly known as Center director), replacing Gail Kimberling, who retired after more than a decade of service.
Born in Albany and raised in Salem-Keizer, the 2002 McNary High graduate came to Lincoln City in the fall of 2015 after a co-worker recommended the Community Center's recreation program supervisor position after meeting Kimberling at an Oregon Recreation & Park Association conference. Marker met with Kimberling and interviewed the following week.
Son of Ben Marker, mother Amy and stepdad Dale Slater, Marker has three sisters — Tina, Jennifer and Mariesha (and brother-in law Derek). He owns an associate's degree from Chemeketa Community College, a bachelor's in Interdisciplinary Studies from Western Oregon and an MBA from the University of Phoenix.
Marker has coached fifth- and sixth-grade boys and girls basketball, indoor soccer, middle school track and field, youth volleyball, youth league softball and high school softball and volleyball. He has coached volleyball since he was 19, including 12 years of high school, a "Little Spikers" clinic, and competitive travel and college softball.
Marker has also been deeply involved in projects such as "Touch-A-Truck," "Movie in the Park," building the float for this year's Portland Grand Floral Parade, starting adult kickball and volleyball leagues and improving the youth sports leagues, camps and after-school programs.
Marker started his recreation career in 2005 as a branch manager for Boys & Girls Club of Salem, Marion & Polk counties, moving his way up to athletic director. In early 2015, he joined the City of Salem as recreation leader.
"I would not be successful without my support staff and team," Marker said.