Oregon added 6,100 nonfarm payroll jobs in October, continuing a trend of strong job growth. Since October 2015, Oregon added 55,400 jobs, which was a gain of 3.1 percent. This growth rate is nearly double the national job growth rate of 1.7 percent over that period. Oregon's September nonfarm payrolls were revised upward by 1,900 jobs to a new reading of a gain of 4,300 jobs.
In October, Oregon gains were led by two industries which each added 1,800 jobs: construction and health care and social assistance. Next in line were leisure and hospitality, which added 1,000 jobs; government, which also added 1,000; and retail trade, which added 900. Only one major industry declined substantially in October, as professional and business services dropped by 1,200 jobs.
Job growth was widespread among the major industries over the past year, with none declining. Leading the way were three industries that expanded by more than 4 percent: construction (+5,900 jobs, or 6.9%); other services (+3,300 jobs, or 5.3%); and health care and social assistance (+10,300 jobs, or 4.6%). Other industries with above-average growth over the past year were information (+1,300 jobs, or 4.0%); government (+10,400 jobs, or 3.4%); professional and business services (+8,000, or 3.4%); and leisure and hospitality (+6,600 jobs, or 3.4%).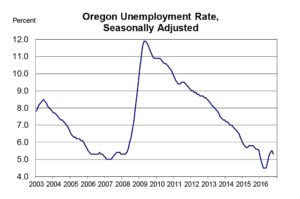 In October, Oregon's unemployment rate was 5.3 percent, essentially unchanged from 5.5 percent in September. The unemployment rate was close to its year-ago figure of 5.6 percent in October 2015.
Oregon's labor force continued to grow in October, bringing the labor force participation rate up to 63.3 percent, from 61.3 percent in October 2015. Oregon's labor force participation rate–which represents the share of the population that is employed or unemployed–has increased since May 2015 as the job market has improved because of Oregon's strong growth.
October Employment 2016 – PDF