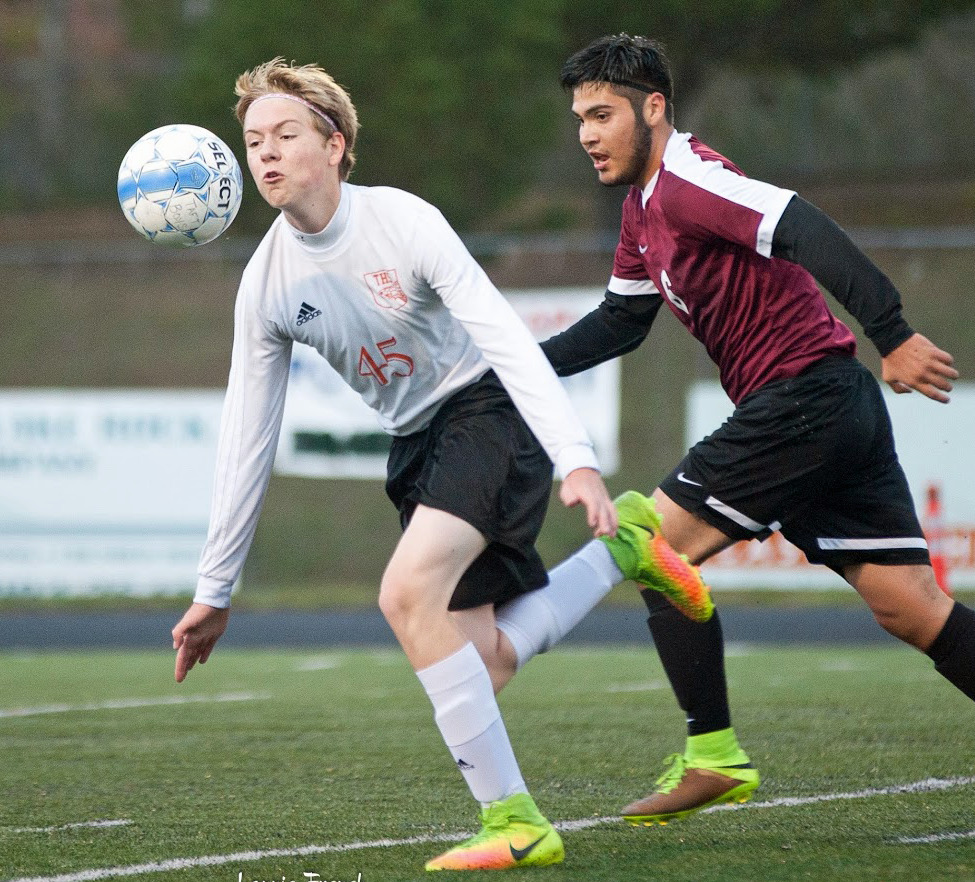 Taft sophomore Logan Merry will be among the key players in Wednesday's first-round State soccer match
A combination of leadership, experience and talent among upperclassmen, and the growth of the future of the team in the form of several key returning players for next season will be on display at 3 p.m. Friday in Creswell when Taft High opens the Class 3A/2A/1A Boys Soccer Championships.
The 10th-seeded Tigers will be making their third straight road appearance in the 16-team State tournament's first round under co-coaches Justin and Nicole James. The Tigers (9-3-3, 7-2-3 Special District 2) lost 3-1 at Portland Adventist Academy two seasons ago, and 4-0 at Riverside last year.
Nicole James said Taft, with an abundance of upperclassmen, is a fast team with an improved offense over last season, when it led the State for most of the year in defense. The Tigers will need solid defense throughout if they hope to derail the seventh-seeded Bulldogs, who won the Mountain Valley Conference at 12-2, 11-1.
Wednesday's winner will meet the winner of the Umatilla (7-4-2, 3-2-1 Eastern Oregon) vs. Portland Adventist Academy (10-4, 6-2 Lewis & Clark) game in Saturday's quarterfinals.
Taft overcame the graduation losses of two seniors on the back line by returning seven starters. James cited four seniors prior to the season who likely would have great impact on the Tigers' fortunes and all four have proven her right.
Right wing Cesar Fajardo, who entered the year after scoring the second most goals in a single season for the Tigers, has provided a potent scoring threat.
Midfielder Joel Maldonado has continues to be one of the hardest working players on the team
"He will go 100 mph from start to finish of any game," she said. "He always gives 100 percent and is a huge part of our offense and defense."
Gavin Ceballos started the year at center defense for Taft and has made it difficult for opponents to get by him.
"He seems so be everywhere on the field all at once," James said.
Also on center defense, first-team all-league player George Torres was the cornerstone of the Tigers' defense last season,
"The success of our defense last season was due in large part to him," James said.
Bus transportation for the first 50 interested riders is available to the game through the sponsorship of the Taft High Booster Club. Adults are $11 and students $9. Cost covers bus and admission to the game. Payment must be made by 10 a.m. Wednesday. The bus departs from the high school, 3780 S.E. Spy Glass Ridge Drive, at 11:45 a.m.
For the Class 3/2A/1A vracket, click here: http://www.osaa.org/activities/bsc/brackets