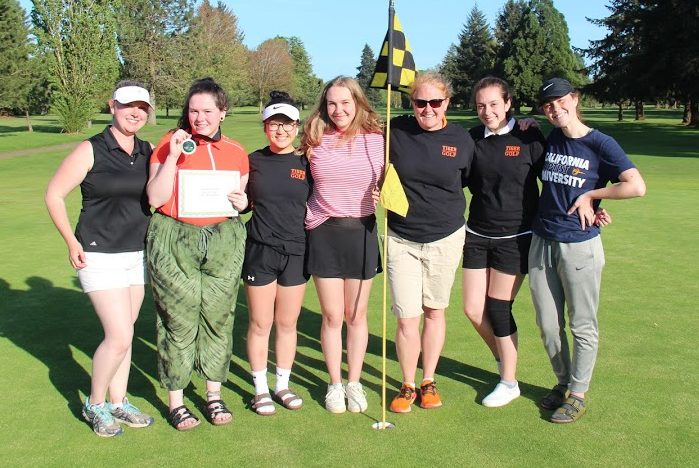 The following news release was issued Wednesday by Taft High girls golf coach Heather Hatton regarding her team's season, which concluded Tuesday with a sixth-place finish at the Class 3A Special District 2 Golf Championships at Santiam Golf Club in Aumsville:
Taft Girls Golf finished sixth out of seven district teams this year. It was definitely a building season with three golfers on the varsity team who had not competed in an 18-hole tournament prior to this year. Three golfers on our team had only competed in one full 18-hole competitive round prior to their competition at Districts these past two days. Grace Cawley in her second year for the Tigers posted two of her lowest rounds of her career starting with a 115 day 1 and a 121 day 2. Prior to that her first, and best, 18 hole round was a 134 at the District preview the week before.
Veronica Jin and Lydia Prins, who both were new to the sport this year, played only one 18 hole individual round of golf as well the week prior at the District preview. Asking them to compete in a two day tournament at this level is asking a lot. They are still working on their swings and learning the rules of the sport. They both fought hard and had great accomplishments each round.
Our three returners, Sammy Halferty, Violet Palermini and Olivia Baker, have a lot of experience on the course. Sammy, who chose to dual sport in both track and golf, played very well day 1 after little practice the prior week focusing on both sports this spring. She posted a 107 to help her team improve on the district preview team score a week early by 21 strokes. Sammy was unable to participate both days as this year District Track day 1 conflicted with golf district day 2. Sammy did an outstanding job of juggling both sports this spring and I hope she is able to do so her senior year next year as well. We have asked for that to be discussed at an earlier date next year to ensure that doesn't happen again next year if at all possible. At a small school sometimes athletes that have the opportunity to contribute to more than one program we need to do our best to give them that support.
Olivia Baker unfortunately sustained a knee injury a few weeks prior to the District preview while volunteering at the home track meet. She fought against the pain during the preview and Day 1 of Districts producing scores that were higher than her talent with a 116. For golfers a key skill is to get through to your left side (as a right handed player) to hit quality, consistent shots. She had so much pain it just wast worth it to her, or me, to continue in the pain she was in. She made the tough decision Tuesday morning of Day 2 to withdraw. She had a great season leading her team in hard work, dedication and skill. I was proud of her to stay with the team all day and cheer them on help anywhere she could.
Senior Violet Palermini had a great district tournament shooting a PR of 91 her second day with two birdies on her round. A two day score of 103-91 for a 194 earned her 8th place and second team all district honors. It was fun watching her play and focusing on her strength in iron play putting away her driver to keep the ball in play. She can hit her irons as far as most players hit their drivers. Coach Lauren Sigman really worked closely with Violet all season to sharpen her skills.
I'm looking forward to having Sammy Halfery, Veronica Jin, Grace Cawley and Emma Kirkendall back next year to build a strong return to the District tournament. Emma really learned a lot this year and I know she will be back to compete for us. We are hoping to have Noa Stoll return who played for us her Freshman and Sophomore years in hopes to have some more depth in our team. I know of a few 8th grade athletes who are looking forward to playing for the Tigers as well for the 2020 season. I'm not sure who the head coach will be, but I know the athletes will be ready to play their best.
Golfers have a tough job and it's tough to recruit because most athletes and parents don't understand the difficulty of walking 18 holes, more than 5 miles, carrying a bag and competing while keeping their own score and their opponents. The fact that our young competitors continue to come out every year is a testament to their strenght.
A special thanks to Chinook Winds Golf Resort for their continued support of our program. The athletes have the opportunity to play there all year round as long as they are on the Tiger roster. That just doesn't happen at many courses. Also to the coaching staff has seriously supported this season so greatly when I was needed to take on the head coaching this year. Lauren Sigman, Kyle Baker and Jazmyn Logan helped travel, ran practices last minute when I couldn't make it or so that I could attend my oldest daughter's college tournaments or my other daughter's softball games.