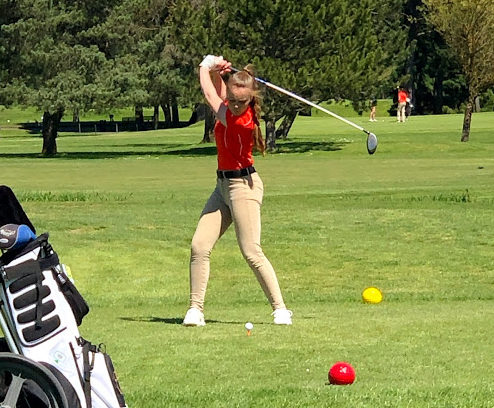 The Taft High girls golf team tuned up Monday for next week's Class 3A/2A/1A Special District 2 Championships by touring Santiam Golf Club in Aumsville.
"We used yesterday's District Preview tournament as a round for the ladies to work on club selection and course management as the course will be the course for Districts next Monday and Tuesday," Taft assistant coach Kyle Baker said.
Senior Violet Palermini shot 101, junior Sammy Halferty 112 and senior Olivia Baker 117 for the Tigers Monday in their peek at the championship venue.
"Violet led the team with the low round of the day doing what Violet does, going out stress-free and just playing her game," Baker said. "With these girls great attitudes and enthusiasm, it should make for a very exciting and competitive Districts."
Baker was playing for the first in more than a week after sustaining a dislocated patella April 18.
"She did well battling though the pain as well as trying to maintain her follow-through with the injury," Kyle Baker said.
"Both Sammy and Olivia had some issues on the par-5's on the front nine, but battled back well on the back. We will only get to use Sammy for Day 1 of Districts due to her track commitments so how she battled back on the back nine bodes well for next week."
Sophomore Veronica Jin shot 132, sophomore Grace Cawley 134 and senior Lydia Prins 147 in their initial trek around Santiam.
"This was the first time both Lydia and Veronica played this course at all, and Grace had only played the front nine once, so it was a very new experience for them and they played well and showed great attitude and enthusiasm," Baker said.
"Woodburn was a surprise team that we hadn't seen this season so far and posted a strong team score of 369. That is a score that will be a strong contender for a state place trophy," Baker said. "We have a lot of room for improvement and look to lower that team score significantly next week at Districts."