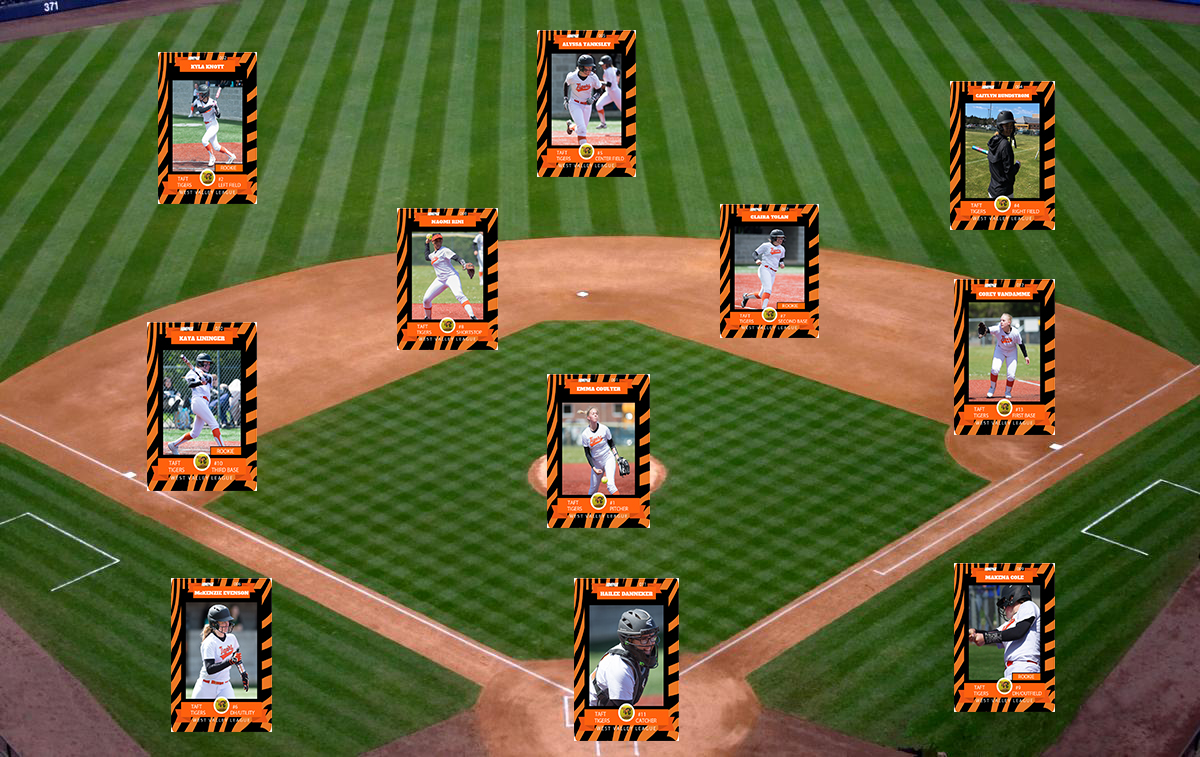 In keeping with tradition, it will take a tent or a hammock instead of a cape to cover all the contributing players on the Taft High softball team by the time the Tigers conclude play Friday in the West Valley League playoffs.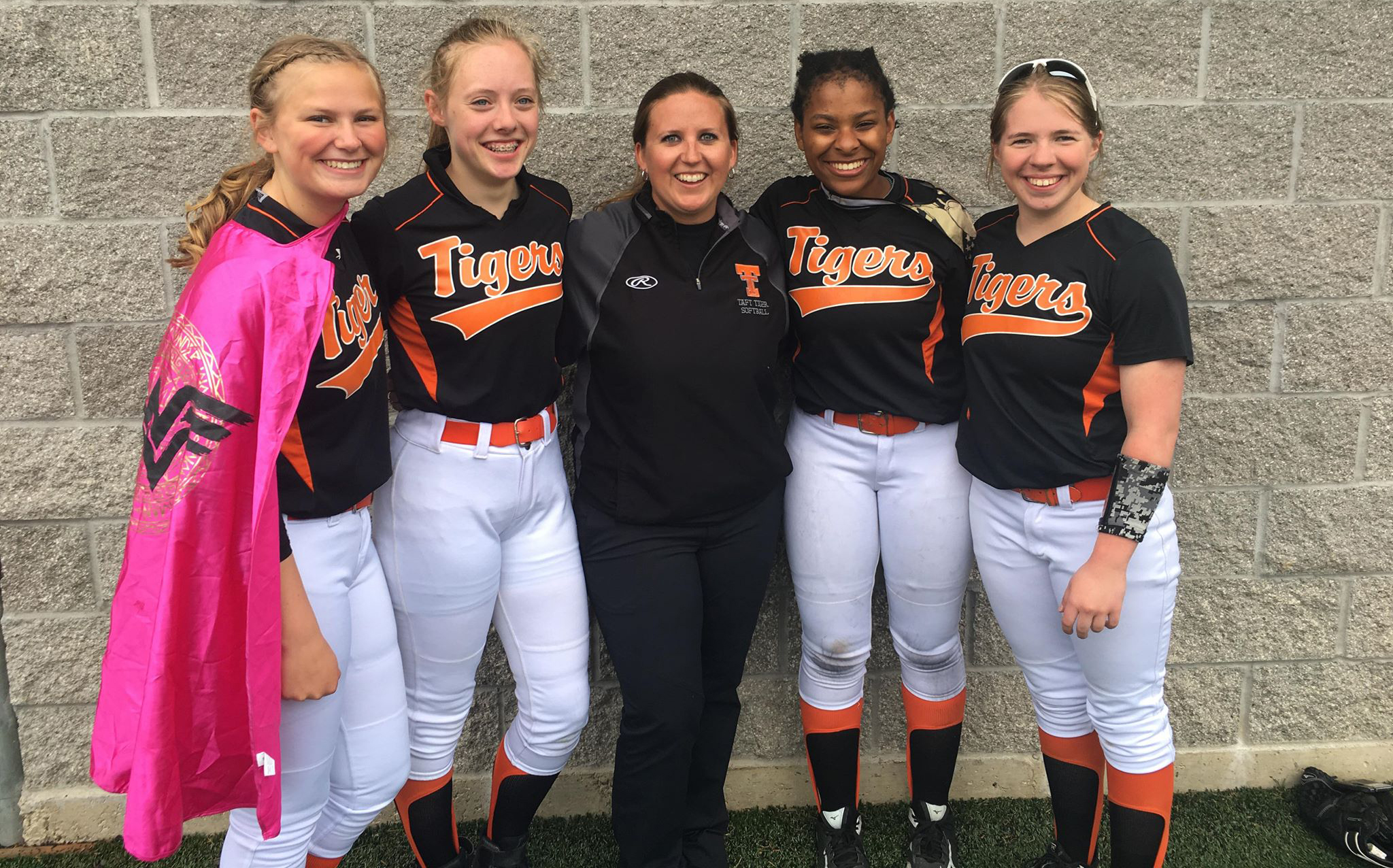 Coach Sandy Stuart's Tigers — whose star offensive player is adorned in a pink cape following each game — have displayed how far team camaraderie and cohesiveness can get you by parlaying talent with grit into a shot at the league's top seed in next week's Class 3A State Softball Championships.
But what will it take to look pretty in pink?
"We have been working hard this week on motivation, attitude and effort," said Stuart, "so we will see how that sets us up for Friday. I have high hopes and a lot of confidence in my team. It is time they felt the same way about themselves and each other."
The Amity Warriors stand in the way of a rubber-game showdown between Taft and Dayton for the West Valley League's top berth in the Class 3A State playoffs.
Friday's winner of a 3 p.m. contest between the second-seeded Tigers (17-9, 8-2 West Valley) and the third-seeded Warriors (13-8, 7-3) at Dayton High School will face the conference regular-season champion Pirates (18-8, 9-1) at 5 p.m. for the league's top seed in the State tournament.
The Warriors defeated Santiam Christian 13-10 Wednesday to advance to Friday's semifinal with Taft. The Tigers can secure the league's second seed at State, which begins Wednesday, May 23, with a victory in the early game.
"I feel like our rivalry with Amity is stronger than the one with Dayton," Stuart said. "They are more of a nemesis for us."
A loss to Amity would cost the Tigers an automatic State berth, relegating them to an at-large selection and first-round road game.
Taft defeated the Warriors 4-3 at home on April 5, but lost 5-4 at Amity on May 1. The Tigers defeated Dayton 4-2 at home on April 20, and lost to the Pirates 9-7 on the road May 9.
"We get a little worked up and nervous [against Amity] because we feel like we should beat them, and we want it so bad," Stuart said. "I know for sure, if we stay relaxed and hit the ball hard, we should be totally fine. Top to bottom, we are a better team, and just need to believe in ourselves."
The Tigers, who made some position changes following the slim loss at Dayton, have outscored their opponents by 100 runs in 26 games this season,
Senior infielder Naomi Rini has led the way, batting.515 against league pitching in 10 games. Starting pitcher Emma Coulter hit .472, while fellow sophomore Hailee Danneker hit .462 and freshman infielder Claira Tolan .400. Senior centerfielder Alyssa Tanksley batted 303.
Danneker, a catcher who owns a slugging percentage of .744, led the Tigers in RBIs (22), hits (18) and triples (3), and shared the team lead in doubles with Coulter (5).
Freshman Kyla Knott, batting leadoff, paced the team in runs (17), while Rini challenged for the team lead in virtually every meaningful offensive category.
"We just need to have confidence at the plate [against Amity]," Stuart said. "I think we give their pitcher a little bit too much credit and we think she is faster than she is. We swing early and get off balance. If we can settle in, we should be able to make some great things happen."
Stuart also emphasizes steady defense in key games. She said a couple of late errors cost the Tigers a victory a little more than a week ago at Dayton.
And what reward awaits the defensive stalwart after each game? A cape, of course — black and gold, like royalty.
"Scoring a lot of runs takes the pressure off the defense and makes us more relaxed in the field," Stuart said. "If we are confident at the plate, we should have no problems scoring runs on any opponent."
Continued offensive production combined with solid defense would greatly assist Coulter, Taft's only pitcher, who sports a 1.89 ERA with 66 strikeouts in 63 innings against West Valley teams.
Together, the girls then decide who will possess a shared totem that is smothered with trinkets for their overall play.
But winning two games Friday will mean more than any possession. With five freshmen and two sophomores on the playoff roster, the Tigers will mix youth with experience in teaming the underclassmen with seniors McKenzie Evenson, Madison Clanton, Rini and Coulter,
"This team is a young one, but we have a lot of talent." Stuart said. "If these individual girls can come together and really work as a team, we can be unstoppable."
Coach Stuart comments on the 2018 Tigers:
Naomi Rini, Sr., No, 8: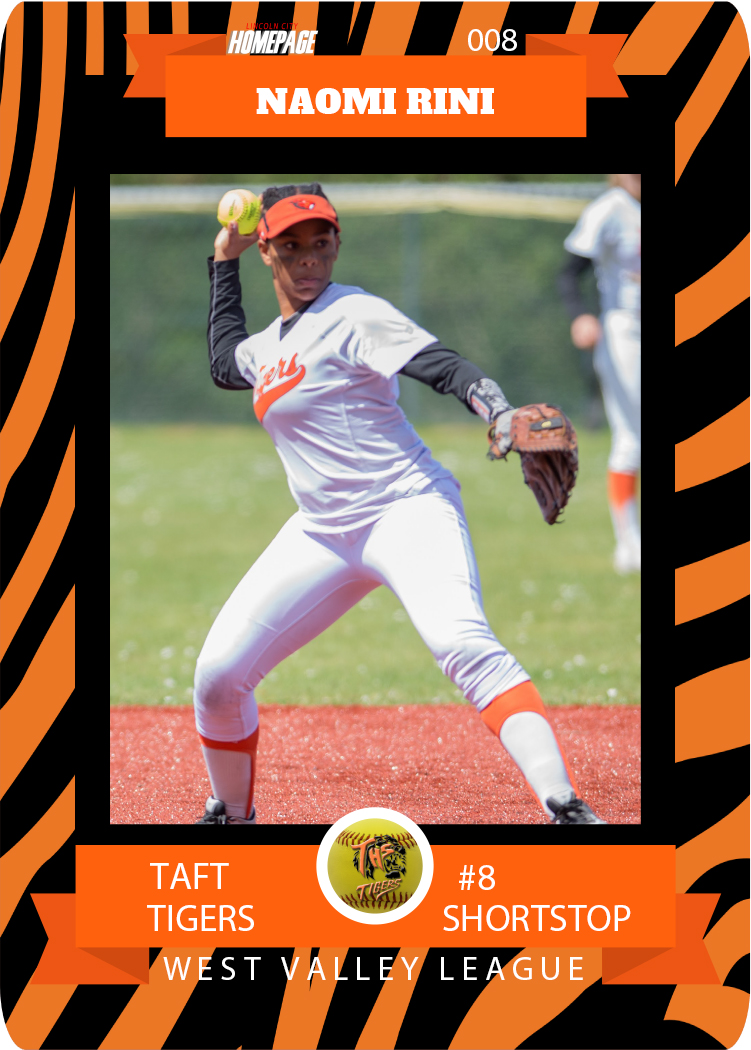 Great athlete. Led the team in hits from the second slot in the batting lineup with a league batting average of .515. Started the season at third base and moved over to shortstop part way. She is a leader and adds a lot of senior confidence at the plate.
Emma Coulter, So., No. 1: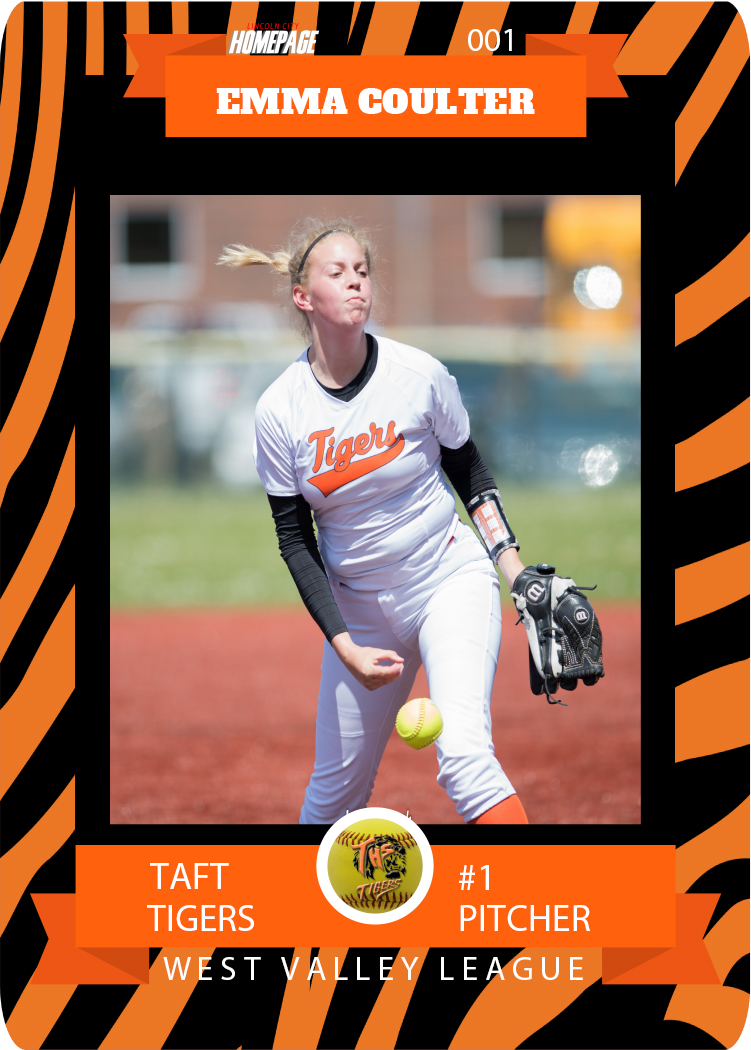 Emma is our sole pitcher. She has thrown every league game this year and is an extremely hard worker. She even battled a fever and illness during the season and was there for it all. She is another powerhouse at the plate, batting .472 in league from the cleanup spot and had 18 RBIs in league. She had a league ERA of 1.89. We are excited to see her future unfold over the next two years.
Hailee Danneker, So., No. 11: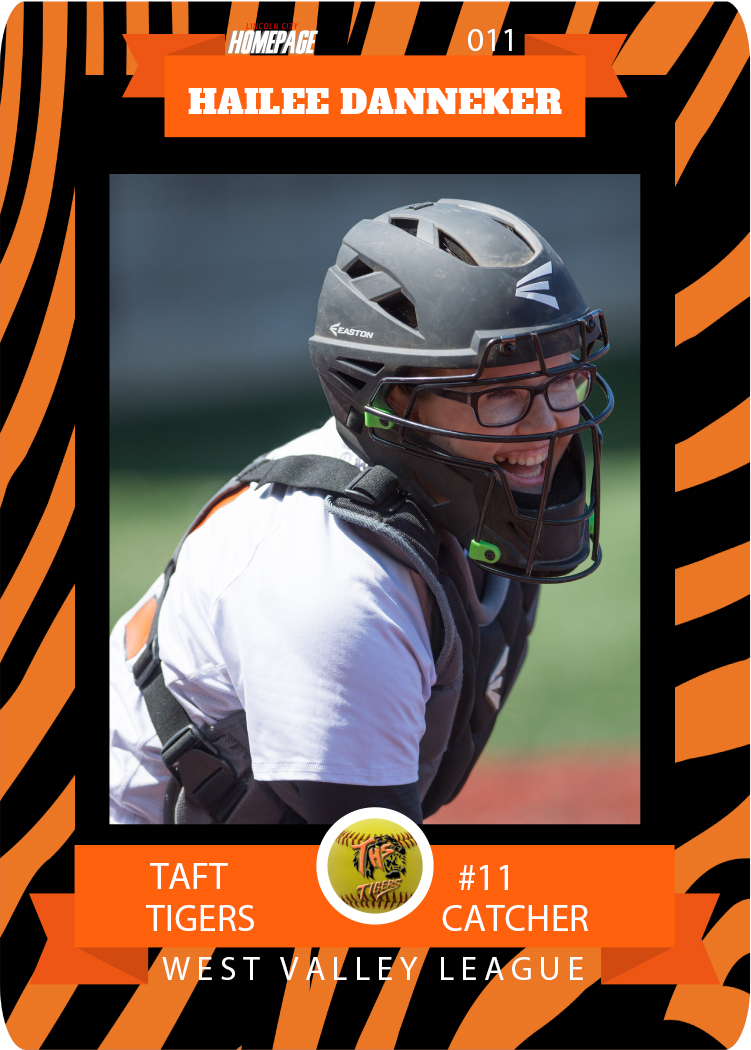 Our stud catcher. She works very hard behind the plate and has a cannon for an arm. She even held the 2017 Player of the Year to only one stolen base attempt this season. She hit in the No. 3 spot and had a league average of .462 with five doubles, three triples, and 22 RBIs. Hailee is an amazing athlete and an overall great girl. We hope she sticks around to be a Tiger for two more years.
Claira Tolan, Fr., No. 7: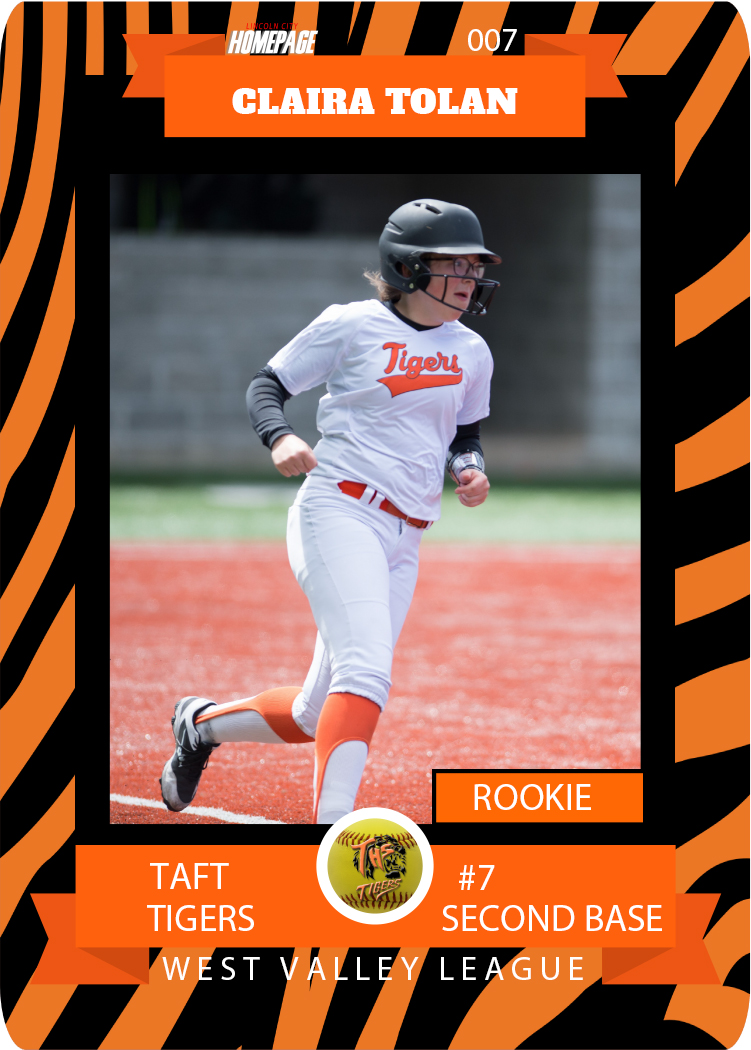 Claira is a great overall athlete. She works hard and doesn't let anything bother her. She started at shortstop, but we moved her over to second base to try to level out our infield. She had a season ending .400 league batting average that was brought down after an unfortunate ankle injury. She still manages to push through any pain in the ankle and give all her effort to her teammates.
Corey VanDamme, Fr., No. 13: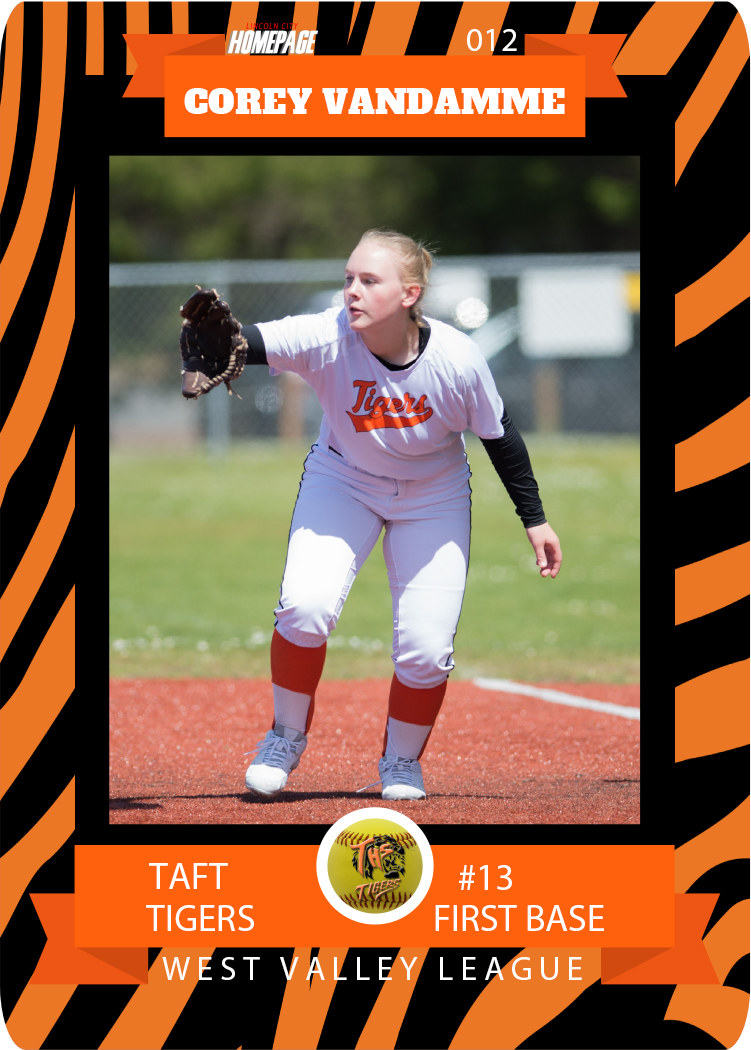 Corey was pulled up from the JV team just as league was getting under way because she was excelling and impressing coaches. She stepped in at first base. Being left-handed, she has shown great range there. Corey had a league average of .333 in her 14 plate appearances for us. Corey is level-headed and always in the game.
Alyssa Tanksley, Sr., No. 5: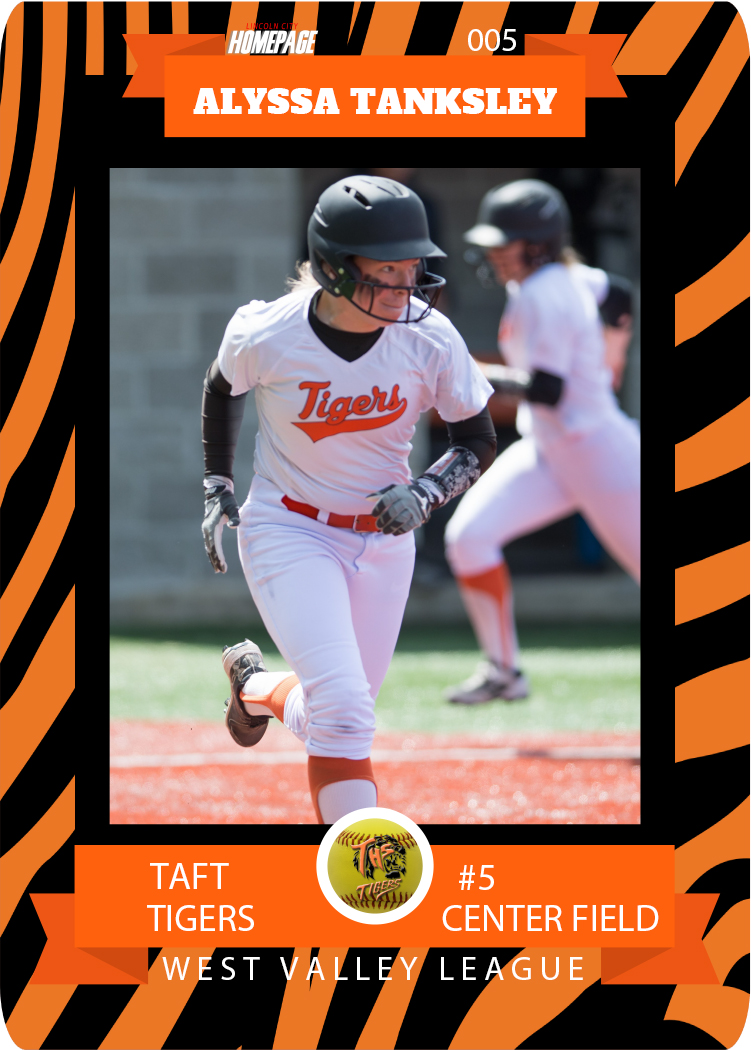 Alyssa is our outstanding centerfielder. She plays a very aggressive outfield and is always willing to lay out for the tough play. Alyssa worked her way out of an early hitting slump to finish league with a .303 average. She is an incredible person and great teammate and her presence will be missed next year.
Makena Cole, Fr., No. 9: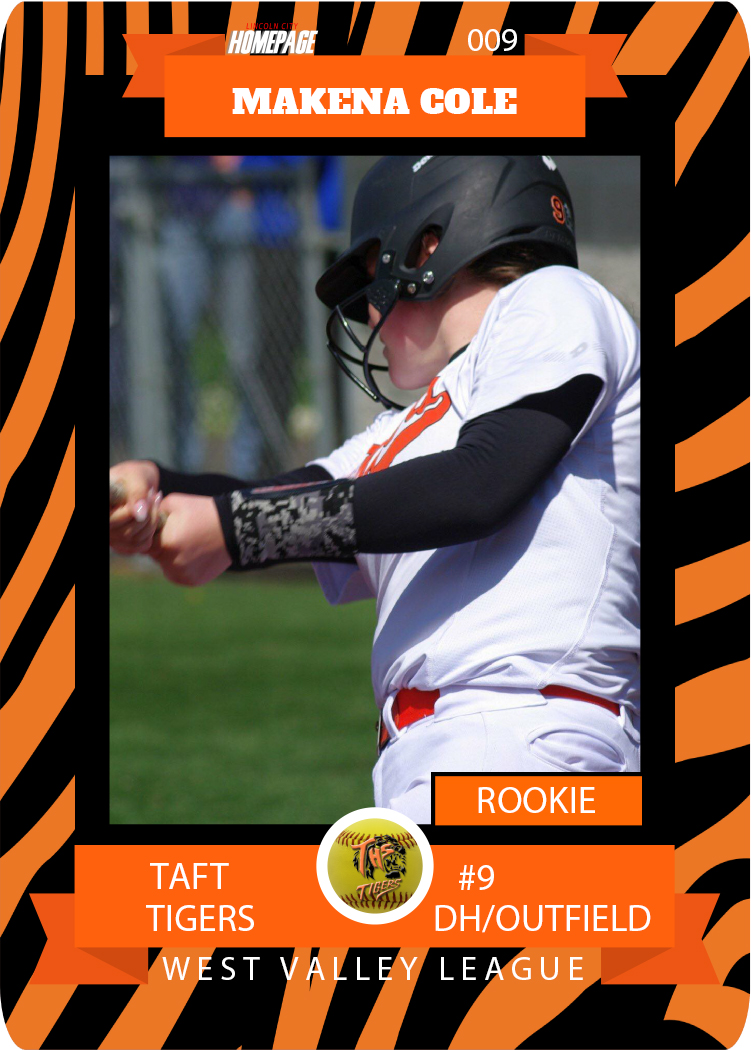 Makena is an all-around player. She was a utility player for us. She played some outfield, some third base and some designated hitter. Makena is pretty fearless and not easily rattled on the field. We are looking forward to her future as a Tiger softball player.
Kyla Knott, Fr., No. 2: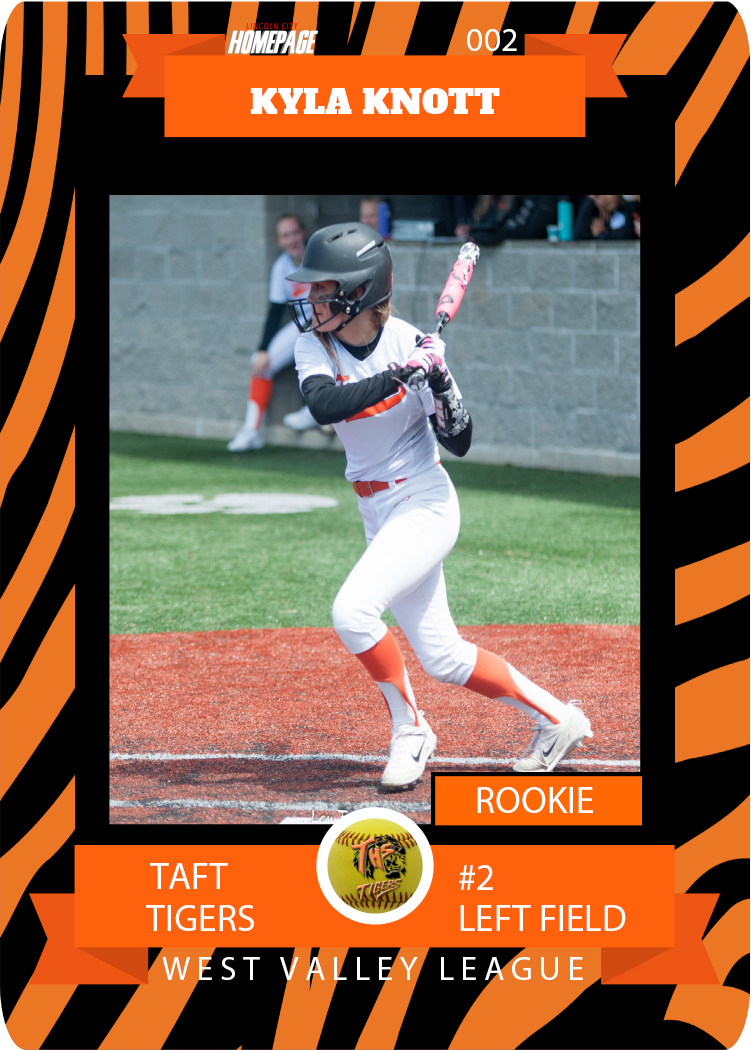 Kyla is the younger sister of baseball star Cody Knott, She has the same work ethic as her brother. As an incoming freshman, we turned her into a slapper in the second week of practice and haven't looked back. Kyla is incredibly fast and picked up the footwork faster than anyone I have seen before. She also used her speed to earn a starting stop in left field. She is going to be a huge piece of this team going forward this season and in the future.
Madison Clanton, Sr., No. 3:
CARD COMING SOON – RAN OUT OF CARDBOARD
Madison is another utility-type player for us. In her early years she was a catcher on the JV squad before injuring her knee. Then, she moved to the outfield because of her great arm. Last season, she was taken out early on with a broken leg during our spring-break tournament in Newport. This year, we started her at first base, but ended up needing her more in the outfield, so we moved her and brought Corey up. She is speedy and has a great arm, so it's nice having her out in the field.
Caitlyn Rundstrom, Jr., No. 4: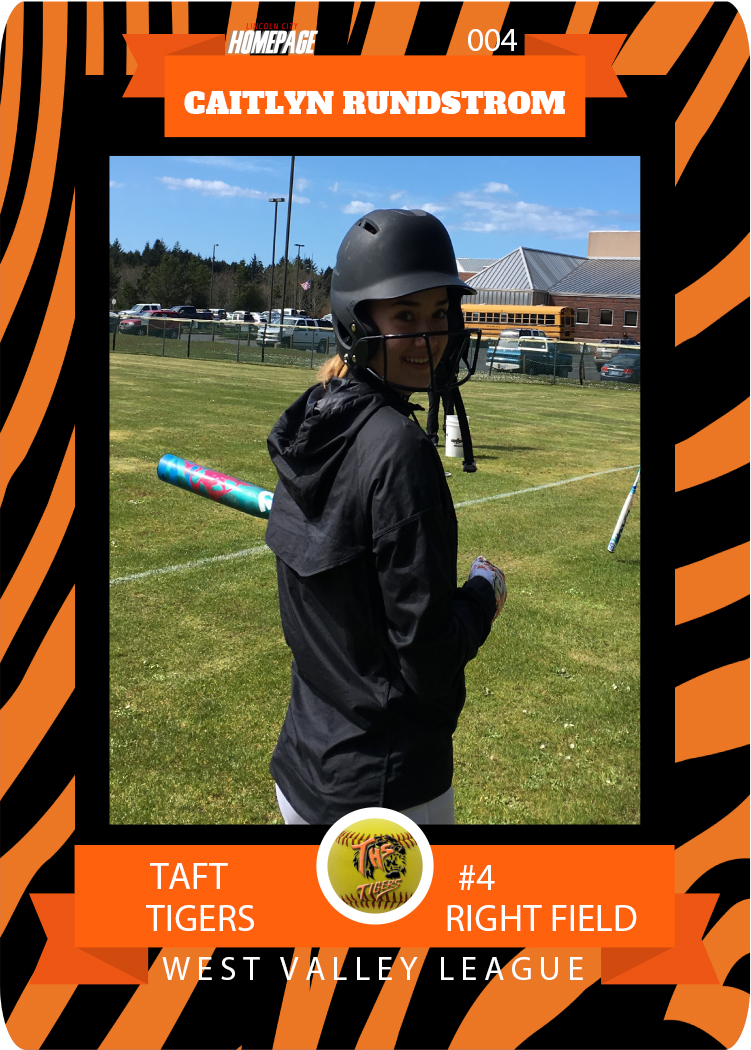 Caitlyn is a very athletic outfielder. She has an incredible arm, and with her long legs, can cover a lot of ground. She played the flex position quite a bit (meaning she didn't hit) and she was gone for a period of time on a family vacation, but having her in the outfield will be a key to our postseason success.
Kayla Lininger, Fr., No. 10: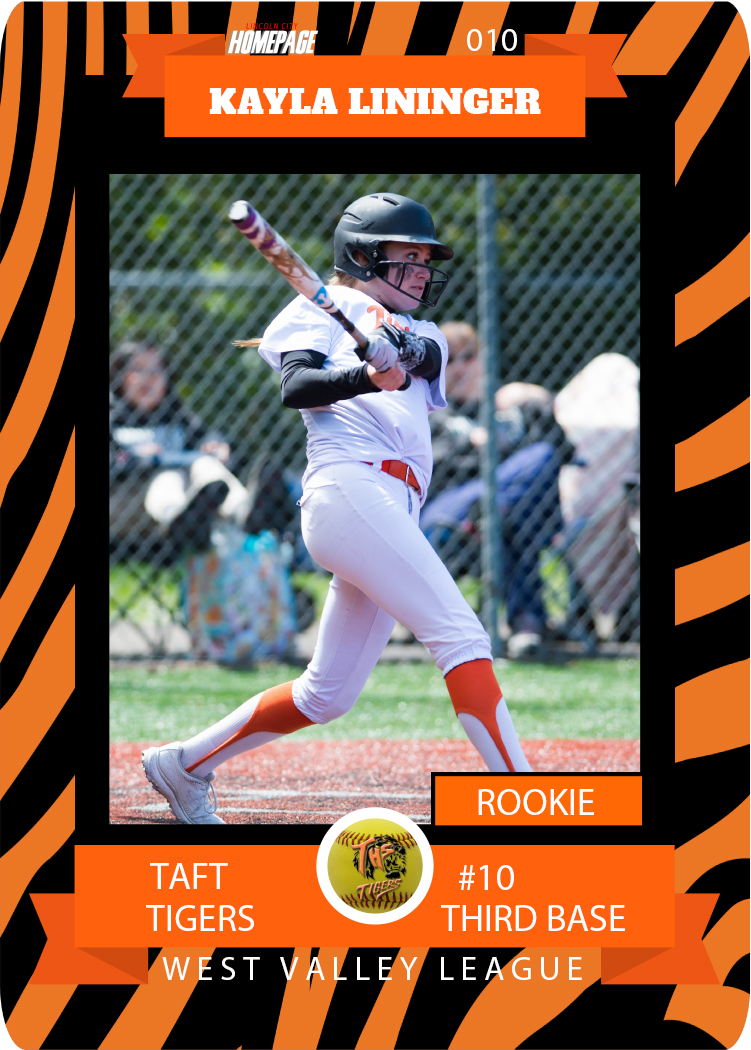 Kayla is another awesome utility player. She has played second base, shortstop, and third base for us this season and she may see some outfield time as well. She had a back issue during league, which kept her from getting many at-bats. She is one of the most positive and upbeat athletes I have coached and I love being around her. She is a very promising athlete and has an incredible glove. We wouldn't be where we are without her.
McKenzie Evenson, Sr., No. 6: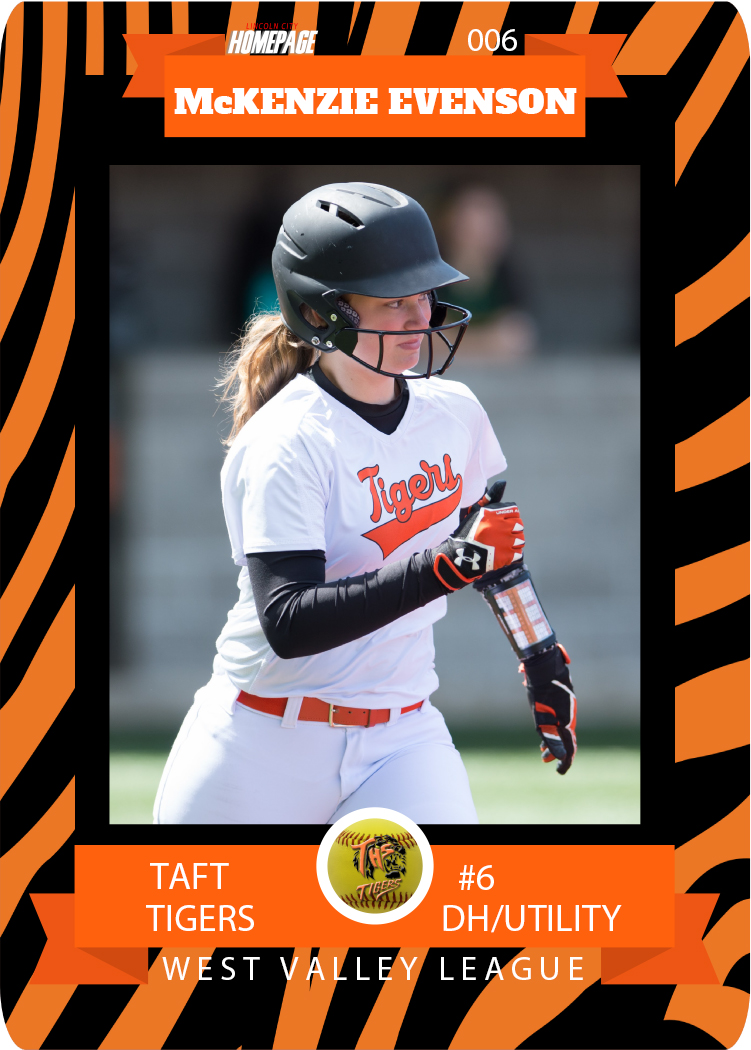 McKenzie has had a few roles this season. She has played some outfield, but has primarily played in the DH spot for us. She has a great swing and always makes solid contact. There have been many instances where her hard hits were just right at defenders, but she always made the defense work for the out.
Anna Ortiz, Jr., No. 14: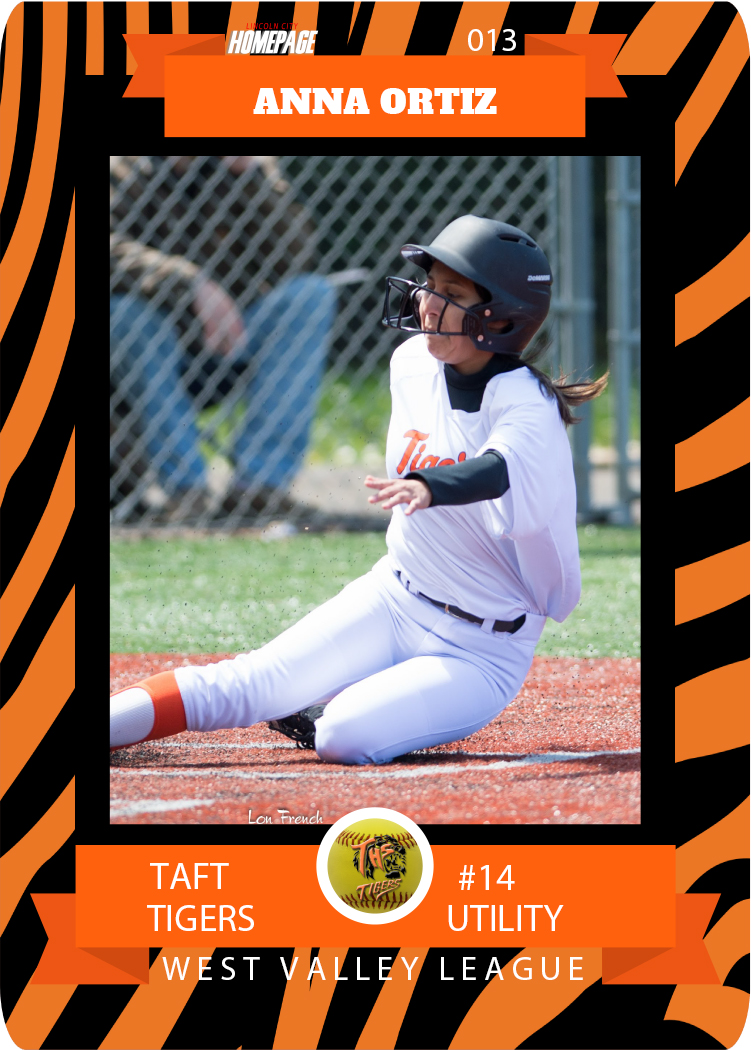 Anna was brought up from the JV squad due to her blazing speed. She has been a courtesy runner for Emma, giving her a break and allowing her to focus on pitching. She will keep that role going in to the playoffs.
Delayna O'Daniels, Fr., No. 15:
She was the JV catcher this season. She was added to the varsity roster for the postseason in case we need a backup or need another hitter for our lineup.