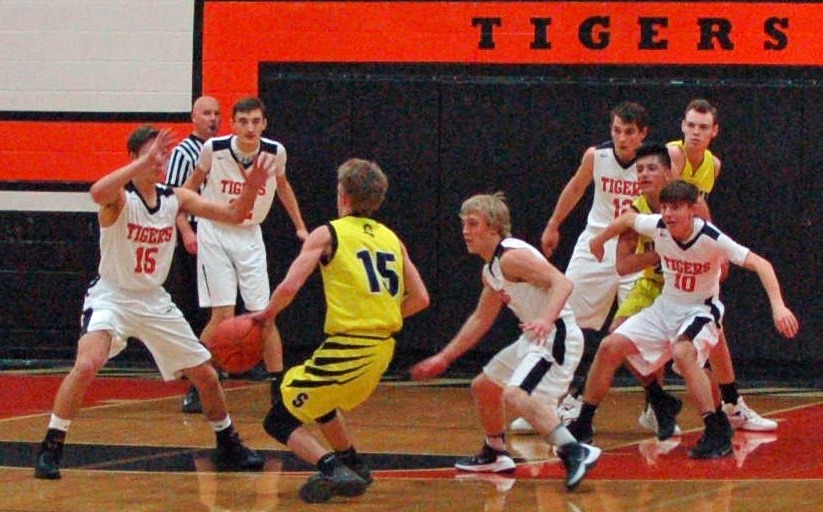 The Taft Tigers will need to buckle down on defense Friday against the league's highest-scoring team
Taft and Newport high schools will meet Oregon's top-ranked boys basketball teams in their respective classes when the Class 3A Tigers host No. 1-rated Dayton tonight and the Class 4A Cubs entertain No. 1 Seaside on Saturday.
The 13th-rated Tigers (8-3, 1-0 West Valley) will meet the unbeaten Pirates (11-0, 1-0 West Valley) at 7:30 p.m. in a conference showdown at Taft on First Responders Night with fans requested to wear white (first responders admitted free).
Meanwhile, the fifth-ranked Cubs (9-2, 0-0 Oregon West) will host the undefeated Seagulls (8-0, 0-0 Cowapa) at 6 p.m. Saturday in a game moved from Seaside following its postponement Thursday due to inclement weather.
Friday's Taft-Dayton matchup features the two highest-scoring teams in the West Valley League. The Pirates (71.4 points per game) are coming off a 20-point home victory Tuesday over second-ranked Horizon Christian (9-1, 0-1). Taft (66.4 ppg) won its league opener Tuesday over Sheridan (4-6, 0-1), 69-52.
Dayton and Taft have both played fourth-ranked Blanchet Catholic (6-3, 1-0 PacWest) this season, with the Pirates winning 59-46 Dec. 6 in Salem, and the Tigers falling 60-55 on the road in their Nov. 30 season opener.
The Lady Tigers (3-7, 0-1 West Valley) will host the second-ranked Dayton girls (11-1, 1-0) in league play at 6 p.m. Friday.
Class 2A Toledo returns to boys (4-8, 0-0 Sunset) and girls (3-9, 0-0) action at home Saturday against 2A Tri-River League member St. Paul (4-6, 0-0 boys; 7-3, 0-0 girls).
Taft photos by SportsLincolnCounty.com contributing photographer Eric DeMello
Newport photos by SportsLincolnCounty.com photographer Robert William Smith
Friday's Games
Boys 
Dayton @ Taft, 7:30 p.m.
Siletz Valley @ Lowell, 7 p.m.
'Girls 
Newport @ Seaside, 6 p.m.
Dayton @ Taft, 6 p.m.
Siletz Valley @ Lowell, 5:30 p.m.
Saturday's Games
Boys 
Seaside @ Newport, 6 p.m.
St. Paul @ Toledo, 3 p.m.
Girls
St. Paul @ Toledo, 1:30 p.m.
Taft Boys
| No. | Name | Position | Grade | Height |
| --- | --- | --- | --- | --- |
| 0 | Caleb King | F | 11 | 6-0 |
| 1 | Mike Zacarias | F | 12 | 5-8 |
| 2 | Chance Haun | G | 12 | 5-9 |
| 3 | Josh Salsbery | G | 11 | 5-8 |
| 5 | Christian Chase | F | 12 | 6-2 |
| 10 | Eli DeMello | G | 9 | 5-9 |
| 11 | Nathan Hertz | F | 12 | 6-0 |
| 12 | Jack Stempel | F | 11 | 6-1 |
| 15 | Triston Colhour | F | 12 | 6-0 |
| 20 | Lucas Hindman | F | 9 | 5-11 |
| 22 | Tyee Fisher | P | 10 | 6-3 |
| 23 | James Brandes | F | 12 | 5-9 |
| 24 | Zach Tweedie | P | 12 | 6-1 |
| 32 | Preston Nightingale | P | 11 | 6-1 |
| 34 | Everett Thomas | P | 12 | 6-2 |